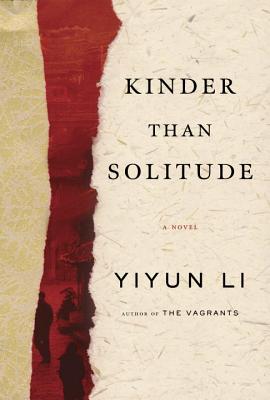 Kinder Than Solitude
Hardcover

* Individual store prices may vary.
Other Editions of This Title:
Digital Audiobook (2/24/2014)
Paperback (1/20/2015)
Description
A profound mystery is at the heart of this magnificent new novel by Yiyun Li, "one of America's best young novelists" ("Newsweek") and the celebrated author of "The Vagrants, "winner of the Hemingway Foundation/PEN Award. Moving back and forth in time, between America today and China in the 1990s, "Kinder Than Solitude" is the story of three people whose lives are changed by a murder one of them may have committed. As one of the three observes, "Even the most innocent person, when cornered, is capable of a heartless crime."
When Moran, Ruyu, and Boyang were young, they were involved in a mysterious incident in which a friend of theirs was poisoned. Grown up, the three friends are separated by distance and personal estrangement. Moran and Ruyu live in the United States, Boyang in China; all three are haunted by what really happened in their youth, and by doubt about themselves. In California, Ruyu helps a local woman care for her family and home, avoiding entanglements, as she has done all her life. In Wisconsin, Moran visits her ex-husband, whose kindness once overcame her flight into solitude. In Beijing, Boyang struggles to deal with an inability to love, and with the outcome of what happened among the three friends twenty years before.
Brilliantly written, a breathtaking page-turner, "Kinder Than Solitude "resonates with provocative observations about human nature and life. In mesmerizing prose, and with profound insight, Yiyun Li unfolds this remarkable story, even as she explores the impact of personality and the past on the shape of a person's present and future.
Praise for "Kinder Than Solitude"
"This is an exceptional novel, and Yiyun Li has grown into one of our major novelists."--Salman Rushdie
"Yiyun Li infuses the traditional form with a fresh, rigorous beauty and a sense of permanence and increasing value.""--"Mona Simpson, author of "My Hollywood"
" A] sleek, powerful novel about the weight of memory, the brunt of loss and the myriad ways the past can crimp the soul . . . Li gives us gifts of gorgeous prose. . . . Rarely are ordinary humans given such eloquent witness."--"The Washington Post"
" "
"What makes "Kinder Than Solitude"] so vivid is its humanity. . . . It is an inquiry into how the past scars us, shaping present and future, and some deeds, once committed, can never be undone.""--Los Angeles Times"
" "
" Li's] true gift . . . is old-fashioned storytelling and] a sense that a life, a whole life, can be captured on pages.""--The Boston Globe"
" "
"A stunning, dark, and beautiful book . . . Yiyun Li writes with characteristic genius."--Paul Harding, author of "Tinkers" and "Enon.
Praise For Kinder Than Solitude…
"There's something about the poise, the tidiness, the seemingly effortless calm of Yiyun Li's writing that makes it easy to see her as an author who, like Jhumpa Lahiri, employs a Chekovian neutrality. . . . But look again. . . . There's a withering, vibrating sarcasm at work in the juxtaposition of national and personal tragedies."—The New York Times Book Review
 
"Li turns an intricately plotted mystery into something more profound, one that queries the meaning of crime and punishment in the moral murk of contemporary China."—The New Yorker
 
"Li is something of a connoisseur of loneliness and despondency—in this she is reminiscent of the . . . bard of solitude, William Trevor—and her book is rich in such elegant, fine-grained expressions of despair."—The Wall Street Journal
 
"[Li] writes with acuity and nuance about ordinary lives set against broader cultural and social divides. . . . What makes [Kinder Than Solitude] so vivid is its humanity, the idea that nationality and history are less important than the vagaries of the heart. . . . Kinder Than Solitude is not tragic, despite the tragedy at its center; it is instead a novel of gradations, in which easy expectations of condemnation or forgiveness fall to pieces before the necessity of coming to terms. That this is true for every one of us is what gives the book its resonance."—Los Angeles Times
 
"Characteristically nimble . . . philosophically inflected . . . Passages situated within the wet August heat of that long ago Beijing spark to life. . . . Li sketches the daily contours of this little enclave, her cast rich with supporting characters and a talent for conjuring a life with just a few lines of description."—San Francisco Chronicle
 
"Despite its status as a sort of whodunit, Kinder Than Solitude is often most interesting for the things it is not: not a political novel, notwithstanding the backdrop of the Tiananmen Square massacre; not a novel that takes up the tropes of immigrant fiction, despite being fiction about immigrants. But its force comes from the mythic power of the childhood story, the almost-book-within-the-book, as the 'vacuum' force of Ruyu destabilizes life in the quadrangle with the inevitability of the serpent in the garden. . . . The people in Li's novels . . . push at the boundaries of our empathy. . . . [Kinder Than Solitude] questions the purpose of guilt, and in turning aside our conditioned expectations encourages us to extend the borders of our compassion."—Slate
 
"Stellar . . . [Li's] understated writing . . . excels at revealing our more intimate internal anxieties. She's a master at capturing emotional disconnection, and how oblivious we can be to it. . . . Like more subtle storytellers (Alice McDermott and William Trevor come readily to mind), Li uses a plain-spoken style to reveal layers upon layers of psychological drama. Few writers are better at showing just how much chaos lies beneath our efforts to project an outer calm."—Newsday
 
"Haunting . . . beautifully written . . . a moving meditation . . . Li, a native of Beijing who lives in Oakland, creates a potent atmosphere of mystery around Shaoai's death. Yet even as she resolves its lingering questions, the author suggests that innocence lost can never be regained."—San Jose Mercury News
 
"Curiosity to unravel this 'whodunit' is just enough, under the spell of Li's skilled storytelling, to pull us into the lives of these three and keep us there. . . . The book's real mystery of poisoning is not so much that of the young woman whose vegetative survival haunts their lives, as the poisoning of the innocence of the three teens."—Iowa City Press-Citizen
 
"Mesmerizing . . . perceptive . . . Gorgeous prose graces every page."—Bookreporter
 
"A masterpiece . . . beautifully poetic . . . [Li expresses] new ideas in word combinations that are unexpected, so you have to reread them to understand exactly what they mean. . . . This is novelty carried on at the highest level, where experiences most of us have had in some form or other have been re-examined and re-described in ways that make them new."—The Threepenny Review
 
"[Li] embroiders Kinder Than Solitude . . . with a kind of menacing grace that transcends the thriller at the book's core. . . . Part coming-of-age tale, part heartbreaking whodunit, Kinder Than Solitude shimmers throughout with unease."—Sactown
 
"A story laced with intrigue, friendship, and culture."—Flavorwire
 
"Li's gifts of insight into human nature [make her writing] patient, observant, and precise."—The Millions
 
"Starkly beautiful . . . puzzling and provocative . . . One of the strengths of the book is that it has a philosophical quality that leaves much open for interpretation."—The Asian Review of Books
 
"Li's chilly, philosophical storytelling offers layers of unsettling yet impressive insight into family legacies and cultural dynamics."—Kirkus Reviews (starred review)
 
"Li's fourth work of fiction gives readers the trappings of a murder mystery with none of the dull formula. Instead, she burrows deeply into the minds of her characters. Her prose, by turns sumptuous and austere, is utterly precise, whether describing a crematorium, a roasted yam, or midwestern snowfall. A brilliant, sorrowful, and unpredictable novel."—Booklist
 
"Li's effortless ability to move fluidly in time and place—between minutes or decades and across continents—always with exacting details, gives this novel a shattering immediacy. Discerning readers who appreciated the well-traveled, multicultural virtuosity of Jhumpa Lahiri's The Lowland, Chang-rae Lee's The Surrendered, and Abraham Verghese's Cutting for Stone will find rewarding satiety in Solitude."—Library Journal
 
"Masterfully composed . . . [Li] offers a rarer pleasure: plentiful astute human characterization. Kinder Than Solitude teems with memorable individuals of all ages whose actions spring from their traits. Li also enhances the reader's surmising of responsibility for Shaoai's poisoning by subtly realigning sympathy and suspicion from one chapter to the next."—Shelf Awareness
 
"There's an elegance and smoothness to her writing that is actually disguising the quite passionate and intense feelings of equivocation and loss that her characters feel. She's almost a nineteenth-century writer: You can feel tradition speaking through her work in a way that doesn't exist today."—John Freeman

"The surface of Yiyun Li's prose is deceptively still, but just beneath the surface are the sadness, pain, and tragedy of three lives, each one driven into a kind of damaged solitude by the memory of the past. Li's characters are portrayed with a harsh beauty, and one's emotions become deeply engaged with their fates, and with the mystery of a poisoned woman, a crime which has shaped—perhaps deformed—them all. This is an exceptional novel, and Yiyun Li has grown into one of our major novelists."—Salman Rushdie

"Yiyun Li has such an authentic voice, and she is not afraid of cutting to the bone to get to the truth of relationships and emotions. I believe Kinder Than Solitude is her best novel yet."—Lisa See

"I can't remember the last time I read a novel at once so relentless and elegant, so precise and ranging. The lives in Kinder Than Solitude are forever warped by a childhood tragedy, but Li won't let these tortured souls off the hook. This novel is fierce as a searchlight, blazing into every dark corner of  its characters' psyches, and ours. I couldn't look away."—Ayana Mathis
 
"Li is a high modernist. She infuses the traditional form with a fresh, rigorous beauty. Her novel is as clean and sharp and smart as a great piece of midcentury furniture, with that sense of permanence and increasing value."—Mona Simpson
Random House, 9781400068142, 312pp.
Publication Date: February 25, 2014
About the Author
Yiyun Li is the author of "A Thousand Years of Good Prayers, The Vagrants, "and" Gold Boy, Emerald Girl." A native of Beijing and a graduate of the Iowa Writers' Workshop, she is the recipient of a MacArthur Foundation fellowship, the Frank O'Connor International Short Story Award, the Hemingway Foundation/PEN Award, the Whiting Writers' Award, and the "Guardian" First Book Award. "Granta" named her one of the best American novelists under thirty-five, and "The New Yorker "named her one of twenty U.S. writers under forty to watch. Her work has appeared in "The New Yorker, A Public Space, The Best American Short Stories, The O. Henry Prize Stories, " and elsewhere. She teaches writing at the University of California, Davis, and lives in Oakland, California, with her husband and their two sons.
Coverage from NPR
or
Not Currently Available for Direct Purchase