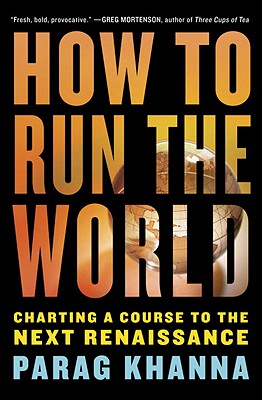 How to Run the World
Charting a Course to the Next Renaissance
Hardcover

* Individual store prices may vary.
Description
Here is a stunning and provocative guide to the future of international relations—a system for managing global problems beyond the stalemates of business versus government, East versus West, rich versus poor, democracy versus authoritarianism, free markets versus state capitalism. Written by the most esteemed and innovative adventurer-scholar of his generation, Parag Khanna's How to Run the World posits a chaotic modern era that resembles the Middle Ages, with Asian empires, Western militaries, Middle Eastern sheikhdoms, magnetic city-states, wealthy multinational corporations, elite clans, religious zealots, tribal hordes, and potent media seething in an ever more unpredictable and dangerous storm. But just as that initial "dark age" ended with the Renaissance, Khanna believes that our time can become a great and enlightened age as well—only, though, if we harness our technology and connectedness to forge new networks among governments, businesses, and civic interest groups to tackle the crises of today and avert those of tomorrow.

With his trademark energy, intellect, and wit, Khanna reveals how a new "mega-diplomacy" consisting of coalitions among motivated technocrats, influential executives, super-philanthropists, cause-mopolitan activists, and everyday churchgoers can assemble the talent, pool the money, and deploy the resources to make the global economy fairer, rebuild failed states, combat terrorism, promote good governance, deliver food, water, health care, and education to those in need, and prevent environmental collapse. With examples taken from the smartest capital cities, most progressive boardrooms, and frontline NGOs, Khanna shows how mega-diplomacy is more than an ad hoc approach to running a world where no one is in charge—it is the playbook for creating a stable and self-correcting world for future generations.

How to Run the World is the cutting-edge manifesto for diplomacy in a borderless world.
Praise For How to Run the World: Charting a Course to the Next Renaissance…
Praise for Parag Khanna's How to Run the World

""The world has money, talent, technology, food, fuel, entrepreneurs, and do-gooders in spades, but we lack solidarity to bring it all together. Parag Khanna's How to Run the World tackles our spiraling complexity head-on yet paints a hopeful picture of how our scary, turbulent, and unpredictable new Middle Ages can be turned into another Renaissance if we harness the power of today's governments, multinational firms, NGOs, philanthropists, celebrities, entrepreneurs, innovators, and communities of the faithful to create new models of good governance. It is their solidarity that will secure our future. This book is a fresh, bold, provocative—and, most important, realistic—guide to getting us there." 
--Greg Mortenson, author of Three Cups of Tea and Stones into Schools

"By exhorting leaders to make use of new, open technologies that encourage more diverse and dynamic marketplaces, Parag Khanna makes a powerful argument: the world can become smarter than the sum of its parts. We need to pay attention to his ideas." —Eric Schmidt, CEO, Google
 
"Parag Khanna has vision."—Nassim Nicholas Taleb
 
  "The term 'sweeping' hardly does justice to the ambition of Indian-born Parag Khanna... Makes the pulse race."       —The Economist

"At a time when the lines between government and business are blurring and most pundits are quick to color them over with the promise of technology, Khanna has given us an important guide that will help us run the world into the future."—Forbes

 "New America Foundation senior research fellow Khanna (The Second World: Empires and Influence in the New Global Order, 2008) calls for a new "mega-diplomacy" to solve problems in a period of global uncertainty. Diplomats have long negotiated how to run the world, writes the author. In ancient Sumerian city-states, they channeled the messages of deities among kings. In modern times, they have divvied up the globe after major wars. With no single power in control, today's "fractured, fragmented, ungovernable" post–Cold War world demands a new kind of diplomacy based on coalitions of governments, corporations and civic actors. Empowered by the information revolution, writes Khanna, public and private partners can collaborate efficiently across national borders to meet such 21st-century challenges as terrorism, the AIDS epidemic and climate change. Key practitioners of this new diplomacy include the entrepreneurs, academics, activists, celebrities and others who have worked in unusual and collaborative ways to achieve such goals as a landmine ban, debt relief and the International Criminal Court. They range from Bill and Melinda Gates to luminaries like Bono and Angelina Jolie—all individuals with resources and influence—and include NGOs like the Open Society Institute, which shapes important global questions; the World Economic Forum, "archetype of the new diplomacy," which brings diverse players together on equal footing at annual summits; and the Clinton Global Initiative, which fosters cross-sector partnerships among leaders in politics, business and civil society. Khanna suggests ways in which the new diplomacy can help spur fresh approaches in problem areas—encouraging greater intelligence cooperation on terrorism among countries, giving Somali fishermen incentives to not engage in piracy (such as new boats to boost their catch) and convincing regimes in Iran and North Korea that they don't need nuclear programs. In the environmental arena, meaningful public-private initiatives spurred by the new diplomacy can have far more impact than international agreements, he writes. For a model of mega-diplomacy, the author points to Europe, where members of the borderless European Union are experimenting and cooperating to meet shared challenges. A valuable contribution to the global-governance debate. "
--Kirkus Reviews
 
"Khanna writes clearly, with conviction and charm, and his neomedieval metaphor is intriguing."—Publishers Weekly
 
"Sweeping, fascinating, provocative—and some may find it irritating. Call it what you will, but you must read it. There's no book like it." —John G. Ruggie, Berthold Beitz Professor in Human Rights and International Affairs, John F. Kennedy School of Government, Harvard University
 
"In this provocative book, Parag Khanna turns on its head much of the assumed reality of 21st century power... Who now has the responsibility? Parag Khanna goes a long way to suggesting answers that many will find uncomfortable."
—Nik Gowing, Main Presenter, BBC World News
 
"Today's crises from financial instability to natural disasters require solutions that bold but also pragmatic. In How to Run the World, Parag Khanna delivers both. G-20 leaders and corporate executives need to urgently read this book and learn how to really move beyond business as usual."—Dr. Klaus Schwab, Founder and Executive Chairman, World Economic Forum


Praise for Parag Khanna's The Second World
 
"A fascinating, colorful, and always intelligent tour through a new world."—Fareed Zakaria
 
"A savvy, streetwise primer on dozens of individual countries that adds up to a coherent theory of global politics."—Robert D. Kaplan
 
"Confident in his predictions and bold in his recommendations . . . Khanna's book is written with ambition, scope, and verve that sets it apart from the usual foreign policy tome."—Andrei Cherny, The New York Sun
 
"A panoramic overview that boldly addresses the dilemmas of the world that our next president will confront."—Zbigniew Brzezinski
 
"Khanna is something of a foreign policy whiz kid."—Raymond Bonner, The New York Times Book Review

"[A] sweeping, often audacious survey of contemporary geopolitics . . . moves at lightning speed."—William Grimes, The New York Times
Random House, 9781400068272, 256pp.
Publication Date: January 11, 2011
About the Author
Parag Khanna directs the Global Governance Initiative in the American Strategy Program of the New America Foundation. Author of the previous international bestseller" The Second World, "he was picked as one of "Esquire"'s Most Influential People of the Twenty-first Century and featured on Wired's Smart List. He has been a fellow at the Brookings Institution and researched at the Council on Foreign Relations. During 2007, he was a senior geopolitical adviser to U.S. Special Operations Command. He has written for major global publications such as "The New York Times "and "Financial Times" and appears regularly on CNN, BBC, and other television media around the world. He has traveled in nearly one hundred countries and has been named a Young Global Leader of the World Economic Forum.
or
Not Currently Available for Direct Purchase