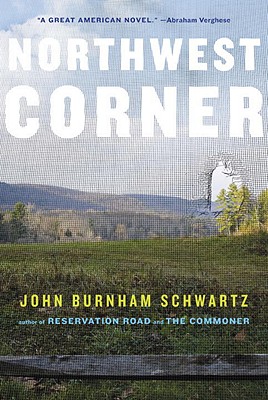 Northwest Corner
Hardcover

* Individual store prices may vary.
Other Editions of This Title:
Digital Audiobook (7/25/2011)
Paperback (7/10/2012)
Hardcover, Large Print (9/1/2011)
Hardcover (4/1/2012)
Description
The New York Times Book Review called Reservation Road "a triumph," and the novel was universally acclaimed. Now, in a brilliant literary performance by one of our most compelling and compassionate writers, John Burnham Schwartz reintroduces us to Reservation Road's unforgettable characters in a superb new work of fiction that stands magnificently on its own. Northwest Corner is a riveting story about the complex, fierce, ultimately inspiring resilience of families in the face of life's most difficult and unexpected challenges.

Twelve years after a tragic accident and a cover-up that led to prison time, Dwight Arno, now fifty, is a man who has started over without exactly moving on. Living alone in California, haunted yet keeping his head down, Dwight manages a sporting goods store and dates a woman to whom he hasn't revealed the truth about his past. Then an unexpected arrival throws his carefully neutralized life into turmoil and exposes all that he's hidden.

Sam, Dwight's estranged college-age son, has shown up without warning, fleeing a devastating incident in his own life. In its way, Sam's sense of guilt is as crushing as his father's. As the two men are forced to confront their similar natures and their half-buried hopes for connection, they must also search for redemption and love. In turn, they dramatically transform the lives of the women around them: the ex-wives, mothers, and lovers they have turned to in their desperate attempts to somehow rewrite, outrun, or eradicate the past.

Told in the resonant voices of everyday people gripped in the emotional riptide of lived life, Northwest Corner is at once tough and heart-lifting, an urgent, powerful story about family bonds that can never be broken and the wayward roads that lead us back to those we love.
Praise For Northwest Corner…
Praise for Northwest Corner

"The power of Northwest Corner, as its geographical center moves from Connecticut to California and back again, is in the way it asks the hardest questions of human experience with subtle grace...one of the most emotionally commanding novels of the year." -- NPR "Books We Like"

"Eloquently told…[an] elegiac, thoughtful novel…While this isn't the first story about the indestructible bonds of family, it's an especially nuanced and moving one." -- The New York Times
 
"Poetic, introspective, evocative…one of the most gut-wrenching books I've ever read….In Schwartz's hands, the narrative unfolds delicately, each chapter a puzzle piece that fits seamlessly into the whole. Grade: A." -- Entertainment Weekly
 
"Daring as usual, Schwartz takes risks not just with his characters' lives but in his writing…A bruised beauty." -- Elle

"Finely wrought." -- O Magazine

"In Northwest Corner, Schwartz delicately explores this broken father-son relationship, and how Dwight and Sam begin to reach out to one another…In short, finely honed chapters, Schwartz examines the state of mind of each of these wounded souls, drawing the reader into their fragile lives. This is a brilliant exposure of one modern family in moral crisis, a story that in some way touches each of us." -- Bookpage
 
"Schwartz [writes] with a quiet artfulness, giving each character a unique and uniquely moving voice embedded within a consistently interesting and graceful prose -- and creating a structure and style that neatly reflect the story they frame, of piecing together a whole life that is at once the sum of its parts and much more." -- Minneapolis Star Tribune
 
 
"Exceptional at describing the chemistry of desire, creating emotional tension, and making his characters feel more like flesh and blood than fictional constructs. Imaginative and taut, Schwartz's writing is seamless and infinitely inspired."
-- Publishers Weekly
 
"Stark and deeply effecting." – Kirkus Reviews, starred review
 
"Readers of Reservation Road will enjoy continuing the stories of these two families, linked by tragedy, while those who haven't yet discovered this powerful writer are in for a treat." – Library Journal
 
"How do survivors carry on after their lives are scarred by tragedy? What causes a legacy of violence to echo from one generation to the next? Those are the questions John Burnham Schwartz poses and answers with a gentle touch in this moving sequel to his popular 1998 novel, Reservation Road…Although Schwartz's novel can be appreciated without reference to Reservation Road, it will be especially rewarding for anyone who valued the depth of characterization, keen psychological insight and ability to sustain narrative suspense that marked the earlier work. It's unlikely we'll see the Arnos or the Learners again, but we can be grateful to their creator for allowing us to leave them with a fuller sense of their lives." – Shelf Awareness
 
"I was enthralled by Northwest Corner, reluctant to tear myself away even for a moment from a tale so delicately assembled, so well paced. For me Schwartz evokes Steinbeck and Updike in that magical ability to weave out of a regional story of family, a broader chronicle of America…Truly a great American novel." - Abraham Verghese
 
"The masterful Northwest Corner is that finest of things—a moral novel about mortal events." - Dennis Lehane
 
Random House, 9781400068456, 304pp.
Publication Date: July 26, 2011
About the Author
John Burnham Schwartz is the author of four previous novels: "The Commoner," "Claire Marvel," "Bicycle Days," and "Reservation Road," which was made into a motion picture based on his screenplay. His books have been translated into two dozen languages, and his writing has appeared in many publications, including "The New Yorker" and "The New York Times." A winner of the Lyndhurst Foundation Award for mastery in the art of fiction, Schwartz has taught at the Iowa Writers' Workshop, Harvard University, and Sarah Lawrence College, and is currently literary director of the Sun Valley Writers' Conference. He lives in Brooklyn, New York, with his wife, Aleksandra Crapanzano, and their son, Garrick.
or
Not Currently Available for Direct Purchase