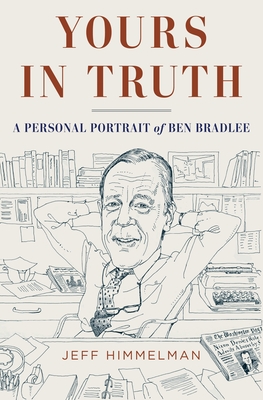 Yours in Truth (Hardcover)
A Personal Portrait of Ben Bradlee, Legendary Editor of The Washington Post
Random House, 9781400068470, 512pp.
Publication Date: May 8, 2012
Other Editions of This Title:
Paperback (11/28/2017)
* Individual store prices may vary.
Description
An intimate profile of the legendary Washington Post editor whose life and career encompassed Watergate, the Pentagon Papers, and the Kennedys—as portrayed by Tom Hanks in the Steven Spielberg film The Post

"A fairly complete and rare portrait of this last of the lion-king newspaper editors."—The New York Times Book Review

Ben Bradlee was a fixture on the American scene for nearly half a century—a close friend to John F. Kennedy; the center of D.C. social life; and a crusty, charismatic editor whose decisions at the helm of the Post during Watergate changed the course of history.

Granted unprecedented access to Bradlee and his colleagues, friends, and private files, Jeff Himmelman draws on never-before-seen internal Post memos, correspondence, personal photographs, and private interviews to trace the full arc of Bradlee's forty-five-year career—from his early days as a press attaché in postwar Paris through the Pentagon Papers, Richard Nixon's resignation, the Janet Cooke fabrication scandal, and beyond. Along the way, Himmelman also unearths a series of surprises—about Watergate, and about Bradlee's private relationships with Post owner Katharine Graham, reporters Bob Woodward and Carl Bernstein, and President Kennedy and his wife, Jackie.

"Don't feel that you have to protect me," Bradlee told Himmelman whenever the reporting started to strike close to home. "Follow your nose." Those instructions, familiar to any Post reporter, have resulted in this thoughtfully constructed and beautifully written account of a magnetic man whose career has come to define the golden age of newspapers in America, when the press battled for its freedom—and won.

Praise for Yours in Truth

"The absolute best nonfiction book of the year . . . a work of journalistic art . . . history straight and true . . . should be required reading at the Columbia School of Journalism."—Chicago Tribune

"Surprising and compulsively readable . . . Himmelman's chapters on Watergate are especially masterful, untangling that web in a fresh and comprehensible way."—Minneapolis Star Tribune

"A sparkling, revealing, definitely controversial, and very readable book . . . highly amusing, particularly for any connoisseur of juicy modern American politics."—Pittsburgh Post-Gazette

"Embedded in Yours in Truth there are fundamental insights about journalism and the role of a dynamic press."—The Atlantic
About the Author
Jeff Himmelman is a contributing writer at The New York Times Magazine, where he has been a finalist for a National Magazine Award; his writing has also appeared in New York, GQ, Washingtonian, and The Washington Post. His work with a team of reporters at the Post helped the paper secure the national reporting Pulitzer Prize for its post-9/11 coverage. He is also a professional musician who writes, records, and performs under the name Down Dexter. He lives in Washington, D.C., with his wife and three daughters.  


Praise For Yours in Truth: A Personal Portrait of Ben Bradlee, Legendary Editor of The Washington Post…
"The absolute best nonfiction book of the year . . . a work of journalistic art . . . history straight and true . . . should be required reading at the Columbia School of Journalism."—Chicago Tribune

"The best Bradlee biography we're likely to get."—The New York Times Book Review

"Surprising and compulsively readable . . . Himmelman's chapters on Watergate are especially masterful, untangling that web in a fresh and comprehensible way."—Minneapolis Star Tribune

"A sparkling, revealing, definitely controversial, and very readable book . . . highly amusing, particularly for any connoisseur of juicy modern American politics."—Pittsburgh Post-Gazette

"The bold brilliance of Jeff Himmelman's Yours in Truth comes through because it is not simply a biography of a quixotic figure who changed the timbre of American newspapers. Rather, it is also a riveting history lesson with fastidiously researched facts intertwined with first-person observations."—Charleston Post and Courier

"Embedded in Yours in Truth there are fundamental insights about journalism and the role of a dynamic press."—The Atlantic

"The biographer either sells his soul for the cozy dinners or bails for the truth. Himmelman chose the latter."—The Huffington Post

"[A] riveting new life of one of America's greatest editors."—The Daily Beast
or
Not Currently Available for Direct Purchase