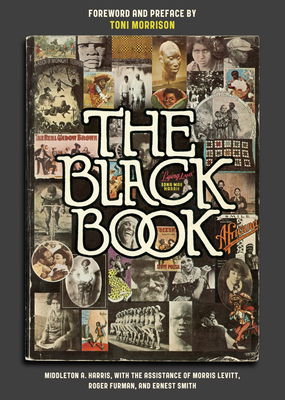 The Black Book (Hardcover)
Random House (NY), 9781400068487, 193pp.
Publication Date: November 10, 2009
* Individual store prices may vary.
Description
Seventeenth-century sketches of Africa as it appeared to marauding European traders. Nineteenth-century slave auction notices. Twentieth-century sheet music for work songs and freedom chants. Photographs of war heroes, regal in uniform. Antebellum reward posters for capturing runaway slaves. An 1856 article titled" A Visit to the Slave Mother Who Killed Her Child.
"
In 1974, Middleton A. Harris and Toni Morrison led a team of gifted, passionate collectors in compiling these images and nearly 500 others into one sensational narrative of the black experience in America: The Black Book."""
"Now in a deluxe 35th anniversary hardcover edition, The Black Book remains a breathtaking testament to the legendary wisdom, strength, and perseverance of black men and women intent on freedom. Prominent collectors Morris Levitt, Roger Furman, and Ernest Smith, as well as Middleton Harris and Toni Morrison (then a Random House editor, now a two-time Pulitzer Prize winning Nobel laureate) spent months studying, laughing at, and crying over these materials from transcripts of fugitive slaves trials and proclamations by Frederick Douglass and other celebrated abolitionists to chilling images of cross burnings and lynchings, patents registered by black inventors throughout the early twentieth century to vibrant posters from Black Hollywood films from the 1930s and 1940s.
A labor of love and a vital link to the richness and diversity of African American history and culture, The Black Book honors the past, reminding us where our nation has been, and gives flight to our hopes for what is yet to come. Beautifully and faithfully presented, and featuring a new Foreword and original poem by Toni Morrison, The Black Book remains a timeless landmark work.
About the Author
"A friend introduced me to Middleton (Spike) Harris* [a retired city employee], who became the chief author of the project. His collection of black memorabilia is extensive and his passion for the subject as intense as it is thorough...His friend Morris Levitt, a retired public-school teacher and amateur black sports enthusiast, joined Harris on the project. So did Roger Furman, an actor and director of New York's black New Heritage Repertory Theater.

Finally, Ernest Smith [a collector of black memorabilia since he was 14] also joined...All of these men have one thing in common: an intense love for black expression and a zest wholly free of academic careerism." (Toni Morrison, in

"Rediscovering black history," "New York Times")

Toni Morrison is the author of numerous works of fiction, non-fiction, and children s literature, most recently, the novel "A Mercy." She twice has received the Pulitzer Prize for "Sula "(1974) and "Beloved" (1988) as well as the National Book Critics Circle Award and the Nobel Prize for Literature. Most recently the Robert F. Goheen Professor of Humanities at Princeton University, she lives in Rockland County, New York.

"
Praise For The Black Book…
"This book should be in every home to be read and shown to every child, at least until that child reaches age 12." —Bill Cosby

"The Black Book is an incredible testament to the strength, character, and endurance of a people never meant to succeed.  Especially in these historic times, I can think of no better way to celebrate African American achievement than through a retrospective look at our history–painful and pleasurable–our shared experiences and our successes.  This is a book no American–black or white–can afford to ignore."—Dr. Cornel West, Princeton University

"I love The Black Book. I vividly remember when it was published: I was a graduate student in England, at Cambridge, desperately looking for sources in the emerging field of African American Studies.
Both the book and Toni Morrison's brilliant New York Times Magazine essay–which I avidly devoured–opened up for me the very possibilities for, and the keen attraction of, the use of documents and artifacts to recreate the full and rich narrative of African American History. I read it like one reads a coffee table book, making my way through its lovely pages leisurely; but I also used it religiously as a scholarly reference source. One of the beautiful things about this beautiful book is that it fulfills both functions, and does so with great aplomb. When The Black Book was published, virtually no one knew that these sources even existed. No single book has done more to shape the field of African American History than has this brilliantly conceived book. It is the ultimate treasure chest of the Black Experience."—Dr. Henry Louis Gates Jr., Harvard University

"A terrible error grew as humans spread out around the globe from our common ancestors in Southern Africa: race became a source of division and hierarchy instead of the minor adaptation to climate it truly was. The Black Book records some of the everyday suffering and wisdom that this false hierarchy has caused. There is not a member of the human family on earth who cannot learn from it."—Gloria Steinem

"The Black Book is an important document of American history that defines a people's strength, hope, and perseverance. By honoring the past, Toni Morrison's remarkable book sheds light on the present, and shows the unlimited potential for the future."—Gay Talese

"Terrific, terrific, terrific... tell the truth and shame the devil."—Melvin Van Peebles, Writer/Director

"Bountiful…Resonant…As fresh as the day it was born, 35 years ago, this category-smashing book is scrapbook, photo album, treasure chest and time capsule."—Publishers Weekly,
starred review
Coverage from NPR
or
Not Currently Available for Direct Purchase