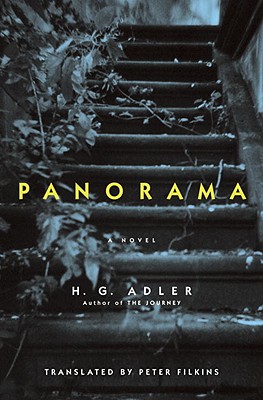 Panorama
Hardcover

* Individual store prices may vary.
Other Editions of This Title:
Paperback (1/10/2012)
Description
Published for the first time in English, Panorama is a superb rediscovered novel of the Holocaust by a neglected modern master. One of a handful of death camp survivors to fictionalize his experiences in German, H. G. Adler is an essential author—referenced by W. G. Sebald in his classic novel Austerlitz, and a direct literary descendant of Kafka.

When The Journey was discovered in a Harvard bookshop and translated by Peter Filkins, it began a major reassessment of the Prague-born H. G. Adler by literary critics and historians alike. Known for his monumental Theresienstadt 1941–1945, a day-by-day account of his experiences in the Nazi slave-labor community before he was sent to Auschwitz, Adler also wrote six novels. The very depiction of the Holocaust in fiction caused furious debate and delays in their publication. Now Panorama, his first novel, written in 1948, is finally available to convey the kinds of truths that only fiction can.

A brilliant epic, Panorama is a portrait of a place and people soon to be destroyed, as seen through the eyes of young Josef Kramer. Told in ten distinct scenes, it begins in pastoral Word War I–era Bohemia, where the boy passively witnesses the "wonders of the world" in a thrilling panorama display; follows him to a German boarding school full of creeping xenophobia and prejudice; and finds him in young adulthood sent to a labor camp and then to one of the infamous extermination camps, before he chooses exile abroad after the war. Josef's philosophical journey mirrors the author's own: from a stoic acceptance of events to a realization that "the viewer is also the participant" and that action must be taken in life, if only to make sure the dead are not forgotten.

Achieving a stream-of-consciousness power reminiscent of James Joyce and Gertrude Stein, H. G. Adler is a modern artist with unique historical importance. Panorama is lasting evidence of both the torment of his life and the triumph of his gifts.
Praise For Panorama…
Praise for H. G. Adler's The Journey, translated by Peter Filkins
 
"The novel's streaming consciousness and verbal play invite comparison with Joyce, the individual-dwarfing scale of law and prohibition brings Kafka to mind, and there is something in the hypnotic pulse of the prose that is reminiscent of Gertrude Stein."—The New York Times Book Review
 
"As important a find as Irène Némirovsky's Suite Française, and as well translated into English, it is indeed, as Veza Canetti wrote to the author in 1962, 'too beautiful for words and too sad.' "—Sander L. Gilman, author of Jurek Becker: A Life in Five Worlds
 
"A tribute to the survival of art and a poignant teaching in the art of survival. I tend to shy away from Holocaust fiction, but this book helps redeem an all-but-impossible genre."—Harold Bloom
 
"A masterpiece of modern fiction."—The Times Literary Supplement

"[Adler] produced a quantity and a diversity of writings about the Holocaust that seem to have been equalled by no other survivor….The Journey and Panorama are very different works, each with its own distinctive style, but both are modernist masterpieces worthy of comparison to those of Kafka or Musil."
—Ruth Franklin, The New Yorker
 
"Every so often, a book shocks you into realizing just how much effort and sheer luck was required to get it into your hands…. Panorama should have been the brilliant debut of a major German writer….It's hard to fathom why we had to wait so long. Adler, who died in London in 1988, was a gifted novelist as well as an important scholar. Under any circumstances, let alone such harsh ones, his accomplishments would be remarkable."
—The New York Times Book Review
 
"An artful and brutal description…that nearly guarantees Panorama a place in the canon of Holocaust literature. The novel, now translated into English for the first time, is as remarkable for its literary experimentation as for its historical testimony….a haunting narrative."
—San Francisco Chronicle
 
"Stunning….Adler's stream-of-consciousness style is adeptly translated by Peter Filkins, and the reader is easily swept into the flow of Josef's thoughts. Panorama is no Joycean maelstrom of words and not-words, but instead a beautiful, accessible, story of a young man's life."
—Historical Novels Review (Editor's Choice)
Random House, 9781400068517, 480pp.
Publication Date: January 18, 2011
About the Author
H. G. Adler was the author of twenty-six books of fiction, poetry, philosophy, and history. A survivor of the Holocaust, Adler later settled in England and began writing novels about his experience. Working as a freelance writer and teacher throughout his life, Adler died in London in 1988.

Peter Filkins is an acclaimed translator and the recipient of a Berlin Prize fellowship in 2005 from the American Academy in Berlin, among other honors. He teaches writing and literature at Bard College at Simon's Rock in Great Barrington, Massachusetts.
or
Not Currently Available for Direct Purchase