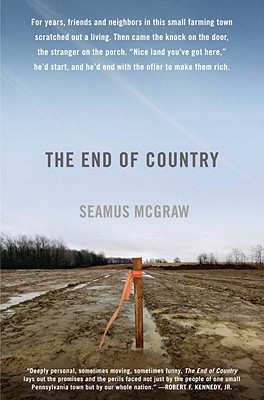 The End of Country: Dispatches from the Frack Zone (Hardcover)
Dispatches from the Frack Zone
Random House, 9781400068531, 256pp.
Publication Date: June 28, 2011
* Individual store prices may vary.
or
Not Currently Available for Direct Purchase
Description
The End of Country is the compelling story about the epic battle for control of one of the richest natural gas deposits the world has ever known: the Marcellus Shale, worth more than one trillion dollars. In a remote northeastern corner of Pennsylvania, an intense conflict begins, pitting the forces of corporate America against a community of stoic, low-income homesteaders, determined to acquire their fair share of the windfall—but not at the cost of their values or their way of life. Though the natural gas is extracted through a controversial process known as hydrofracking, many couldn't resist the offer to lease their land in exchange for the promise of untold riches.

For years, this part of the world was invisible to all but the farmers, urban transplants, and small landholders who called it home. But journalist Seamus McGraw, a native of the region whose own mother was one of the first to receive a leasing offer, opens a window on a stiff-necked group of Pennsylvanians as they try, with little guidance or protection from the state or anyone else, to balance the promise and the peril of this discovery. Along the way, McGraw introduces us to a host of colorful characters, from a gas company land agent with a Green Beret to a wizened quarryman with an old coonhound, a .22 rifle, and an unerring sense of right and wrong who leads a personal crusade to police the gas company's operations.

The cutthroat dash by petrodollar billionaires to secure drilling leases will make some poor residents rich, and put the entire community at risk of having its land tainted by toxic chemicals and its water supply contaminated by gas. Above all, it will test the character of everyone in the community as they fight against "the end of country."

Rich with a sense of place and populated by unforgettable personalities, The End of Country is a tale of greed, hubris, and envy, but also of hope and family—and the land that binds them all together.
About the Author
Seamus McGraw is a full-time writer who has seen his work published in "Playboy," "Reader's Digest," "Penthouse," "Radar," "Spin," and "The Forward." He has received the Freedom of Information Award from the Associated Press Managing Editors, as well as honors from the Casey Foundation and the Society of Professional Journalists. McGraw is currently working on a documentary trailer about his family's experiences with the Marcellus shale. He grew up pitching hay and spreading manure on the same fields the gas companies are now prospecting. He still lives in the woods of northeastern Pennsylvania with his wife and four children.
Praise For The End of Country: Dispatches from the Frack Zone…
Praise for The End of Country
"[An] impressively detailed, highly engaging look at issues of energy policy, economics, and sociology that arose when a bucolic town was suddenly faced with the 'traveling circus' of energy exploration. McGraw presents a rich history of the economics and geopolitics of energy as well as a fascinating cast of characters . . . A completely engaging look at how energy policy affected a quiet, rural town."—Booklist (starred review)

"Deeply personal, sometimes moving, sometimes funny, The End of Country lays out the promises and the perils faced not just by the people of one small Pennsylvania town but by our whole nation."—Robert F. Kennedy, Jr.

"The End of Country is an elegantly written and unsettling account of what can happen when big energy companies come calling in rural America. This cautionary tale should be required reading for all those tempted by the calling cards of easy money and precarious peace of mind. The result too often is bitter feuds, broken dreams, a shattered landscape."—Tom Brokaw

"This is an environmental tale on the surface, yet something more powerful lurks beneath the soil of this wonderful book. Seamus McGraw is really writing about the enduring complexities and contradictions of the United States. He goes beyond the easy stereotypes of greedy promoters preying on farmers and gives us the unvarnished truth about a twenty-first-century energy rush in a place we never expected it. This is tale told with heart, gusto, close observation, and sly humor—truly a remarkable memoir."—Tom Zoellner, author of The Heartless Stone and Uranium
"This story is remarkably lively and full of heart. McGraw's calm and coherent prose sails over hundreds of years of hopes and dreams in the Pennsylvania countryside, charting a uniquely American story in cinematic fashion, conjuring up images of country folk making a stand and looking out for their lineage."--Progressive Reader
Advertisement