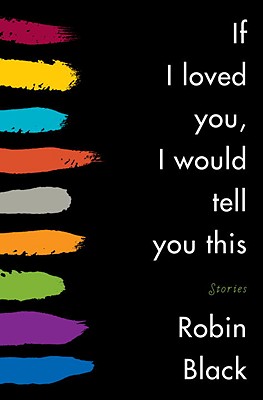 If I Loved You, I Would Tell You This (Hardcover)
Stories
Random House, 9781400068579, 288pp.
Publication Date: March 30, 2010
Other Editions of This Title:
Digital Audiobook (3/29/2010)
Paperback (4/26/2011)
Paperback (5/1/2011)
* Individual store prices may vary.
Description
Heralding the arrival of a stunning new voice in American fiction, Robin Black's If I Loved You, I Would Tell You This takes readers into the minds and hearts of people navigating the unsettling transitions that life presents to us all.
 
Written with maturity and insight, and in beautiful, clear-eyed prose, these stories plumb the depths of love, loss, and hope. A father struggles to forge an independent identity as his blind daughter prepares for college. A mother comes to terms with her adult daughter's infidelity, even as she keeps a disturbing secret of her own. An artist mourns the end of a romance while painting a dying man's portrait. An accident on a trip to Italy and an unexpected connection with a stranger cause a woman to question her lifelong assumptions about herself.

Brilliant, hopeful, and fearlessly honest, If I Loved You, I Would Tell You This illuminates the truths of human relationships, truths we come to recognize in these characters and in ourselves.
About the Author
Robin Black's stories and essays have appeared in numerous publications, including "One Story, Colorado Review, The Georgia Review, Alaska Quarterly Review, Bellevue Literary Review, The Southern Review," and the anthology "The Best Creative Nonfiction." The winner of many awards and a recipient of fellowships from the Leeway Foundation and the MacDowell Colony, Black is a graduate of the Warren Wilson MFA Program for Writers. She lives with her family in Philadelphia.
Praise For If I Loved You, I Would Tell You This: Stories…
"I want to shout about how just when you thought no one could write a story with any tinge of freshness let alone originality about childhood. . . about marriage…about old age, Black has done it. . . . Black delivers real emotion, the kind that gives you pause….Will Robin Black win [the Pen/Hemingway Prize] for this book? If I were a judge, she would."
—Alan Cheuse, Chicago Tribune
 
"Pitch-perfect….so deft, so understated, and so compelling that you have to slow down to savor each vignette….Fans of Mary Gaitskill, Amy Bloom, and Miranda July will feel like they've found gold in a river when they discover Robin Black…[A] writer to watch."
--O, The Oprah Magazine
 
"Each story reads like a mini-novel…worlds are contained in a single page. And the writing ... oh, the writing….There's no narrative cohesion, no point.  Rather, If I Loved You is a 'Fantastic Voyage' into the bloodstream of the human species….Maybe it's midlife maturity, maybe it's raw talent, but If I Loved You leaves you longing for more."
--San Francisco Chronicle

"Incisive….peopled with characters so fully imagined you'll feel they're in the room."
--People
 
"Exquisitely distilled tales of loss and reckoning….[Black] evokes a Sparkian blend of skepticism and grace." 
--Vogue.com
 
"Robin Black stakes out some of the emotional territory occupied by Alice Munro, Amy Bloom and Lorrie Moore….A nuanced portrait of the heart that repays careful reading."
--Financial Times
 
"Considered and rewarding….Black writes with grace and simplicity and there is a quiet strength in her sentences."
--Times Literary Supplement
 
"Powerful and touching….sparkling with poetic vision….In every story, [Black] creates wonderful little images, sees symbols, double meanings, poetry everywhere.... Black has an enviable ability to create wholly believable characters, people you'd swear you know, and by showing them in passage through life's transitions, she reveals the source of their longings….A fine first collection."
--Philadelphia Inquirer
 
"Robin Black's lovely debut collects 10 stories written over eight years, each demonstrating the rewards of a long gestation--contemplative pacing and a polished craft. . . . . Should Alice Munro ever fulfill her threat of retirement, readers can turn to Black for solace.  Grade: A."
--Cleveland Plain Dealer

"Nuanced, perfectly pitched and striking….[Black's stories] swell with feeling….leaving us wanting more as we read each story every more slowly as the finale approaches."
--The Australian
 
"Black proves herself to be a keen observer of the human condition as she shows how her characters navigate their inner worlds. . . Sympathetic but never saccharine."
--The Daily Beast
 
"Each story...in this collection is a mini work of art….The stories stay with you.  They teach life lessons and change the way you view the world."
--Irish Examiner
 
"The lives of the people in Black's stories unfold in unexpected ways. Her ability to convey the quiet havoc this causes is what makes her collection so good."
—Dallas Morning News
 
"Eight years of writing and revision result in a high-caliber short story collection reminiscent of works by Atwood and Paley….[Black] illustrates the fragmented, disconnected nature of our civic lives with heart-stopping clarity….[Her] stories quietly usher us through worlds of grief in a heartfelt yet dignified fashion….Like fine chocolate or wine, a little Black goes a long way. Savor this collection slowly and reflectively, then share with a friend."—Library Journal  
"A wonderfully rich and rewarding story collection. . . for fans of Alice Munro or Lorrie Moore."
--Louisville Courier-Journal
 
"Perceptive and emotional."
--San Francisco Book Review
 
"Wise and involving."
--The Brooklyn Rail
 
"An auspicious debut."
--Kirkus Reviews (Starred Review)
 
"Poignant. . .well-written explorations of characters and situations sure to appeal to readers of Alice Munro and Mary Gaitskill."  --Booklist "Evocative and lyrical."
--Publishers Weekly
 
"Robin Black knows people. She knows us, she loves us, she takes pity on us and she offers us back to ourselves in clear-eyed and graceful prose. Her people are alive on these pages in all their glory--heartache and joy, infidelity and loyalty--and stay with us."
--Amy Bloom, author of Where the God of Love Hangs Out
 
"This collection of short stories might more accurately be called a collection of short novels, such is their richness of characterization and plot. And the writing! It's the best I've seen in years, literally. I was immediately engaged with and entertained by every story here, without exception, and I was moved and enlightened by them, as well. Robin Black is an old soul who is a new addition to my short list of favorite authors. She is worthy of every bit of the high praise that is sure to come her way."
-- Elizabeth Berg, author of The Last Time I Saw You
 
"Robin Black's men and women have been around the block—in fact, they've done laps around the block—and are suffused with a fierce and hard-won knowledge about life, about love and loss.  It's wisdom that fills these characters.  Like bulletins from the front, these magnificent stories shine a light on what it means to be human."
-- Dani Shapiro, author of Black and White
 
"Robin Black's stories are beautifully measured and composed in their engagements with emotional crises that are harrowingly intense, if not catastrophic.   Few first collections – few collections of any sort -- are as intelligent and as moving about both the durability of love and the implacability of loss, or about the ways in which contingency can undo and remake us; about, finally, the damage done and the repair work to come."
--Jim Shepard, author of Like You'd Understand, Anyway
 
"These stories are full of surprises. They start with the familiar, drawing the reader in with the beauty and precision of their prose until, suddenly, in the middle of a suburban family drama, Italian bandits appear. But what makes If I Loved You, I Would Tell You This such an exquisite collection is the way Robin Black brings these same unpredictable elements into the emotional lives of her characters, creating that special kind of literary magic, where a reader experiences everything, right alongside, and it all feels new."
--Hannah Tinti, author of The Good Thief
or
Not Currently Available for Direct Purchase