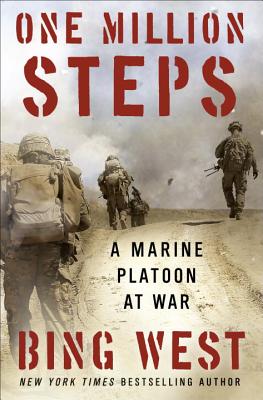 One Million Steps
A Marine Platoon at War
Hardcover

* Individual store prices may vary.
Other Editions of This Title:
Digital Audiobook (9/8/2014)
Paperback (6/9/2015)
Description
Battalion 3/5 suffered the highest number of casualties in the war in Afghanistan. This is the story of one platoon in that distinguished battalion.
Aware of U.S. plans to withdraw from the country, knowing their efforts were only a footprint in the sand, the fifty Marines of 3rd Platoon fought in Sangin, the most dangerous district in all of Afghanistan. So heavy were the casualties that the Secretary of Defense offered to pull the Marines out. Instead, they pushed forward. Each Marine in 3rd Platoon patrolled two and a half miles a day for six months a total of one million steps in search of a ghostlike enemy that struck without warning. Why did the Marines attack and attack, day after day?
Every day brought a new skirmish. Each footfall might trigger an IED. Half the Marines in 3rd Platoon didn t make it intact to the end of the tour. "One Million Steps" is the story of the fifty brave men who faced these grim odds and refused to back down. Based on Bing West's embeds with 3rd Platoon, as well as on their handwritten log, this is a gripping grunt s-eye view of life on the front lines of America's longest war. Writing with a combat veteran's compassion for the fallen, West also offers a damning critique of the higher-ups who expected our warriors to act as nation-builders and whose failed strategy put American lives at unnecessary risk.
Each time a leader was struck down, another rose up to take his place. How does one man instill courage in another? What welded these men together as firmly as steel plates?
This remarkable book is the story of warriors caught between a maddening, unrealistic strategy and their unswerving commitment to the fight. Fearsome, inspiring, and poignant in its telling, "One Million Steps" is sure to become a classic, a unique and enduring testament to the American warrior spirit.
Praise for "One Million Steps"
West shows the reality of modern warfare in a way that is utterly gripping. Max Boot, author of "Invisible Armies"
A gripping, boot-level account of Marines in Afghanistan during the bloody struggle with Taliban fighters. "Los Angeles Times"
""
"One Million Steps" transcends combat narrative: It is an epic of contemporary small-unit combat. Eliot A. Cohen, author of "Supreme Command"
""
A blistering assault on America's senior military leadership. "The Wall Street Journal"
""
A heart-pounding portrayal . . . a compelling account of what these men endured. " The Washington Post"
Stunning, sobering, and brilliantly written. Newt Gingrich
""
One of the most intrepid military journalists, Bing West, delivers a heart-wrenching account of one platoon's fight. Bill Bennett, host of "Morning in America"
Bing West has reconfirmed his standing as one of the most intrepid and insightful observers of America's wars. . . . "One Million Steps" reveals the essence of small-unit combat, the very soul of war. "The Weekly Standard"
""
A searing read, but it is one that all Americans should undertake. We send our sons into battle, and few know what our warriors experience. " The Washington Times.
Random House, 9781400068746, 277pp.
Publication Date: September 9, 2014
About the Author
Bing West, a Marine combat veteran, served as an assistant secretary of defense in the Reagan administration. He has been on hundreds of patrols in Vietnam, Iraq, and Afghanistan. A nationally acclaimed war correspondent, he is the author of "The Village; No True Glory: A Frontline Account of the Battle for Fallujah; The Strongest Tribe: War, Politics, and the Endgame in Iraq; "and" The Wrong War: Grit, Strategy, and the Way Out of Afghanistan. "Most recently, he was the co-author of Medal of Honor recipient Dakota Meyer s memoir, " Into the Fire. "A member of the Council on Foreign Relations and the Infantry Order of St. Crispin, West is the recipient of the Department of Defense Medal for Distinguished Public Service, the Colby Award for Military Writers, the Andrew J. Goodpaster Prize for military scholarship, the Marine Corps Heritage Foundation award (twice), Tunisia s Medaille de la Liberte, the Marine Corps Combat Correspondents Association Award, the Father Clyde Leonard Award, the Free Press Award, and the Veterans of Foreign Wars News Media Award. He lives with his wife, Betsy, in Newport, Rhode Island."
or
Not Currently Available for Direct Purchase