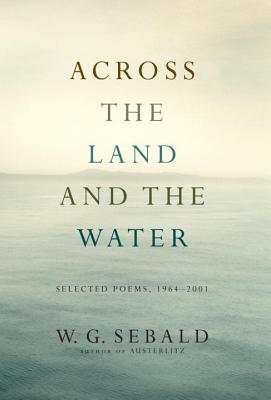 Across the Land and the Water: Selected Poems, 1964-2001 (Hardcover)
Selected Poems, 1964-2001
Random House, 9781400068906, 192pp.
Publication Date: March 27, 2012
* Individual store prices may vary.
or
Not Currently Available for Direct Purchase
Description
A publishing landmark—the first major collection of poems by one of the late twentieth century's literary masters
 
German-born W. G. Sebald is best known as the innovative author of Austerlitz, the prose classic of World War II culpability and conscience that The Guardian called "a new literary form, part hybrid novel, part memoir, part travelogue." Its publication put Sebald in the company of Nabokov, Calvino, and Borges. Yet Sebald's brilliance as a poet has been largely unacknowledged—until now.
 
Skillfully translated by Iain Galbraith, the nearly one hundred poems in Across the Land and the Water range from those Sebald wrote as a student in the sixties to those completed right before his untimely death in 2001. Featuring eighty-eight poems published in English for the first time and thirty-three from unpublished manuscripts, this collection also brings together all the verse he placed in books and journals during his lifetime.
 
Here are Sebald's trademark themes—from nature and history ("Events of war within/a life cracks/across the Order of the World/spreading from Cassiopeia/a diffuse pain reaching into/the upturned leaves on the trees"), to wandering and wondering ("I have even begun/to speak in foreign tongues/roaming like a nomad in my own/town . . ."), to oblivion and memory ("If you knew every cranny/of my heart/you would yet be ignorant/of the pain my happy/memories bring").
 
Soaring and searing, the poetry of W. G. Sebald is an indelible addition to his superb body of work, and this unique collection is bound to become a classic in its own right.
About the Author
W. G. Sebald was born in Wertach im Allgau, Germany, in 1944. He studied German language and literature in Freiburg, Switzerland, and Manchester. He taught at the University of East Anglia in Norwich, England, for thirty years, becoming professor of European literature in 1987, and from 1989 to 1994 was the first director of the British Centre for Literary Translation. His previously translated books--"The Rings of Saturn, The Emigrants, Vertigo, "and "Austerlitz"--have won a number of international awards, including the National Book Critics Circle Award, the "Los Angeles Times" Book Award, the Berlin Literature Prize, and the LiteraTour Nord Prize. He died in December 2001.

Iain Galbraith was born in Glasgow in 1956 and studied modern languages and comparative literature at the universities of Cambridge, Freiburg, and Mainz, where he taught for several years. He has edited works by Stevenson, Hogg, Scott, Boswell, and Conrad, and contributed essays to many books and journals in the U.K., France, and Germany. He is a widely published translator of German-language writing, especially poetry, into English, winning the John Dryden Prize for Literary Translation in 2004.
Praise For Across the Land and the Water: Selected Poems, 1964-2001…
Praise for W. G. Sebald
  
"How fortunate we are to have this writer's startling imagination freshly on display once again, and now in poetry.  ACROSS THE LAND AND THE WATER is a rich collection full of little mysteries, unnerving insights, and odd reflections, all expressed in language honed to a perfect simplicity.  'The Three Wise Men/Are walking the earth,' his lines go, and at least one of them is W.G. Sebald." -- Billy Collins, former United States Poet Laureate

"A significant addition to Sebald's main achievement – full of things that are beautiful and fascinating in themselves, and which cast a revealing light on the evolution and content of his prose . . . . an important book." -- The Guardian UK
 
"Now with the publication of Across the Land and the Water: Selected Poems 1962-2001 , thanks to the translation and scholarship of Iain Galbraith, Sebald readers can hear the master's voice again and see in distilled form the Sebald landscape, as if for the first time...Sebald reminds me of the humanist tradition of Günter Grass or Heinrich Böll, company he unquestionably belongs to as poet, essayist and prose writer, one of the great artists of our time." -- The Irish Times
 
"This selection of W G (Max) Sebald's poems will be treasure trove to his admirers. Brilliantly translated by Iain Galbraith . . . it includes works from the whole length of his creative life, cut short far too early in December 2001... In fact, read them all, and more than once. I would suggest reading the poems straight through first, then again side by side with Galbraith's notes – seldom is a set of notes to a text so entertaining in itself – and then for a third time. Three readings, I can assure anyone, will be no hardship." -- Literary Review UK
 
"As in his prose, the poems invest every landscape with an archaeologist's sense of the pain, toil and loss secreted in each layer of soil. Always an inveterate 'Border Crosser' – between lands, ages, moods, poetry and prose, history and fiction – he seeks 'to register/ what we have forgotten' . . . the wonderful alchemy via which Sebald transmuted the found material of actual biography and history into fiction that kept faith with truth explains much of his appeal." -- The Independent UK
 
"Preoccupied with memory, desire and the ghostliness of objects, Sebald can evoke in one poem the faded glamour of 'a forgotten era/of fountains and chandeliers' or a 'turn-of-the-century/frock-coat and taffeta bow' while in another he will speak of an 'ugly/tower block' or 'moribund supermarkets'. This shift between differing eras could seem forced or artificial. And yet Sebald manages such movement with a lightness of touch...Even in a seemingly simple six-line poem, the sudden weight of historical events can be felt." -- The Economist UK
 
"Is literary greatness still possible? What would a noble literary enterprise look like? One of the few answers available to English-speaking readers is the work of W. G. Sebald."—Susan Sontag
 
"Sebald stands with Primo Levi as the prime speaker of the Holocaust and, with him, the prime contradiction of Adorno's dictum that after it, there can be no art."—Richard Eder, The New York Times Book Review
 
"Sebald is a rare and elusive species . . . but still, he is an easy read, just as Kafka is. . . . He is an addiction, and once buttonholed by his books, you have neither the wish nor the will to tear yourself away."—Anthony Lane, The New Yorker
 
"The secret of Sebald's appeal is that he saw himself in what now seems almost an old-fashioned way as a voice of conscience, someone who remembers injustice, who speaks for those who can no longer speak."—Charles Simic, The New York Review of Books
Advertisement