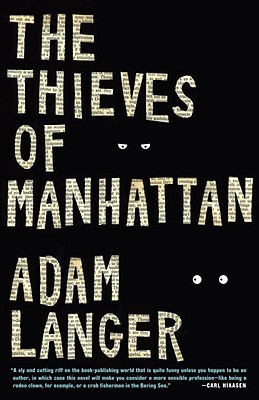 The Thieves of Manhattan
A Novel
Paperback

* Individual store prices may vary.
Description
The famously false memoirs of James Frey may be yesterday's news, but as this funny riff reminds us, literary fakes are as old as literature itself. Ian Minot is an aspiring writer who labors over short stories that seem destined to remain unread. His beautiful Romanian girlfriend, Anya Petrescu, finds success more easily—and leaves Ian for Blade Markham, a bloviating ex-gangbanger whose "so-called memoir" is a best-seller. When Ian is approached by ex-editor Jed Roth, who wants Ian to publish Jed's pulpy tale of book theft and murder as a memoir, then renounce it, it's a chance for both of them to get revenge: Jed on his former employer, and Ian on the world. Although Langer may be too cute for some (he employs made-up slang in which a penis is a portnoy), he does an engaging job with the hall-of-mirrors plot. And if readers can predict that the book they're reading is the one that Ian ends up writing, they'll never guess the ending. Just when you want a surprising twist, Langer delivers several.
Praise For The Thieves of Manhattan: A Novel…
"Wonderfully mischievous…as soulful and morally committed as it is funny and clever…If The Thieves of Manhattan were nothing more than a boisterous skewering of the crisis-ridden publishing industry—a soft target already lampooned in countless romans à clef—it would still be a gas. But Langer has grander existential plans…Read The Thieves of Manhattan once, and it's a wild ride through a ripping yarn. Read it twice, and you'll discover that Langer, unlike his unworldly protagonist, is a subtly cunning foreshadower of plot and theme."—The Los Angeles Times
 
"As a lampoon of the modern book industry, The Thieves of Manhattan is near perfection. With its vicious satire of the culture of celebrity and the loss of principles in the A Million Little Pieces scandal, it makes an exciting read that will put a dark smile on the face of anyone discouraged by the downward spiral of literature."—The Daily Beast

"Hysterically funny… Langer has written an immensely clever novel, by turns tenderhearted and satirical—an affecting, altogether plausible portrait of one writer's passage through good times and bad. Yes, the book is a send-up of an industry obsessed with the bottom line and embarrassingly susceptible to James Frey's snake oil charms. Yes, Langer's critique is accurate and amusing. But The Thieves of Manhattan is finally a marvelous yarn, a glorious paean to good books and to those who shepherd them into the world, a tale of redemption as cheering as Michael Chabon's Wonder Boys."—The Chicago Tribune
 
"The Thieves of Manhattan may be to publishing what Joseph Heller's Catch-22 was to the military."—Associated Press
 
"What drives Langer's black-humored dystopia is his formidable blend of righteous cynicism, screwball noir and socially observant satire. It's an easily believable netherworld teeming with shit-talking agents and corrupted publishers continually turning bad publicity into profit…Langer leaves you with some serious philosophizing on the increasing interchangeability of concepts like truth and fiction in a media-blitz age."—Time Out New York
  
"[An] amusing new novel, a satiric barb aimed directly at the literary world and those who seek to subvert it for fame, money, and—please God—a shot at Oprah…[Langer's] references are clever, snarky, and right on target."—The Miami Herald
 
"Langer serves the literary world its own head on a platter, most notably the phonies and the fakers…[A] timely satire…a light and fast read, with short chapters and plot twists every couple of pages."—San Francisco Chronicle
"The Thieves of Manhattan arrives with a twinkle and a smirk, and from the very start the reader knows the game is on…There is enough puzzlement here to occupy a book club from first sip to dessert."—Chicago Sun-Times
 
"If you want to feel somewhat literary and very hip, try jumping on the speedy ride that is The Thieves of Manhattan. Novelist Adam Langer delivers plenty of cool in this satire of the New York literary scene in which aspiring writer Ian Minot is tempted – after observing the unearned success of others – into taking part in a literary scam. The question, however, becomes: Who is really scamming whom?"—Christian Science Monitor
 
"How many novels begin with a Milli Vanilli quote? In the case of the funny and sharp Thieves of Manhattan by Adam Langer, the lyric 'Girl you know it's true' is particularly apt, as this clever tale blurs fact and fiction to riotous effect."—Very Short List
 
"As clever a quick read as you can ever ask for. His character Ian is hilariously hapless and self-deprecating. The book crackles with humor and insight into not only publishing corruption, but also the history of modern literature."—Edge
 
"Love and art merge with cheerful cynicism in Langer's madcap skewering of New York's personality-mad publishing industry." —Vogue
 
"An über-hip caper…Part Bright Lights, Big City, part The Grifters, this delicious satire of the literary world is peppered with slang so trendy a glossary is included."—Publishers Weekly (Starred review)
 
"A dizzyingly inventive comic thriller that is at once a sardonic take on the hypocrisies of the publishing world and an exploration of the sometimes fluid boundaries between the real and the imaginative in literature. Smart, original, and highly recommended."—Library Journal
 
"A dizzyingly clever novel…Lots of fun."—Kirkus Reviews
 
"The famously false memoirs of James Frey may be yesterday's news, but as this funny riff reminds us, literary fakes are as old as literature itself…Just when you want a surprising twist, Langer delivers several.  The truth is, he's got a wild imagination."—Booklist
 
"The Thieves of Manhattan is a sly and cutting riff on the book-publishing world that is quite funny unless you happen to be an author, in which case the novel will make you consider a more sensible profession—like being a rodeo clown, for example, or a crab-fisherman in the Bering Sea."—Carl Hiaasen
 
"Takes us to places that fiction dares not tread. Bold brave worrying work from a wonderful wunderkind!"—Laura Albert AKA JT LeRoy, author of Sarah and The Heart is Deceitful Beyond All Things
 
"I loved this book—it's both laugh-out-loud funny and satisfyingly snarky about the state of publishing these days. Both writers and readers should find this cautionary tale a delight to read."—Nancy Pearl, author of Book Lust
 
"Adam Langer is that rare combination of a writer. He has a sharp eye to details and explores human relations with keen insight and wry humor, and at the same time shows profound compassion to our fragile existences and longings.  The Thieves of Manhattan flashes with powerful observations about the world of publishing and is a triumph on every level, an absorbing story throbbing with energy and intellect."—Elif Shafak, author of Forty Rules of Love
 
"It's a rare literary novel that can stand up to the rigors of six hours sandwiched in coach between a shrieking newborn and a gentleman hacking up at least one of his lungs. The Thieves of Manhattan, Adam Langer's latest wise and wonderful romp, did the trick splendidly. So splendidly, in fact, that I'd recommend it even to those who plan to travel no farther than their armchairs..."—Ayelet Waldman, author of Bad Mother and Red Hook Road
 
"A page-turning thriller, a lacerating lampoon of the literary life, and a powerful tribute to the art and craft of fakery. Adam Langer's caper of con artists, thug librarians, and fraudulent memoirs moves into that area of truth to which all writers aspire."—Clifford Irving, author of The Autobiography of Howard Hughes and The Hoax
 
"Adam Langer's Thieves of Manhattan is a gleeful addition to the caper canon, a richly twisted narrative that jauntily skewers the publishing business with its bizarre assortment of characters—eccentric, egomaniacal agents, sell-out publishers, success-crazed (illiterate) authors, and television book clubs.  Along its merry way, it also explores the all important (and seemingly nonexistent) distinction between fake memoirs and real novels."—Nicholas Meyer, author of The Seven Percent Solution and The West End Horror, Academy Award-nominated screenwriter and director of The Human Stain, Star Trek II & IV, and Time After Time.
Spiegel & Grau, 9781400068913, 272pp.
Publication Date: July 13, 2010
About the Author
Born and raised in Chicago, Adam Langer is the author of the novels Ellington Boulevard, Crossing California,and The Washington Story. He lives in New York City.
Coverage from NPR
or
Not Currently Available for Direct Purchase