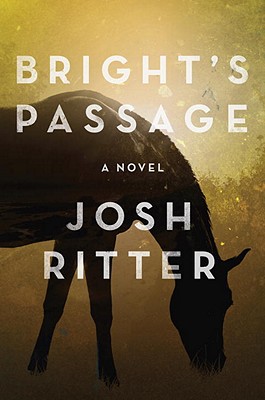 Bright's Passage (Hardcover)
The Dial Press, 9781400069507, 208pp.
Publication Date: June 28, 2011
Other Editions of This Title:
Paperback (5/15/2012)
MP3 CD (9/1/2011)
Compact Disc (9/1/2011)
Audio Cassette (9/1/2011)
Compact Disc (9/1/2011)
Hardcover, Large Print (2/1/2012)
* Individual store prices may vary.
Description
"Bright's Passage shines with a compressed lyricism that recalls Ray Bradbury in his prime…This is the work of a gifted novelist…" – Stephen King, The New York Times Book Review
Josh Ritter's first novel is a wondrous, suspenseful, and uniquely affecting story of the journey taken by a father and his infant son.

Henry Bright is newly returned to West Virginia from the battlefields of the First World War. Grief struck by the death of his young wife and unsure of how to care for the infant son she left behind, Bright is soon confronted by the destruction of the only home he's ever known. His only hope for safety is the angel who has followed him to Appalachia from the trenches of France and who now promises to protect him and his son.

Together, Bright and his newborn, along with a cantankerous goat and the angel guiding them, make their way through a landscape ravaged by forest fire toward an uncertain salvation, haunted by the abiding nightmare of his experiences in the war and shadowed by his dead wife's father, the Colonel, and his two brutal sons. 

At times harrowing, at times funny, and always possessed by the sheer gorgeousness and unique imagination that have made Josh Ritter's songs beloved to so many, this is the debut of a virtuoso fiction writer.
About the Author
Josh Ritter is a songwriter from Moscow, Idaho. His albums include "The Animal Years" and "So Runs the World Away." "Bright's Passage" is his first novel. He lives in New York.
Praise For Bright's Passage…
Praise for Bright's Passage
 
"Bright's Passage shines with a compressed lyricism that recalls Ray Bradbury in his prime…This is the work of a gifted novelist…" – Stephen King, The New York Times Book Review
 
"[An] eloquent and intensely moving historical novel . . . a work of masterful, stunning prose."—Oprah.com
 
"Displays Ritter's abundant lyrical gifts…Rich in metaphor and surprising moments of humor… A dark parable in the southern Gothic tradition of Cormac McCarthy." – The Boston Globe
 
"This debut novel from musician Josh Ritter…is intensely beautiful, tragic and also funny…[The novel] expands as it moves forward, complicating relationships, deepening our concern for Bright and blurring the lines between good and bad….Ritter knows how to build a rich, beautiful story with shape: Bright's Passage has a powerful end."  - Los Angeles Times
 
"A charming, sweet and highly readable novel . . . [Ritter's] imagery is bold, tantalizing."—Associated Press
 
"Propelled by short chapters that read like powerful vignettes, all of which lead to a final confrontation as haunting as any ballad Ritter could have written."—San Francisco Chronicle
 
"The novel is written in Ritter's unique voice — that of a troubadour and soothsaying songwriter, and it is as pleasing to read as his music is to hear." —NPR.org 
"Josh Ritter is already one of the country's most accomplished songwriters. Based on the heartbreaking, luminous Bright's Passage, he may become one of our most accomplished novelists as well."—Dennis Lehane
 
"Ritter renders Bright's journey in beautiful, haunting style…Ritter's ability to evoke a bygone era or a stunning image with a handful of words is as strong as it is in the best of his songs. He's taken great care to build a fully realized world on the cusp of modernity, and he's filled it with enigmas worth pondering." –The Onion / AV Club
 
"The story unfolds with leisurely ease, told in lofty, even tones. Ritter has a knack for details…He's an assured stylist as well…A tender, touching novel about a survivor of both World War I and a nasty family conflict." —Kirkus Reviews
 
"An adventure story with the penetrating emotional colors of a fable; a mythlike survival quest with the convincing texture of a movie; a good read that stays in the memory."—Robert Pinsky
 
"Ritter's got perfect pitch in his scenes of Appalachia, getting just right the hardscrabble descriptions, sights and sounds that convince us to let go as dubious readers and fully enter the fictional dream of the novel. He can build suspense too, pulling the trick off through chapters that shift in time and place. That said, his remarkable rendering of the trench warfare in World War I convinced me of his talents. …Add Josh Ritter to the list of novelists we'll take seriously as his next books come…no matter his day job." —Paste.com
 
"A dark, enchanting parable that reads as both a warning and a reassurance, Bright's Passage has echoes of voices as disparate as Ron Rash, Richard Bausch, and Neil Gaiman. But, as always, Josh Ritter's haunting, graceful work is his own. His gifts are of singular beauty, and the world of American art is fortunate to have been blessed with his talent."—Michael Koryta, author of So Cold the River and The Cypress House
 
"A perfect marriage of the miraculous and the mundane, Bright's Passage is itself something of a miracle. Combining the pull of a big ballad and the intimacy of a whispered monologue, it satisfies on every level: from its deceptively casual style and unexpected coinages to its astute psychology and emotional power. I imagine this is precisely the book every fan of Ritter's music wanted, but Bright's Passage is far more than that."—Wesley Stace, author of Misfortune and Charles Jessold, Considered as a Murderer
 
"In his debut novel Josh Ritter displays the same love of language and historical detail, the same irresistible combination of wit and earnestness, that make him such a brilliant songwriter. He's created a genuine work of literature."—Debby Applegate, Pulitzer Prize–winning author of The Most Famous Man in America: The Biography of Henry Ward Beecher
 
"After earning his place as one of the most gifted songwriters of our time, Josh Ritter goes off and writes a terrific novel. Set in post–World War I Appalachia, Bright's Passage charts the journey of a young, lost soldier, home from the war but in a sense still there. This is one of the finest first novels to come our way in a long time."—Thomas E. Ricks, author of Fiasco and The Gamble
 
"Ritter evokes war, violence and the fearful and numb responses to trauma, squaring them up in a hopeful, humble revelation." – Publishers Weekly
 
"Captures each scene with vivid details and sincere emotions. [An] expressive and darkly humorous tale…" —Library Journal
 
"Ritter's songs sometimes feel like full-blooded fables and folk tales, and his novel has a similar vision, the vision of a disturbing and beautiful dream…Reluctant readers might worry that a songwriter might not be able to sustain a longer narrative, but Steve Earle and Josh Ritter have, in their very different ways, written haunting ballads that sing off the page." –Poets & Writers Online


or
Not Currently Available for Direct Purchase