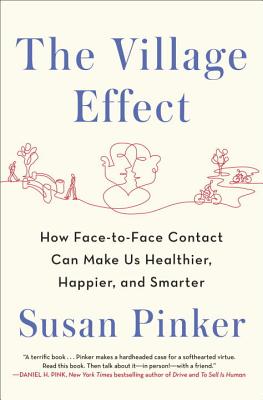 The Village Effect (Hardcover)
How Face-To-Face Contact Can Make Us Healthier, Happier, and Smarter
Spiegel & Grau, 9781400069576, 368pp.
Publication Date: August 26, 2014
* Individual store prices may vary.
Description
In her surprising, entertaining, and persuasive new book, award-winning author and psychologist Susan Pinker shows how face-to-face contact is crucial for learning, happiness, resilience, and longevity.
From birth to death, human beings are hardwired to connect to other human beings. Face-to-face contact matters: tight bonds of friendship and love heal us, help children learn, extend our lives, and make us happy. Looser in-person bonds matter, too, combining with our close relationships to form a personal village around us, one that exerts unique effects. Not just any social networks will do: we need the real, in-the-flesh encounters that tie human families, groups of friends, and communities together.
Marrying the findings of the new field of social neuroscience with gripping human stories, Susan Pinker explores the impact of face-to-face contact from cradle to grave, from city to Sardinian mountain village, from classroom to workplace, from love to marriage to divorce. Her results are enlightening and enlivening, and they challenge many of our assumptions. Most of us have left the literal village behind and don t want to give up our new technologies to go back there. But, as Pinker writes so compellingly, we need close social bonds and uninterrupted face-time with our friends and families in order to thrive even to survive. Creating our own village effect makes us happier. It can also save our lives.
Praise for The Village Effect

The benefits of the digital age have been oversold. Or to put it another way: there is plenty of life left in face-to-face, human interaction. That is the message emerging from this entertaining book by Susan Pinker, a Canadian psychologist. Citing a wealth of research and reinforced with her own arguments, Pinker suggests we should make an effort at work and in our private lives to promote greater levels of personal intimacy. Financial Times

Drawing on scores of psychological and sociological studies, Pinker] suggests that living as our ancestors did, steeped in face-to-face contact and physical proximity, is the key to health, while loneliness is less an exalted existential state than a public health risk. That her point is fairly obvious doesn t diminish its importance; smart readers will take the book out to a park to enjoy in the company of others. The Boston Globe

A hopeful, warm guide to living more intimately in an disconnected era. Publishers Weekly
A terrific book . . . Pinker makes a hardheaded case for a softhearted virtue. Read this book. Then talk about it in person with a friend. Daniel H. Pink, New York Times bestselling author of Drive and To Sell Is Human
What do Sardinian men, Trader Joe's employees, and nuns have in common? Real social networks though not the kind you ll find on Facebook or Twitter. Susan Pinker's delightful book shows why face-to-face interaction at home, school, and work makes us healthier, smarter, and more successful. Charles Duhigg, New York Times bestselling author of The Power of Habit: Why We Do What We Do in Life and Business
Provocative and engaging . . . Pinker is a great storyteller and a thoughtful scholar. This is an important book, one that will shape how we think about the increasingly virtual world we all live in. Paul Bloom, author of Just Babies: The Origins of Good and Evil
About the Author
Susan Pinker is a developmental psychologist, columnist, and broadcaster who writes about social science. Her first book, "The Sexual Paradox, " was published in seventeen countries and was awarded the William James Book Award by the American Psychological Association. Her work has been featured in "The New York Times, The Times "of London, "The Economist, The Atlantic, Financial Times, " and "Der Spiegel "and on the BBC, the CBC, and NBC s "Today" show. She lives in Montreal."
or
Not Currently Available for Direct Purchase