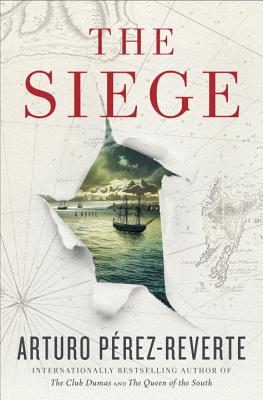 The Siege
Hardcover

* Individual store prices may vary.
Description
WINNER OF THE CRIME WRITERS ASSOCIATION S INTERNATIONAL DAGGER
For fans of Alan Furst and Carlos Ruiz Zafon comes a haunting and layered thriller filled with history, adventure, suspense, and an unforgettable love story by the internationally bestselling author Arturo Perez-Reverte.

Cadiz, 1811: The Spanish port city has been surrounded by Napoleon's army for a year. Their backs to the sea, its residents endure routine bombardments and live in constant fear of a French invasion. And now the bodies of random women have begun to turn up throughout the city victims of a shadowy killer.
Police Comisario Rogelio Tizon has been assigned the case. Known for his razor-sharp investigation skills as well as his brutal interrogation methods Tizon has seen everything. Or so he thought. His inquiry into the murders reveals a surprising pattern: Each victim has been found where a French bomb exploded. Logic tells him to pass it off as coincidence; his instinct tells him otherwise, and he begins to view Cadiz as a living chessboard, with himself and the killer the main players.
In a city pushed to the brink, violence and desperation weave together the lives of a group of unlikely people: the Spanish taxidermist who doubles as a French spy; the young woman who uses her father's mercantile business to run the enemy blockade; the rough-edged corsair who tries to resist her charms; and the brilliant academic furiously trying to perfect the French army's artillery and bring Cadiz to its knees once and for all. And as Napoleon presses closer, Tizon must make his next move on the bomb-scarred chessboard before the killer claims another pawn.
Combining fast-paced narrative with scrupulous historical accuracy, this smart, suspenseful tale of human resilience is Arturo Perez-Reverte at the height of his talents.
Praise for The Siege

A genre-bending literary thriller . . . Pirates; serial killings; steamy, unrequited love: Perez-Reverte imbues the sensational with significance. . . . His descriptions of the town and people of Cadiz capture colors, smells and personalities, making the page come to life, and he balances these sensory passages with dense observations about history, metaphysics, science, and human nature. Kirkus Reviews
Bold . . . Perez-Reverte s] best yet . . . an ambitious intellectual thriller peopled with colorful rogues and antiheroes, meticulous in its historical detail, with a plot that rattles along to its unexpected finale. It's hard to think of a contemporary author who so effortlessly marries popular and literary fiction as enjoyably as this. The Observer

Perez-Reverte has long been Spain's most popular, inventive writer of historical fiction. . . . This is a big and bold novel, rich in character and incident. The Sunday Times

Acclaim for Arturo Perez-Reverte

John le Carre meets Gabriel Garcia Marquez . . . Perez-Reverte has a huge following . . . and it's spreading. The Wall Street Journal
The Da Vinci Code and The Rule of Four . . . pale in comparison with Perez-Reverte's novels. Time Out New York

It's a rare novelist who can create a literary page-turner. Arturo Perez-Reverte . . . is one of those rarities. The Denver Post
Random House, 9781400069682, 624pp.
Publication Date: November 4, 2014
About the Author
Arturo Perez-Reverte is the author of many critically acclaimed novels, including The Club Dumas, The Flanders Panel, and the Captain Alatriste series. A retired war journalist, he lives in Madrid and is a member of the Royal Spanish Academy."
or
Not Currently Available for Direct Purchase