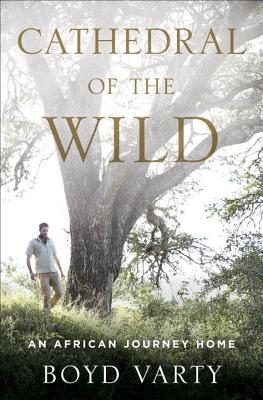 Cathedral of the Wild (Hardcover)
An African Journey Home
Random House, 9781400069859, 304pp.
Publication Date: March 11, 2014
Other Editions of This Title:
Digital Audiobook (3/10/2014)
Compact Disc (3/11/2014)
Paperback, Chinese (8/28/2018)
* Individual store prices may vary.
Description
"This is a gorgeous, lyrical, hilarious, important book. . . . Read this and you may find yourself instinctively beginning to heal old wounds: in yourself, in others, and just maybe in the cathedral of the wild that is our true home."—Martha Beck, author of Finding Your Own North Star

Boyd Varty had an unconventional upbringing. He grew up on Londolozi Game Reserve in South Africa, a place where man and nature strive for balance, where perils exist alongside wonders. Founded more than eighty years ago as a hunting ground, Londolozi was transformed into a nature reserve beginning in 1973 by Varty's father and uncle, visionaries of the restoration movement. But it wasn't just a sanctuary for the animals; it was also a place for ravaged land to flourish again and for the human spirit to be restored. When Nelson Mandela was released after twenty-seven years of imprisonment, he came to the reserve to recover.
 
Cathedral of the Wild is Varty's memoir of his life in this exquisite and vast refuge. At Londolozi, Varty gained the confidence that emerges from living in Africa. "We came out strong and largely unafraid of life," he writes, "with the full knowledge of its dangers." It was there that young Boyd and his equally adventurous sister learned to track animals, raised leopard and lion cubs, followed their larger-than-life uncle on his many adventures filming wildlife, and became one with the land. Varty survived a harrowing black mamba encounter, a debilitating bout with malaria, even a vicious crocodile attack, but his biggest challenge was a personal crisis of purpose. An intense spiritual quest takes him across the globe and back again—to reconnect with nature and "rediscover the track."
 
Cathedral of the Wild is a story of transformation that inspires a great appreciation for the beauty and order of the natural world. With conviction, hope, and humor, Varty makes a passionate claim for the power of the wild to restore the human spirit.
 
Praise for Cathedral of the Wild
 
"Extremely touching . . . a book about growth and hope."—The New York Times
 
"It made me cry with its hard-won truths about human and animal nature. . . . Both funny and deeply moving, this book belongs on the shelf of everyone who seeks healing in wilderness."—BookPage
About the Author
Boyd Varty was raised on Londolozi Game Reserve in South Africa. He currently lives and works at the reserve, and his most recent projects include advocating for the restoration of an ancient elephant corridor, helping the Good Work Foundation create more learning centers in South Africa, and adventuring across the African continent on his motorbike.
Praise For Cathedral of the Wild: An African Journey Home…
"Extremely touching . . . a book about growth and hope."—The New York Times
 
"It made me cry with its hard-won truths about human and animal nature. . . . Both funny and deeply moving, this book belongs on the shelf of everyone who seeks healing in wilderness."—BookPage

"This is a gorgeous, lyrical, hilarious, important book. Boyd Varty is as brilliant a storyteller and as kind a companion as you'll ever meet. He describes a life that has been spent forging a new way of thinking and being, in harmony with both Nature writ large and the human nature that is you. Read this and you may find yourself instinctively beginning to heal old wounds: in yourself, in others, and just maybe in the cathedral of the wild that is our true home."—Martha Beck, author of Finding Your Own North Star
 
"Cathedral of the Wild is the captivating story of the joyful, occasionally terrifying, but always interesting life of Boyd Varty. It is also a tale of healing, and of one family's passion to restore our broken connection to nature. Be prepared to fall in love with Varty, his sister, his parents, his uncle, the ideals they fiercely hold to protect the African bush, and the wild animals and people that surround them. With his campfire wit and poet's ear, Varty is a wonderful new voice in adventure writing."—Susan Casey, author of The Wave: In Pursuit of the Rogues, Freaks, and Giants of the Ocean

"From the first chapter of Cathedral of the Wild, Boyd Varty's South Africa grabs your heart, rather like the giant mamba he encountered as a boy. The deadly snake moved on, but Varty's stories stick. Here is a rare and moving tale of a young man who learns that the greatest dangers, at least to the human soul, are not to be found in the natural world, but in the emptiness beyond it—and that even mambas carry the power to heal."—Richard Louv, author of Last Child in the Woods and The Nature Principle

"[An] intense, insightful memoir that brings together several wise observations about the relationship between nature and humanity . . . Varty faces his own trials . . . leading to a spiritual renewal that elevates this memoir above the usual wilderness narrative."—Publishers Weekly (starred review)
Coverage from NPR
or
Not Currently Available for Direct Purchase