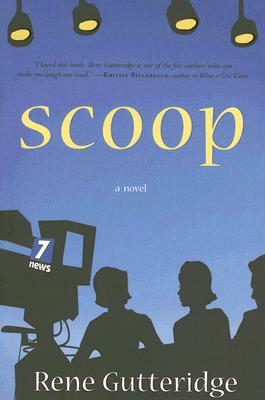 Scoop (Paperback)
Waterbrook Press, 9781400071579, 336pp.
Publication Date: October 10, 2006
* Individual store prices may vary.
or
Not Currently Available for Direct Purchase
Description
And now back to our regularly scheduled insanity. Channel 7 news producer Hugo Talley dreams of working with first-class professionals. Instead he's saddled with a weatherman who can't admit when he's wrong, an aging anchorwoman who refuses to release her clawlike grip on the newsdesk, a conscience-stricken reporter who's reluctant to focus on sensationalism, and a new assistant-former homeschool student Hayden Hazard-who can't just seem to leave her faith outside the newsroom. When the Channel News 7 team inadvertently stumbles on a hot news story, Hugo is frantic to exploit this rare opportunity. But a series of crises-including a Botox disaster and the disappearance of a colleague-threatens to destroy his chance for ratings success and send him completely over the edge. Meanwhile Hayden's presence is distracting at least two coworkers. Softspoken reporter Ray Duffey isn't sure whether he's attracted or frightened by her outspoken faith, while ego-driven Sam Leege is certain her naive spiritual convictions will fall victim to his persuasive attentions. With their oddball antics and all-too-real foibles, this lovable cast of characters offers a hilarious look at the sometimes-unexpected effects of taking one's faith boldly into the workplace.
About the Author
Rene Gutteridge is the author of seven novels, including Boo, Boo Who, and Boo Hiss, as well as Ghost Writer and Troubled Waters. Her work as a playwright has been published more than thirty times. A trained screenwriter, she graduated Magna Cum Laude from Oklahoma City University, earning the "Excellence in Mass Communication" award. She served for five years as the full-time director of drama for First United Methodist Church in Oklahoma City before leaving to be a stay-at-home mom and full-time writer. She enjoys instructing at writer's conferences and college classrooms. Rene lives with her husband, Sean, and their two children, John Caleb and Cate, in Oklahoma.
Praise For Scoop…
Praise for Scoop

"Scoop is a hilarious, smart look at life inside the evening news.  Gutteridge's characterization is, as always, spot-on and full of wisdom.  I loved this book.  Rene's one of the few authors who can make me laugh out loud."
–Kristin Billerbeck, author of What a Girl Wants and A Girl's Best Friend

"The scoop on Scoop--a fun, irresistible read that also provides a thoughtful look at our culture's emphasis on youth, beauty, and the allure of bad news."
–Meredith Efken, speaker and author of S.A.H.M. I Am

"The opening obituary in Scoop got my attention.  The first page of chapter one made me laugh. And then, Rene Gutteridge's writing talents sublimely piqued my curiosity. Not one of those uncontrollable responses waned until 'The End'–when a new impulse arrived, one to yell, 'No!  Not the end!'"
–Charlene Ann Baumbich, author of the Dearest Dorothy series

"A full line-up of fun, Scoop offers a hilarious, suspenseful show with a cast of enjoyable characters to love from sign-on to sign-off. Tune in to Rene Gutteridge's latest today!"
–Lisa Samson, author of The Church Ladies, Straight Up, and Apples of Gold: A Parable of Purity

Advertisement