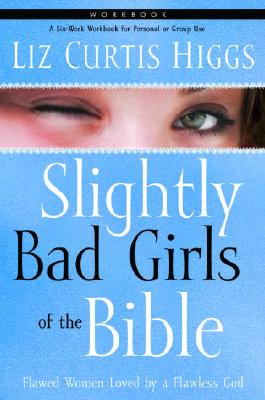 Slightly Bad Girls of the Bible: Flawed Women Loved by a Flawless God (Paperback)
Flawed Women Loved by a Flawless God
Waterbrook Press, 9781400072132, 137pp.
Publication Date: September 1, 2007
Description
Learn "more "about how God works
through strong-willed women
"More "is what you ll find here: more in-depth teaching in a workbook format, more questions that help you grasp the lessons each story offers, and more ways to embrace the grace and sovereignty of God. This companion workbook brings "Slightly Bad Girls of the Bible "even closer to home, taking you deeper into the stories of Sarah, Hagar, Rebekah, Leah, and Rachel five strong-willed wives and mothers, greatly loved by God.
Slightly Bad Girls of the Bible Workbook
If you re reading "Slightly Bad Girls of the Bible" on your own, the workbook lets us sit side by side as I guide you through each chapter of these women's lives. If you re using the book and workbook in a small-group setting, think of me as an unseen sister cheering you on and helping you delve further into the biblical material. The goal here is personal growth, not pages full of ink, so take your time and savor the journey.
Liz Curtis Higgs.
About the Author
One million readers have already taken a walk on the wild side with Liz Curtis Higgs and her eye-opening blend of contemporary fiction and biblical commentary. Laced with humor and heartfelt self-disclosure, Liz s unique brand of girlfriend theology has helped women of all ages experience God s grace anew. Liz is the author of twenty-six books--with more than three million copies in print and an award-winning speaker, having addressed 1,500 audiences around the globe."
Advertisement