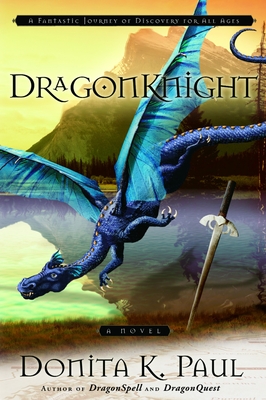 DragonKnight (Paperback)
Waterbrook Press, 9781400072507, 399pp.
Publication Date: June 20, 2006
Description
Trapped in an evil spell... can the knights of Paladin be rescued? Before vowing his allegiance to Wulder as a knight, Bardon heads to the mountains for solitude. His life is suddenly complicated by a woman and her granddaughter, N'Rae, on a mission to rescue the woman's son trapped in a chamber of sleep. Bardon learns that more of Paladin's knights are imprisoned-and suspects one of them is Dragon Keeper Kale's missing father. The secret is in their hands-and hearts. The band travels north, uncertain of their destination and encountering numerous perils. When they unlock the chamber, they discover a dozen knights-who cannot be awakened. The journal holding the secret to rousing them is in an unknown language. How can they find the help they need, and overcome even graver obstacles, to rescue the knights?
Return to the land of dragons and magic you discovered in Dragonspell and DragonQuest, in this finely crafted and memorable work of fantasy fiction with a core of eternal truth.
About the Author
Donita K. Paul is a retired teacher and award-winning author of Dragonspell and DragonQuest. When not writing, she is often engaged in mentoring writers of all ages. Donita lives in Colorado Springs, Colorado. Her two grown children make her proud and her two grandsons make her laugh. Her dog is a constant companion, even having his own chair at the computer desk.
Praise For DragonKnight…
Praise for DragonKnight

"DragonKnight is a thoroughly enchanting fantasy where dragons speak, tiny mouse-like guardians protect normal-size folk, and young people search for identity. Woven through Donita K. Paul's carefully crafted world is a strong theme of love, redemption, and the sufficiency of God to see His children through all trials. The icing on this delightful cake is a surprise ending that brings tears of joy!"
–Douglas Hirt, author of the Cradleland Chronicles series

"Donita K. Paul's inventiveness never ceases to amaze. Fresh ideas for new races of people and unusual creatures keep flowing from her gifted pen. In DragonKnight, we meet a few of these and rejoin old friends like Kale, Bardon, Regidor and the ever-huggable Toopka on a rollicking adventure. As always, this author has a whole bag of tricks up her sleeve–unexpected plot twists, heart-tugging relationships, and captivating characters. Classic is written all over this series."
–Jill Elizabeth Nelson, author of Reluctant Burglar

"DragonKnight swept me into the exciting exploits of Bardon and his loyal friends. The inventive and richly compelling characters quickly drew me into their lives and into a fast-paced fantasy adventure."
–Faye Spieker, playwright and author of ministry tools for children

"Charming characters in a colorful make-believe world full of beauty and danger. Classic good against evil with wonderful spiritual truths layered throughout and enough twists to keep the reader engaged from first page to last."
–Sandra D. Moore, Director, American Christian Fiction Writers Association

"Donita K. Paul's new novel examples the skillful weaving of a fantasy story with strong moral lessons and spiritual insights. Throughout her series, Paul has created fascinating characters who battle powerful enemies and learn what it means to live life in the process. As a result, DragonKnight is both fun and important reading. Young readers will love the action–and readers of all ages will appreciate the insights."
–Paul Moede, co-Author, Good News About Your Strong Willed Child

Advertisement