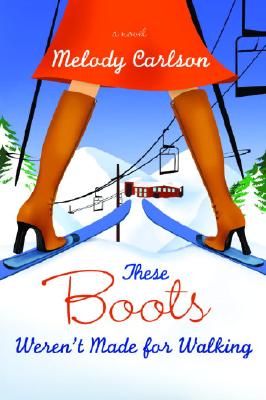 These Boots Weren't Made for Walking (Paperback)
Waterbrook Press, 9781400073139, 314pp.
Publication Date: June 19, 2007
Description
Willing to make the necessary sacrifices even skipping the occasional latte to ensure career success, 31-year-old Cassidy Cantrell invests in a chic pair of boots, certain they ll make a spectacular impression and help seal the deal on a long-anticipated promotion from her Seattle employer.
But reality tromps all over her expectations. Cassie's job is abruptly eliminated and her love life obliterated, when her longtime boyfriend dumps her for a friend. Her self-esteem in tatters, Cassie limps home to the resort town she once so eagerly fled only to find her recently divorced mother transformed into a gorgeous fifty-something babe with a thriving social life. Cassie wrestles with envy and apathy as she considers the dismal shape of her own physique and romantic prospects. What will it take for her to jump back into life and regain her stride?
This sassy and hilarious novel leads readers on a romp through the wilds of relationships, romance, career, and spirituality, revealing that, while God's plans may look drastically different than our own, it ll always be a perfect fit.
About the Author
Melody Carlson is the best-selling author of more than 100 books for adults, children, and teens, including "On This Day, Finding Alice, " the Notes from a Spinning Planet series, and "Homeward, " which won the Rita Award from Romance Writers of America. She and her husband, the parents of two grown sons, make their home near the Cascade Mountains in Central Oregon. Melody is a full-time writer as well as an avid gardener, biker, skier, and hiker.
Praise For These Boots Weren't Made for Walking…
Praise for
These Boots Weren't Made for Walking

"Melody Carlson has crafted a brilliant, kick-up-your-heels, laugh-out-loud winner. Welcome to the Chick Lit side of the bookshelf, Sisterchick. Keep 'em coming!"
—ROBIN JONES GUNN, best-selling author of the Sisterchicks novels and the Christy Miller series

Praise for Melody Carlson
"…any story by Carlson is worth encountering."
—BOOKLIST

"Melody Carlson's style is mature and bitingly funny, and her gift for connecting our heart to the character's plight also connects us to the complicated human condition and our need for one another."
—PATRICIA HICKMAN, best-selling author of Fallen Angels and Sandpebbles

"Melody Carlson never fails to drag us out of our Christian easy chairs and right into the coals of the confusing culture in which we all find ourselves. She never fails to reveal that place of compassion within each of us. Excellent."
—LISA SAMSON, author of The Church Ladies and Tiger Lillie

"With great confidence, I can say that Melody Carlson's story will enlighten, encourage, and empower you."
—GREGORY L. JANTZ, PH.D., Founder and Executive Director
of the Center for Counseling & Health Resources Inc.
Advertisement