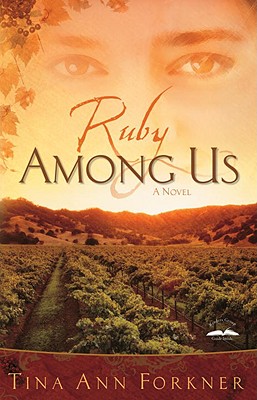 Ruby Among Us (Paperback)
A Novel (La Rosaleda Series)
WaterBrook, 9781400073580, 336pp.
Publication Date: May 20, 2008
* Individual store prices may vary.
Description
Lucy DiCamillo is safely surrounded by her books, music, and art–but none of these reclusive comforts or even the protective efforts of her grandmother, Kitty, can shield her thoughts from the mother she can barely recall. Lucy senses her grandmother holds the key, but Kitty seems as eager to hide the past as Lucy is eager to find it.

From the streets of San Francisco and Sacramento to the lush vineyards of the Sonoma Valley, Lucy follows the thread of memory in search of a heritage that seems long-buried with her mother, Ruby.

What she finds is as enigmatic and stirring as it is startling in this redemptive tale about the power of faith and mother-daughter love.
About the Author
Tina Ann Forkner lives in Wyoming with her husband and their three bright children. Tina is active in her community and serves on the Laramie County Library Foundation Board of Directors. Ruby Among Us is her first novel.
Praise For Ruby Among Us: A Novel (La Rosaleda Series)…
"In this memorable debut novel, the characters are well written and interesting…Readers will not want this story to end." - Awarded 4 1/2 Stars - Romantic Times Book Reviews

"Ms. Forkner has given us a gift that like fine music rises at an ever-spiraling pace. Neither rushed nor delayed, Ruby Among Us offers a satisfying journey I will long remember."
–Jane Kirkpatrick, award-winning author of A Mending at the Edge

"Highly recommended. If you're a mother or daughter, you're going to love Ruby Among Us. Forkner does an extraordinary job…. I look forward to more from this author."
–Ane Mulligan, Novel Journey

"A multi-generational saga of hope, regret, and the grace that brings us home, Ruby Among Us evokes an invitational sense of place, a cache of characters you enjoy knowing, and a story that rips and mends your heart all at once."
–Mary E. DeMuth, author of Watching the Tree Limbs and Wishing on Dandelions

"So engaging from the first sentence. I found myself holding my breath as I read. Tina has painted the pictures so real. I love the honesty and innocence. Mothers and daughters alike will feel very connected with this book."
–Cindy Morgan Brouwer, singer/songwriter

"Don't miss this one! Tina Ann Forkner is a strong new voice in fiction and Ruby Among Us is an amazing story of trials, regrets, and, ultimately, redemption. Lucy and her family history in the historic wine country of Sonoma bring to life the Scriptures about the Vine and His branches."
–Kristin Billerbeck, author of The Trophy Wives Club

"Ruby Among Us is a haunting, beautifully-told novel of past secrets and present pain. Lovely, lovely voice and story. A remarkable debut by Tina Ann Forkner, an author to watch."
–Colleen Coble, author of Anathema

"A subtle, intimate story of grace and redemption that touches the heart!"
–Pamela Nowak, author of the historical romance Chances

"Forkner writes from a place of intimate transparency, allowing the reader to discover priceless treasures found in the pursuit of truth. Ruby's story unfolds in fascinating layers, revealing at its core the universal power of a mother-daughter relationship."
–Bonnie Keen, speaker, vocalist, and author of A Ladder Out of Depression

"Reading is a passion of mine, and when I find myself identifying with the characters, anxious to get to the next page to find answers to my questions, I know I'm into a good book! The daughter-mother-grandmother theme in Ruby Among Us pulled me in. Wonderful story-telling."
–Jordin Sparks, 2007 winner of American Idol

"If you're a fan of fiction that inflames your heart and your spirit, Tina Ann Forkner has a debut novel you should read. Ruby Among Us is filled with powerful emotions of secrets, joy, grief, the freedom that is found in the truth, and, ultimately, in redeeming love."
–Kim Hill, worship leader and recording artist

"What an incredible story. As both mothers and daughters, Ruby Among Us struck a special cord in each of the four of us. Tina writes in a way that makes us feel like we're there; from the first line, we were captivated and drawn into an intricate weaving of the precious and fragile relationships that define us."
–Point of Grace

"A skillfully written, moving tale of women (and their men) who find that love covers a multitude of sins. Tina Ann Forkner weaves this story together with great detail and, like the quilts that are such an integral part of the novel, pieces it together with beautiful results."
–Debbie Smith, songwriter with and wife of Michael W. Smith, and mother of their five children

"From the first page of this emotionally-gripping novel, I was absorbed in Lucy's story. The author weaves a beautiful tapestry of meaning and grace, with an underlying truth: every heart needs a place to call 'home.' Lucy's journey toward her place of belonging is poignantly told."
–Kim Vogel Sawyer, author of Blessings and My Heart Remembers

"Ruby Among Us is an intriguing story of lost love, brokenness, and ultimately, restored relationships. It is one girl's search to unlock the secrets of her family's past that ultimately leads to redemption, hope, and new life.  This great read will truly touch your heart!"
–Denise Jackson, best-selling author, It's All About Him

"Ruby Among Us is a powerful story that will linger long after reading it. Forkner's writing transported me to California's vineyards and wove a fascinating saga of how secrets and decisions impact the lives of following generations-and how love can redeem."
-Cindy Woodsmall, New York Times best-selling author of When the Morning Comes
or
Not Currently Available for Direct Purchase