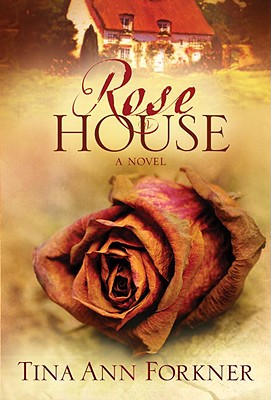 Rose House
A Novel (La Rosaleda Series)
Paperback

* Individual store prices may vary.
Description
"A story nestled in a masterful weaving of secrets, betrayals, hope, and healing."
–Allison Pittman, author of Stealing Home and Saturdays with Stella

A vivid story of a private grief, a secret painting, and one woman's search for hope

Still mourning the loss of her family in a tragic accident, Lillian Diamon finds herself drawn back to the Rose House, a quiet cottage where four years earlier she had poured out her anguish among its fragrant blossoms.

She returns to the rolling hills and lush vineyards of the Sonoma Valley in search of something she can't quite name. But then Lillian stumbles onto an unexpected discovery: displayed in the La Rosaleda Gallery is a painting that captures every detail of her most private moment of misery, from the sorrow etched across her face to the sandals on her feet.

What kind of artist would dare to intrude on such a personal scene, and how did he happen to witness Lillian's pain? As the mystery surrounding the portrait becomes entangled with the accident that claimed the lives of her husband and children, Lillian is forced to rethink her assumptions about what really happened that day.

A captivating novel rich with detail, Rose House explores how the brushstrokes of pain can illuminate the true beauty of life.
Praise For Rose House: A Novel (La Rosaleda Series)…
"In Rose House, Tina Ann Forkner brings us back to the beauty of California wine country and draws us into a story fit for the misty gothic moors. Just as the Rose House itself sits within a mass of beautiful, entwined roses and vines, so is the story nestled in a masterful weaving of secrets, betrayals, hope, and healing."
–Allison Pittman, author of Stealing Home and Saturdays with Stella

"Tina Ann Forkner pens a compelling tale of betrayal and grief, of hope and forgiveness in Rose House. The unique setting and her lyrical descriptions enticed me into the scene, where I was captivated by the appealing characters and the story's underlying mystery. I couldn't put it down."
–Ane Mulligan, Editor and Co-Owner of Novel Journey

"With Rose House, Tina Ann Forkner paints a breathtaking canvas of lush prose brushstrokes. Don't get lulled into a sense of calm; the storyline casts suspenseful shadows on this masterpiece of women's fiction. Delightful!"
–Patti Lacy, author of An Irishwoman's Tale and What the Bayou Saw

"Captivating, mysterious, and romantically enticing, Forkner's Rose House keeps the pages turning."
–Alice J. Wisler, author of Rain Song and How Sweet It Is

More praise for Tina Ann Forkner on Ruby Among Us
"Ruby Among Us is a powerful story that will linger long after reading it. Forkner's writing transported me to California's vineyards and wove a fascinating saga of how secrets and decisions impact the lives of following generations–and how love can redeem."
–Cindy Woodsmall, New York Times best-selling author of When the Morning Comes

"Ms. Forkner has given us a gift that like fine music rises at an ever-spiraling pace. Neither rushed nor delayed, Ruby Among Us offers a satisfying journey I will long remember."
–Jane Kirkpatrick, award-winning author of A Mending at the Edge

"A multi-generational saga of hope, regret, and the grace that brings us home, Ruby Among Us evokes an invitational sense of place, a cache of characters you enjoy knowing, and a story that rips and mends your heart all at once."
–Mary E. DeMuth, author of Watching the Tree Limbs and Wishing on Dandelions

"So engaging from the first sentence. I found myself holding my breath as I read. Tina has painted the pictures so real. I love the honesty and innocence. Mothers and daughters alike will feel very connected with this book."
–Cindy Morgan Brouwer, singer/songwriter

"Don't miss this one! Tina Ann Forkner is a strong new voice in fiction and Ruby Among Us is an amazing story of trials, regrets, and, ultimately, redemption. Lucy and her family history in the historic wine country of Sonoma bring to life the Scriptures about the Vine and His branches."
–Kristin Billerbeck, author of The Trophy Wives Club

"Ruby Among Us is a haunting, beautifully-told novel of past secrets and present pain. Lovely, lovely voice and story. A remarkable debut by Tina Ann Forkner, an author to watch."
–Colleen Coble, author of Anathema

"A subtle, intimate story of grace and redemption that touches the heart!"
–Pamela Nowak, author of the historical romance Chances

"Forkner writes from a place of intimate transparency, allowing the reader to discover priceless treasures found in the pursuit of truth. Ruby's story unfolds in fascinating layers, revealing at its core the universal power of a mother-daughter relationship."
–Bonnie Keen, speaker, vocalist, and author of A Ladder Out of Depression

"Reading is a passion of mine, and when I find myself identifying with the characters, anxious to get to the next page to find answers to my questions, I know I'm into a good book! The daughter-mother-grandmother theme in Ruby Among Us pulled me in. Wonderful story-telling."
–Jordin Sparks, 2007 winner of American Idol

"If you're a fan of fiction that inflames your heart and your spirit, Tina Ann Forkner has a debut novel you should read. Ruby Among Us is filled with powerful emotions of secrets, joy, grief, the freedom that is found in the truth, and, ultimately, in redeeming love."
–Kim Hill, worship leader and recording artist

"What an incredible story. As both mothers and daughters, Ruby Among Us struck a special cord in each of the four of us. Tina writes in a way that makes us feel like we're there; from the first line, we were captivated and drawn into an intricate weaving of the precious and fragile relationships that define us."
–Point of Grace

"A skillfully written, moving tale of women (and their men) who find that love covers a multitude of sins. Tina Ann Forkner weaves this story together with great detail and, like the quilts that are such an integral part of the novel, pieces it together with beautiful results."
–Debbie Smith, songwriter with and wife of Michael W. Smith, and mother of their five children

"From the first page of this emotionally-gripping novel, I was absorbed in Lucy's story. The author weaves a beautiful tapestry of meaning and grace, with an underlying truth: every heart needs a place to call 'home.' Lucy's journey toward her place of belonging is poignantly told."
–Kim Vogel Sawyer, author of Blessings and My Heart Remembers

"Ruby Among Us is an intriguing story of lost love, brokenness, and ultimately, restored relationships. It is one girl's search to unlock the secrets of her family's past that ultimately leads to redemption, hope, and new life. This great read will truly touch your heart!"
–Denise Jackson, best-selling author of It's All About Him

WaterBrook, 9781400073597, 320pp.
Publication Date: May 5, 2009
About the Author
Tina Ann Forkner is the author of Ruby Among Us. Originally from Oklahoma, she now lives with her husband and three children in Wyoming, where she serves on the Laramie County Library Foundation's board of directors.
or
Not Currently Available for Direct Purchase