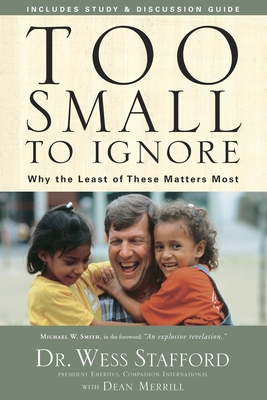 Too Small to Ignore: Why the Least of These Matters Most (Paperback)
Why the Least of These Matters Most
Waterbrook Press, 9781400073924, 304pp.
Publication Date: May 15, 2007
Description
Too Small to Ignore will encourage you to turn your good, loving intentions into strategic actions and empower you to help change the world-and the future-forever, one child at a time.
The time has come for a major paradigm shift: Children are too important and too intensely loved by God to be left behind or left to chance. Children belong to all of us and we are compelled to intervene on their behalf. We must invest in children all across the world. In Too Small to Ignore, Dr. Stafford issues an urgent call for change. His adventures as a boy raised in a West African village provide an often-humorous and always-captivating backdrop to his profound and inspiring challenges. Wess lived the reality of "it takes a village to raise a child" and calls us to "be that loving village for children everywhere."
About the Author
Dr. Wess Stafford, author of Too Small To Ignore: Why Children are The Next Big Thing and president emeritus of Compassion International, is an internationally recognized advocate for children in poverty. Dr. Stafford has earned degrees from Moody Bible Institute, Biola University, and Wheaton College, as well as a Ph.D. from Michigan State University, and is a veteran, having served four years in the U.S. Army as a linguist in military intelligence. An avid outdoorsman and committed family man, Wess lives on a little ranch near Colorado Springs, Colorado, with his wife of 25 years.
Praise For Too Small to Ignore: Why the Least of These Matters Most…
Praise for Too Small to Ignore

"The heart of Compassion became so real and clear after reading this gripping saga of what a small child dramatically had to endure, which God has used to help the lives of countless children. Wess Stafford's story is heartbreaking, yet full of the grace and love that God has for His little ones."
-Ned Lott, senior manager, Character Voices, Disney

"The first time I met Wess, I perceived this undeniable compassion in his eyes. I listened to him talk about growing up in Africa and heard his compassion. But not until I read this book did I fully understand why communicating compassion is as natural to Wess as breathing is to the rest of us. His journey through pain and hurt reinforces the fact that God does indeed bring beauty from ashes, and compassion from heartache.
-Tamara Lott, Compassion Sponsor

"As I travel around the world, I see so many children in desperate straits–especially children with disabilities who are relegated to the lowest rung of the social ladder. My heart goes out to them! It's my prayer that through Wess Stafford's new book, a passion will ignite in the hearts of Christians around the globe to reach these little ones with his tender mercies and hands-on help."
–Joni Eareckson Tada, president of Joni and Friends

"Too Small to Ignore is a wake-up call for all of us. It speaks to our responsibility to 'the least of these.' The truths in this book speak directly to the heart. If you want to understand children and why they matter to God, you have to read this book!"
–Michael W. Smith, artist and songwriter

"Nearly a half century ago in an African village, God was beginning to shape the destiny of one who would appear on the stage of life as a powerful voice and advocate for children of the world. Later his leadership skills would be sharpened in the soil of Haiti. Now, as president of Compassion International, Dr. Wess Stafford has written a compelling book of his own pilgrimage interwoven with the reminder of the importance Jesus placed upon children. It is a must-read that will inspire all hearts to join with Wess to champion the cause of children all over the world."
–Jim Groen, president of Global Connection International

"At last–a book that has to be close to the heart of Jesus who affirmed the value of children….yet today, children are at risk all over the world. Read this and get your heart engaged in the priority enterprise of the coming generation!"
–Joseph Stowell, teaching pastor, Harvest Bible Chapel and former president of Moody Bible Institute

"Weaving a beautiful tapestry of his boyhood adventures in Africa and a lifetime of heartfelt ministry to children, Wess Stafford powerfully defends the cause of God's children and implores us to take action on their behalf. The spiritual impact of future generations simply cannot be ignored–and we must take the lead. Please read this book–and don't forget God's children."
–Ted Haggard, president of National Evangelicals Association and senior pastor of New Life Church

"What a joy it has been to be an advocate for the wonderful ministry of Compassion International! In the same way, it is an absolute delight for me to speak of my friend and mentor, Wess Stafford. This is a man of integrity whose heart overflows with love for hurting children and, above all, for our God. You cannot meet this godly man without being challenged and encouraged. Prepare to be moved."
–Rebecca St. James, artist, songwriter, and author

"Some books are meant to be skimmed, others to be read carefully. Wess Stafford's new book is to be savored, underlined, highlighted, and meditated over. It's full of wonderful stories and profound insights. Too Small to Ignore is a great book, written with the energy and verve of a man who knows kids and passionately loves them."
–Bill Armstrong, former U.S. senator

"For Wess Stafford, ministering to the neediest children in the world grows out of a biblical imperative and a passion that was generated from his experiences as the son of missionaries in Africa. This book has everything–stories that will moisten your eyes, insight that will stimulate your mind, and proposals that will generate an intense response.… What I love about the book is that Wess convinces the reader that he or she can make an incredible difference on behalf of the poorest of the poor."
–Tony Campolo, PhD, speaker and author of Speaking My Mind

"A big-picture book if I've ever read one. Brilliant, inspiring, compelling, and moving. Wess has done a remarkable job of helping us to rediscover the value of our most precious resource–our children. This book will move you to compassion and force you to action! Welcome to a front-row seat into on what moves the heart of God."
–C. Thomas Davis, president of Children's HopeChest and author of Fields of the Fatherless

"You are holding in your hands one of the greatest literary works on child development. Every page of this spellbinding masterpiece is drenched with the passion of a man dedicated to the cause of children.… I particularly enjoyed his portrait of life in an African village where timeless truths and lessons are passed on to the next generation as an ordinary part of human interaction.… This book is a must-have on the bookshelf of every parent, pastor, youth leader, and most certainly every teacher and educator. I highly recommend Too Small to Ignore and pray that this electrifying read will light a passion for children in the heart of every person–and compel you to action."
–Mrs. Janet Museveni, first lady of the Republic of Uganda

"As his pastor, I know Wess Stafford…loves the children of this groaning planet, and he speaks truth to them as he cares for their needs. He loves the body of Christ, and he speaks the truth to us about our role in a world filled with more brokenness and beauty than any of us can fully comprehend….Wess's scripturally based perspective and Spirit-authored passion come through. These pages present a powerful message that needs to be heard."
–Matt Heard, senior pastor, Woodmen Valley Chapel

"Wess Stafford has a heart for children like none I have ever seen. Too Small to Ignore is a must-read for anyone whose life touches the lives of children to any degree. Although it is painful and heartbreaking at times, the hope and compassion he delivers encourage a response from every reader."
–Zig Ziglar, author and motivational teacher

"Wess Stafford and I share a special bond: I am African by birth, and Wess, raised as the son of missionaries in a poor African village, is African at heart. Too Small to Ignore is my brother's tribute to the crucible of his African childhood. His upbringing forged in him a passion to declare a long-neglected kingdom truth: our calling as believers is to speak up for those who cannot speak for themselves and to defend the cause of children whenever necessary–particularly the children of the poor. If you want to be challenged further in your faith, please read this book!"
–Dr. Alemu Beeftu, president of Gospel of Glory

"Wess Stafford is a rare and good man, who brings a message for our time straight from the heart of God. His candid book compels us to see and act differently, to enter into God's compassionate heart and move on behalf of his little ones. We can have a beautiful impact."
–Stasi Eldredge, speaker and coauthor of Captivating: Unveiling the Mystery of a Woman's Soul

"As I read through the pages of Too Small to Ignore, I was constantly struck with a beautiful reality: I have seen these words lived out in the man who wrote them. I have stood beside Wess as he knelt down to love the children of foreign nations, and I have heard his heart break for the 'least of these.'… The real gift of what Wess Stafford writes is that he lives it first."
–Bebo Norman, artist and songwriter

"Wess Stafford has written an amazing book, combining a touching personal story with a very compelling argument for changing the way we view children. I laughed, cried, and ultimately reexamined my views on a subject I thought I understood well. This book is both deeply personal and highly provocative on a subject too often left unexamined."
–Dale Hanson Bourke, author of The Skeptic's Guide to the Global AIDS Crisis

"In Too Small to Ignore, Dr. Wess Stafford paints a powerful picture of the importance of children, using the colorful canvas of his own childhood spent thriving in the heart of Africa as a missionary's son. Wess's story cuts a deep river of compassion for children in the heart of the reader, and his vision for the future creates a broad horizon of hope. Children are not the church of the future, Wess asserts. They are the church of today and deserve our devoted time, active attention, generous resources, and deep-rooted respect if we are to honor the heart of Jesus with our lives."
–Denny Rydberg, president of Young Life

"Yesterday a friend of mine told me how his career was turned upside down by sitting next to Wess Stafford years ago on a bus in Holland. This man and his message are for now!"
–Patrick McDonald, founder of Viva Network

"Wess Stafford's Too Small to Ignore is the ultimate primer on the status of children, their needs, and our responsibility to them. You will see through the eyes of one who has given his life to follow God's heart for these precious ones. The stories from Wess's childhood experiences in Africa are riveting and inspiring, and if you are to know the heart of God regarding the ones he created in his image, this is a book you must read and share."
–Clyde Cook, president of Biola University

"Dr. Wess Stafford draws from his positive and negative circumstances as a child of missionaries living in rural Africa. He skillfully weaves both humorous and painful experiences of village and boarding-school life to illustrate his perception of the worth of a child. Because of these encounters, he has developed a sensitive, caring, and compassionate heart for the physical, emotional, and spiritual needs of the world' s youth. By reiterating their value and reviewing stories from Scripture revealing their integral part in God's plan, he is truly a "champion" for the children. I recommend this book as required reading for every parent and those involved in ministry for children."
–Billy Kim, president of Far East Broadcasting Company Korea and pastor emeritus of Suwon Central Baptist Church

"At last–a powerful voice and message for the children of the world! Wess Stafford's Too Small to Ignore makes a case we can't overlook if we want to impact the nations and change our world. To care for kids is to capture the future–today!"
–Dick Eastman, international president of Every Home for Christ

"This book is a must-read for any parent or person working with children. Wess has provided some incredible insights coupled with personal experiences that have caused me to reflect on every child I come in contact with, even my own grandchildren or the children I may get to visit in an orphanage. Children I will see on a regular basis and children I may see just once. This book has been a long time coming, and I thank God for the courage and lifetime of experiences that he gave Wess to write it.… Wess is right–every strategy and every program have to have children in mind."
–Ron Cline, chairman of HCJB World Radio

"I've known few people who are as committed to a cause so right and close to the heart of God as Wess Stafford. Too Small to Ignore will seize your heart and compel you to play your part in bringing care to precious children–often the first to get hurt when adults misbehave. Our world desperately needs to hear and act on the message in Too Small to Ignore."
–Jim Mellado, president of Willow Creek Association

"Wess Stafford calls us into the world of children in need. With his signature courage and gentleness, he takes us through his own battles, as well as the challenges facing the smallest and most vulnerable among us. Like the organization he leads, this is a compassionate journey into the real world where we are equipped to help those who are truly 'the least of these.' "
–Geoff Moore, artist and songwriter







Advertisement