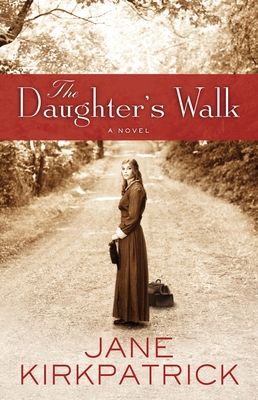 The Daughter's Walk
A Novel
Paperback

* Individual store prices may vary.
Other Editions of This Title:
Digital Audiobook (4/4/2011)
Description
A mother's tragedy, a daughter's desire and the 7000 mile journey that changed their lives. 
 
In 1896 Norwegian American Helga Estby accepted a wager from the fashion industry to walk from Spokane, Washington to New York City within seven months in an effort to earn $10,000. Bringing along her nineteen year-old daughter Clara, the two made their way on the 3500-mile trek by following the railroad tracks and motivated by the money they needed to save the family farm.  After returning home to the Estby farm more than a year later, Clara chose to walk on alone by leaving the family and changing her name. Her decisions initiated a more than 20-year separation from the only life she had known.
 
Historical fiction writer Jane Kirkpatrick picks up where the fact of the Estbys' walk leaves off to explore Clara's continued journey. What motivated Clara to take such a risk in an era when many women struggled with the issues of rights and independence? And what personal revelations brought Clara to the end of her lonely road? The Daughter's Walk weaves personal history and fiction together to invite readers to consider their own journeys and family separations, to help determine what exile and forgiveness are truly about.

"Kirkpatrick has done impeccable homework, and what she recreates and what she imagines are wonderfully seamless. Readers see the times, the motives, the relationships that produce a chain of decisions and actions, all rendered with understatement. Kirkpatrick is a master at using fiction to illuminate history's truths. This beautiful and compelling work of historical fiction deserves the widest possible audience."
—Publishers Weekly (Starred Review)
Praise For The Daughter's Walk: A Novel…
Praise for The Daughter's Walk

"Jane Kirkpatrick is a wonderful writer who creates a story full of strong, admirable characters with human flaws. Clara and Helga come to life with dimension and depth, pulling us into their world. I walked across the country with them, experienced their triumph and disappointment, and faced the shattered, angry family when they returned. Jane has given readers a wonderful story of a family schism that comes full circle to love and grace, and of the importance of family, especially when one has been an outcast. I highly recommend The Daughter's Walk!"
—Francine Rivers, best-selling author

"Jane embraces the finest qualities of the human spirit in all her writing. One of America's favorite storytellers."
—Sandra Dallas, author of Prayers for Sale

"Jane Kirkpatrick brings immense integrity to historical imagination, using her consummate skills as a historian sleuth and psychologist. A compelling portrait of Clara's own bold entrepreneurial spirit gives readers believable insight on how a mother and daughter's love survives financial hardship, a courageous thirty-five-hundred-mile walk, family tragedy, and estrangement. Bravo!"
—Linda L. Hunt, award-winning author of Bold Spirit: Helga Estby's Forgotten Walk Across Victorian America

"Jane Kirkpatrick gives us inspiring stories of women who accomplish amazing feats. She has done it again with the poignant story of Clara Estby, who walked with her mother from Spokane to New York in a desperate bid to save the family farm from foreclosure. What was left for this daughter when her connection to family was severed? Jane brings Clara's story to life."
—Deon Stonehouse, Sunriver Books and Music

"Jane Kirkpatrick's attention to detail and ability to craft living, breathing characters immerses the reader into her story world. I come away entranced, enlightened, and enriched after losing myself in one of her novels."
—Kim Vogel Sawyer, best-selling author of My Heart Remembers

"The Daughter's Walk brings to mind another much-loved book, Mama's Bank Account by Kathryn Forbes, which became the Broadway play and movie I Remember Mama. Jane's Norwegian characters captivated me in much the same way. Uplifting and heartbreaking by turns, this is a wonderful story, superbly written."
—Irene Bennett Brown, author of Where Gable Slept and the award-winning young-adult novel Before the Lark

WaterBrook, 9781400074297, 400pp.
Publication Date: April 5, 2011
About the Author
Jane Kirkpatrick is the award-winning author of 17 novels and 3 non-fiction titles, including the 2010 WILLA Literary Award winner, A Flickering Light, and her latest, The Daughter's Walk.  A Mental Health professional, she brings her interest in healing and inspiring the human spirit into researching and writing about the lives of actual historical men and women. For twenty-six years, she and her husband Jerry ranched in a remote and rugged section of Eastern Oregon, where she discovered her own homesteading story. She has spoken internationally about the power of story in our lives and is a frequent retreat, conference, and keynote speaker. She and her husband now live with two dogs and a cat on their small acreage near Bend, Oregon.