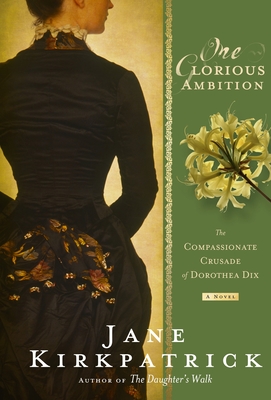 One Glorious Ambition
The Compassionate Crusade of Dorothea Dix, a Novel
Paperback

* Individual store prices may vary.
Other Editions of This Title:
Library Binding, Large Print (5/1/2013)
Description
One dedicated woman...giving voice to the suffering of many
 
Born to an unavailable mother and an abusive father, Dorothea Dix longs simply to protect and care for her younger brothers, Charles and Joseph. But at just fourteen, she is separated from them and sent to live with relatives to be raised properly. Lonely and uncertain, Dorothea discovers that she does not possess the ability to accept the social expectations imposed on her gender and she desires to accomplish something more than finding a suitable mate.
 
Yearning to fulfill her God-given purpose, Dorothea finds she has a gift for teaching and writing. Her pupils become a kind of family, hearts to nurture, but long bouts of illness end her teaching and Dorothea is adrift again. It's an unexpected visit to a prison housing the mentally ill that ignites an unending fire in Dorothea's heart—and sets her on a journey that will take her across the nation, into the halls of the Capitol, befriending presidents and lawmakers, always fighting to relieve the suffering of what Scripture deems, the least of these.
 
In bringing nineteenth-century, historical reformer Dorothea Dix to life, author Jane Kirkpatrick combines historical accuracy with the gripping narrative of a woman who recognized suffering when others turned away, and the call she heeded to change the world.
Praise For One Glorious Ambition: The Compassionate Crusade of Dorothea Dix, a Novel…
Praise for One Glorious Ambition

"Jane Kirkpatrick's ability to probe the human spirit makes One Glorious Ambition a soaring novel of love, compassion, and duty. Born a nineteenth-century woman with few rights, Dorothea Dix nonetheless challenged the nation's most powerful men to provide humane treatment for the hopeless—the retarded and insane. In Kirkpatrick's skillful hands, One Glorious Ambition inspires like few other novels."
—Sandra Dallas, author of True Sisters and The Quilt Walk

"One Glorious Ambition is a compelling novelization of Dorothea Dix's crusade on behalf of the mentally ill. Kirkpatrick's painstaking documentation and customary attention to historical detail shine here, and the connections between Dix's personal relationships and her life's work stand out. Dix is a worthy American heroine. The interview section at the end of the book adds many fascinating nuggets to the story."
—Susan Page Davis, award-winning author of more than forty books

"Jane Kirkpatrick has the rare ability to use what's known about historical women as the foundation for compelling historical fiction. Here, Kirkpatrick shines her light on the remarkable life of Dorothea Dix, seamlessly blending fact and fiction to illuminate Dix's journey from a girl struggling to save her family to a woman championing all those in need. Dorothea Dix can still inform and inspire modern readers, and One Glorious Ambition is a story to be treasured."
—Kathleen Ernst, award-winning author of the Chloe Ellefson Mysteries

"Jane Kirkpatrick uses her considerable writing talents to bring Dorothea Dix to life in this exciting historical novel. In doing so, Kirkpatrick gives a voice and face not only to a heroic crusader but also to Americans seldom seen or heard in our society—those living with mental disorders. Her fiction reads like fact because it describes a campaign that still needs to be waged and exposes societal flaws that have yet to be addressed."
—Pete Earley, author of Crazy: A Father's Search Through America's Mental Health Madness

"Thank you, Jane, for personally introducing me to Dorothea in your book One Glorious Ambition. It is a joyful experience to come to actually know someone I knew so much about. My admiration of Dorothea Dix and her work has been deepened by your work, Jane."
—Dean Brooks, MD, superintendent (1955–1982), Oregon State Hospital

"A must-read! I was moved to tears by the sense of history, tragedy, and hope of Dorothea's life work accomplished on behalf of people with mental health challenges. Every human being should know Dorothea Dix's story. Jane Kirkpatrick captures it magnificently!"
—Gina Firman Nikkel, PhD, president and CEO, Foundation for Excellence in Mental Health Care

"Read this book and have Dorothea Dix transform your life. Be uplifted not simply by the grand trajectory of Dix's singular journey but by the irresistible voice that Jane Kirkpatrick compels you to hear. A deeply sensitive and intelligent young woman overcomes trenchant pain and social barriers to fight tirelessly for those who have neither a voice nor an advocate. Her impossible life is unraveled and liberated in this novel. And read with a sense of urgency, for the battles fought by Dorothea Dix more than a century ago are very much in need of being waged again."
—Charles Kiselyak, producer and director of award-winning films including Completely Cuckoo, Fearful Symmetry, and A Constant Forge

WaterBrook, 9781400074310, 400pp.
Publication Date: April 2, 2013
About the Author
Jane Kirkpatrick has authored over 20 books, including The Daughter's Walk and Where Lilacs Still Bloom. A lively speaker, Kirkpatrick is a frequent keynote presenter for conferences, women's retreats,fund-raisers and workshops.  Jane believes that our lives are the stories that others read first and she encourages groups to discover the power of their own stories to divinely heal and transform. She lives with her husband Jerry in Central Oregon.
Dorothea Dix had great talent, which was demonstrated through her success as a writer, teacher, and reformer. What social norms of the time prevented her from using these talents in a more public way to bring about the changes she sought? Do any of these restrictions exist today?
The author suggests that Dorothea's mother was "unavailable" and that her father was abusive and unreliable. How did these parental responses to life's challenges affect Dorothea? Were there options she could have chosen to improve her life and the life of her brothers that she didn't choose?
Dorothea and her colleagues had a conversation about whether asylums kept society safe from the mentally ill or whether the mentally ill needed protection from society. What are your thoughts about this? Is treatment part of the social contract? Do we have to look after those less fortunate? How well are we addressing the needs of the mentally ill today?
The great novelist Willa Cather wrote that the "most basic material a writer works with is acquired before the age of fifteen." I think as readers we're attracted to stories that derive from that period of our own lives. Perhaps that's why children and young adult novels can be as compelling as adult works. Cather, a Pulitzer Prize winner, also suggested that the two great emotions that drive such stories are "passion and betrayal." I would add "acceptance and forgiveness," that those are the emotions we connect with inside stories. What betrayals did Dorothea experience? How did she respond to these betrayals? Were her responses healthy? What were her passions? What was her greatest ambition? Did she seek acceptance? forgiveness? How were those journeys portrayed?
What role did children play in the life of Dorothea Dix? How might Dorothea's life have been different if she had been able to adopt Marianna Cutter or live with her or have her brothers at Orange Court? Would you say Dorothea was a good steward of her pain? Why or why not?
Dorothea initially did not support the abolition of slavery and believed that women's suffrage was a waste of time. Does a social reformer need to be so focused on one avenue only? What other true believers come to mind in bringing about social change? How would their personalities differ or be similar to Dorothea's?
The Rathbones were Quakers. Dorothea had friends that were pastors and Harvard Divinity School students. What role did faith play in Dorothea's life as an activist? Would you agree with Elizabeth Rathbone's view that Dorothea was much like the older brother in the story of the prodigal son who struggled with how to receive the love of the father? Why or why not?
Dorothea's land bill failed at a time of debate over the role of the federal government and states' rights. President Franklin Pierce vetoed the bill on the basis that the federal government only had a role in the states if the law enhanced economic development within the states. Did such an argument change after the Civil War? Does this argument resonate today? Could Dorothea get her national charity bill passed today? Why or why not?
Where was Dorothea most at home? Who was her family? Why do you think Dorothea resisted the social requirements related to marriage? What choices did a woman of the 1830s have to be independent? Could she have married and still been an activist?
Were you ever called as Dorothea was to act courageously to make a difference in the lives of others? How did you respond? Is that door still open? What would it take for you to walk through it?
or
Not Currently Available for Direct Purchase