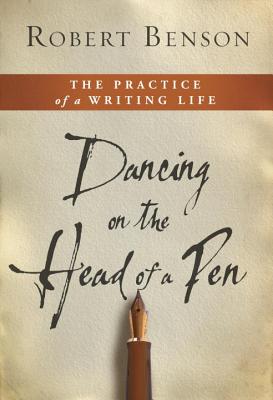 Dancing on the Head of a Pen (Hardcover)
The Practice of a Writing Life
WaterBrook, 9781400074358, 192pp.
Publication Date: July 15, 2014
* Individual store prices may vary.
Description
A compelling combination of advice and inspiration, Dancing on the Head of a Pen will challenge and encourage writers, artists, musicians, painters—anyone drawn to a life of artistic expression.
 
Digging deeply into his own writing habits, failures, and successes, Robert Benson helps you choose the ideal audience for your work, commit to it, and overcome the hurdles that inevitably confront both aspiring artists and accomplished professionals. Extending beyond the craft of writing, this gentle book moves into a rich discussion on the relationship between spirituality and art. Including wisdom from revered writers past and present, Dancing on the Head of a Pen is a beautiful mosaic of inspiration, practical help, and a glimpse into the disciplines that shape one writer's life.
 
"Dancing on the Head of a Pen is a pure delight to read. Encouraging, honest, practical, and important. I needed this book."
—Melody Carlson, author of more 200 books including Finding Alice 
 
"With deceptive simplicity and an almost seductive easiness in his voice, Benson lays open before us the filigreed mystique of the writing life in all its beauty, its unmitigated angst, and its inescapable vocation."
—Phyllis Tickle, author of numerous books including The Divine Hours
 
"Robert Benson's Dancing on the Head of a Pen is a gem. It is wise, witty, and inspiring—a trifecta seldom achieved by a book on the writing life."
—James Scott Bell, bestselling author of Plot & Structure
About the Author
Robert Benson is the author of numerous books, including The Echo Within, Digging In, and Home by Another Way. A retreat leader, Benson writes and speaks often on the life of prayer and contemplation, the practice of faith and spirituality, and the art and craft of writing. He is a graduate of and served as an adjunct faculty member for the Academy for Spiritual Formation, a program of The Upper Room. He is married to the literary agent Sara Fortenberry. Benson lives in Nashville, Tennessee, and he dances on the head of a pen every day no matter where he happens to be.
Praise For Dancing on the Head of a Pen: The Practice of a Writing Life…
Praise for Dancing on the Head of a Pen

"Robert Benson's Dancing on the Head of a Pen is a gem. It is wise, witty, and inspiring—a trifecta seldom achieved by a book on the writing life."
—James Scott Bell, best-selling author of Plot & Structure

"With deceptive simplicity and a kind of almost-seductive easiness in his voice, Robert Benson lays open before us the filigreed mystique of the writing life in all its beauty, its unmitigated angst, and its inescapable vocation. This one is a classic."
—Phyllis Tickle, author of The Divine Hours

"I needed this book. And I need to read it again—and probably again. Thank goodness, it's a pure delight to read. Encouraging, honest, practical, and important. If you're a writer—or have any aspirations to become one—Robert Benson's words will resonate deeply within you. I will highly recommend this to all my writer friends and even the writer friends I haven't yet met."
—Melody Carlson, author of more than 200 books, including Finding Alice and Diary of a Teenage Girl series

"There is little more enjoyable for a writer than to read about the craft, especially when the book is fashioned with the grace and style of Robert Benson's prose. You don't even have to be a writer to savor this delicacy. Just do yourself a favor and settle in for a treat that goes down like dessert but is also full of nutrition. I read everything I can find on writing, and I loved this."
—Jerry B. Jenkins, novelist and biographer

"I love reading and spending time with what Robert Benson writes. I think it is because his words and God's Spirit meet and dance on each page. In this book Benson generously shares how writing becomes art. Dancing on the Head of a Pen is direction for struggling writers and balm for the bruised writer's heart."
—Sharon Ewell Foster, author of the Christy Award–winner Passing by Samaria and Shaara Prize–winner The Resurrection of Nat Turner

or
Not Currently Available for Direct Purchase