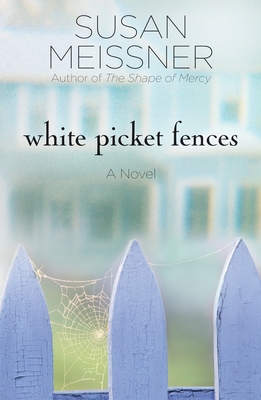 White Picket Fences
A Novel
Paperback

* Individual store prices may vary.
Other Editions of This Title:
Digital Audiobook (10/5/2009)
Library Binding, Large Print (12/1/2009)
Description
When her black sheep brother disappears, Amanda Janvier eagerly takes in her sixteen year-old niece Tally. The girl is practically an orphan: motherless, and living with a father who raises Tally wherever he lands– in a Buick, a pizza joint, a horse farm–and regularly takes off on wild schemes. Amanda envisions that she, her husband Neil, and their two teenagers can offer the girl stability and a shot at a "normal" life, even though their own storybook lives are about to crumble.

Seventeen-year-old Chase Janvier hasn't seen his cousin in years, and other than a vague curiosity about her strange life, he doesn't expect her arrival will affect him much–or interfere with his growing, disturbing interest in a long-ago house fire that plagues his dreams unbeknownst to anyone else.

Tally and Chase bond as they interview two Holocaust survivors for a sociology project, and become startlingly aware that the whole family is grappling with hidden secrets, with the echoes of the past, and with the realization that ignoring tragic situations won't make them go away.

Will Tally's presence blow apart their carefully-constructed world, knocking down the illusion of the white picket fence and reveal a hidden past that could destroy them all–or can she help them find the truth without losing each other?
Praise For White Picket Fences: A Novel…
"I loved looking into the heart of this family whose life looks perfect only from the outside. Meissner's characters are so real, so haunted by the past, and so in denial for reasons of self-defense that you will be swept away till the final page. You'll find it hard not to wonder, as one of the elderly characters did, if remembering is a choice that takes courage."
–Julie L. Cannon, author of Truleove & Homegrown Tomatoes, 'Mater Biscuit, Those Pearly Gates, and The Romance Readers' Book Club

"To step into a Susan Meissner book is to be blessed by a craftsman's tender touch. In Susan's hands, we move carefully into compassion, entering the ordinary lives of people who could be our neighbors, ourselves, each doing what we can to staunch the pain of memory. This book opens a gate in the white picket fences of our lives, helping transform memory and secrets so we are no longer held hostage by the past. Beautifully written by a keen observer of the human condition, White Picket Fence will keep you reading into the night and make you sigh with satisfaction at the end."
–Jane Kirkpatrick, award-winning author of A Flickering Light

"This compelling story with its wonderful cast of characters offers hope to all of us who live less than perfect lives behind our white picket fences. Susan Meissner skillfully weaves together parallel storylines to show how healing can come when we risk sharing our secret pain with others."
–Lynn Austin, author of Until We Reach Home

"Susan Meissner just keeps getting better and better. This novel is a deftly woven portrayal of family and friendships, of secrets and sacrifices, one that tiptoes beyond the white picket fence to look at what happens when people stop talking to each other."
–Siri Mitchell, author of Love's Pursuit

"Poetic prose and a 'can't-put-it down' plot make White Picket Fences a great read. A thought-provoking look into a dysfunctional family that thinks it is functional and how an outsider can serve as a means of grace. Caution: be ready to lose a few hours of sleep!"
–Elizabeth Musser, missionary and author of The Swan House, The Dwelling Place, Searching for Eternity and Words Unspoken

"White Picket Fences is a beautiful, yet haunting portrayal of what lies beneath a seemingly perfect suburban family. Susan Meissner's powerful storytelling woos the reader into the lives of flawed, needy characters, making us ache with them, rejoice with them. Meissner deftly weaves old and new, producing a seamless, satisfying and enduring story."
–Mary DeMuth, author of Daisy Chain and A Slow Burn

"Writing as incandescent as pure flame. Susan Meissner delivers again with a family story that wraps you up and stays with you long after the last page."
–James Scott Bell, bestselling author of Deceived and Try Fear
WaterBrook, 9781400074570, 368pp.
Publication Date: October 6, 2009
About the Author
Susan Meissner cannot remember a time when she wasn't driven to put her thoughts down on paper. Her novels include The Shape of Mercy, a Christian Book Award finalist, and Blue Heart Blessed. Susan and her husband, a pastor and a chaplain in the Air Force Reserves, make their home in Southern California. They are the parents of four grown children.
or
Not Currently Available for Direct Purchase