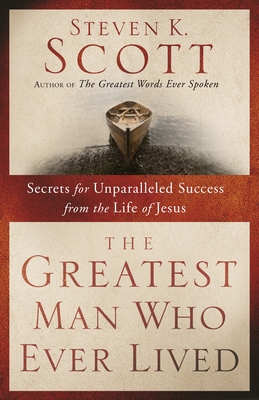 The Greatest Man Who Ever Lived: Secrets for Unparalleled Success from the Life of Jesus (Paperback)
Secrets for Unparalleled Success from the Life of Jesus
Waterbrook Press, 9781400074655, 354pp.
Publication Date: February 28, 2012
Description
Turn your purpose-driven life into a mission-accomplished life
Jesus was the only person in history who did everything right--not only in saving the world but also in daily life. He brought significance into everything he did, and by following his example we can learn to live the same way. Jesus was the greatest leader and the most influential person ever.
His manner and methods will show you how to accomplish every mission you pursue and how to succeed in ways that honor God. Jesus' life gives you a model for success with significance that never has been equaled.

The Greatest Man Who Ever Lived shows you:
- How to break through barriers that block your success at work and prevent relational peace at home.
- How to fuel growth in the most important areas of life by following Jesus' example in your decisions, actions, and priorities.
- How to use adversity and opposition as springboards for even greater achievement.
Let Steven K. Scott introduce you to the greatest Man who ever lived. No matter what your title or position, following the practices and principles Jesus lived by will elevate your performance to unparalleled heights.
NOW INCLUDES A GROUP DISCUSSION GUIDE
About the Author
Steven K. Scott is the best-selling author of The Jesus Mission, The RichestMan Who Ever Lived, Mentored by a Millionaire, Simple Steps to ImpossibleDreams, and The Greatest Words Ever Spoken. Scott is co-founder of The American Telecast Corporation, Total Gym Fitness, and Max International. He is a popular speaker on the subjects of personal and professional achievement and the application of biblical wisdom to every area of life.
Praise For The Greatest Man Who Ever Lived: Secrets for Unparalleled Success from the Life of Jesus…
Praise for The Richest Man Who Ever Lived

"I believe these breakthrough strategies could propel you to levels of success and happiness you haven't imagined. No wonder the wisest man who ever lived also became the richest!"
—David Neeleman, founder and CEO, JetBlue Airways

"The insights, advice, solutions, and specific steps provided in this book . . . whether they are applied to your job, career, marriage, or parenting . . . have the power to change everything!"
—Joan Lunden, former host, Good Morning America
Advertisement