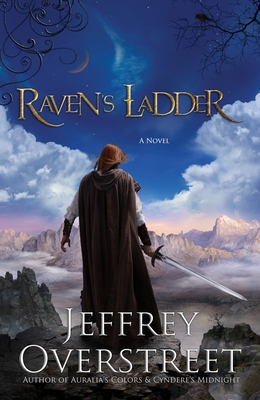 Raven's Ladder
A Novel (The Auralia Thread #3)
Paperback

* Individual store prices may vary.
Description
A DEADLY MENACE IS BREAKING THROUGH THE GROUND. THE PEOPLE OF ABASCAR MUST ABANDON THEIR STONE REFUGE AND FLEE INTO VULNERABILITY IN THE FOREST. BUT THEIR KING HAS HAD A VISION…
 
Following the beacon of Auralia's colors and the footsteps of a mysterious dream-creature, King Cal-raven has discovered a destination for his weary crowd of refugees. It's a city only imagined in legendary tales. And it gives him hope to establish New Abascar.
 
But when Cal-raven is waylaid by fortune hunters, his people become vulnerable to a danger more powerful than the prowling beastmen––House Bel Amica. In this oceanside kingdom of wealth, enchantment, and beauty, deceitful Seers are all too eager to ensnare House Abascar's wandering throng.
 
Even worse, the Bel Amicans have discovered Auralia's colors, and are twisting a language of faith into a lie of corruption and control.
 
If there is any hope for the people of Abascar, it lies in the courage of Cyndere, daughter of Bel Amica's queen; the strength of Jordam the beastman; and the fiery gifts of the ale boy, who is devising a rescue for prisoners of the savage Cent Regus beastmen.
 
As his faith suffers one devastating blow after another, Cal-raven's journey is a perilous climb from despair to a faint gleam of hope––the vision he sees in Auralia's colors.
Praise For Raven's Ladder: A Novel (The Auralia Thread #3)…
Praise for Raven's Ladder

"Jeffrey Overstreet's imagination is peopled with mysteries and wonders, and his craft continues to mature. Reading Raven's Ladder is like staring at a richly imagined world through a kaleidoscope: complex, intriguing, and habit-forming."
—Kathy Tyers, author of Shivering World and the Firebird series

 "A darkly complex world populated by a rich and diverse cast of characters, in which glimpses of haunting beauty shine through. Sometimes perplexing but always thought-provoking, Raven's Ladder is the work of a fertile and striking creative imagination."
—R.J. Anderson, author of Faery Rebels: Spell Hunter

"With Raven's Ladder, Overstreet does what the best fantasy writers do: he opens a door into a new world—a beautiful, dangerous world, and one that stayed with me long after I closed the book."
—    Andrew Peterson, singer/songwriter and author of North! Or Be Eaten and On the Edge of the Dark Sea of Darkness
"In Raven's Ladder, Jeffrey Overstreet continues what he began with his first two novels, Auralia's Colors and Cyndere's Midnight, crafting a world rich in detail, purpose, and wonder.  Each page reveals new threads of a complex, interwoven story that excites and entertains while provoking deeper thought. It has been a long time since I've read a series as captivating, meaningful, inspiring, and beautiful as this one."
—    Aaron White, writer and editor of FaithAndGeekery.com

"Raven's Ladder is a fantasy gem. The story is imaginative and truthful, the characters authentic and complex. Jeffrey Overstreet has given us a gift—a fully realized world teeming with life and wonder. It is a fully human tale, with a penetrating glory throughout. Here is a heaping portion of truth, beauty, and goodness."
—    S. D. Smith, author of The Fledge Chronicles serial

"In Raven's Ladder, Jeffrey Overstreet weaves a brilliant tale of intricate layers, inviting his audience into a story of deeper meaning. Not mere fiction that ends with the shutting of the book, it sneakily tiptoes into your thoughts, challenging you to ponder a little more."
—    Esther Maria Swaty, Seattle City Guide Examiner

WaterBrook, 9781400074679, 400pp.
Publication Date: February 16, 2010
About the Author
Jeffrey Overstreet is the author of The Auralia Thread, the fantasy series which begins with Auralia's Colors, a thrilling adventure twice-nominated for a Christy Award, and Cyndere's Midnight. He is an award-winning film critic and columnist, his work appearing in many publications including Image and Paste. He is also the contributing editor for Seattle Pacific University's Response magazine.
or
Not Currently Available for Direct Purchase