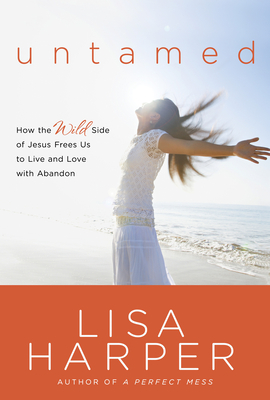 Untamed: How the Wild Side of Jesus Frees Us to Live and Love with Abandon (Paperback)
How the Wild Side of Jesus Frees Us to Live and Love with Abandon
Waterbrook Press, 9781400074808, 211pp.
Publication Date: June 15, 2010
Description
Have you met the real Jesus the One who is wild enough to set you free?
Too many people settle for relating to Jesus merely as a comfortable friend and companion, when what we all need is an untamed Savior, a fearless champion tough enough to conquer our shame and compelling enough for us to follow him without hesitation.
"I finally realized my caricature of Jesus wasn t big enough to calm my anxiety or heal my wounds or defeat the wickedness in our world. Pretending Jesus is less than He is resulted in someone I wasn t compelled to worship. So I began a journey to discover the whole Jesus including the seemingly rough and wild parts revealed in the Bible. And I found Him to be bigger and better than I ever dreamed."
Lisa Harper
Through a powerful blend of storytelling and biblical insights, Lisa Harper invites you to engage with the Jesus of the gospels, a person so provocative that no one left an encounter with Him unchanged. Pharisees fumed, paralytics turned cartwheels, and pariahs found love and acceptance.
Come meet the Jesus who is both safe and strong and learn how this radical Redeemer can liberate you to live and love with abandon.
"Includes questions for group discussion or personal reflection.
About the Author
Lisa Harper is known for combining solid biblical teaching with comedic wit and masterful storytelling. A popular Bible teacher, Lisa speaks nationwide at retreats and conferences including Women of Faith and is a frequent guest on radio and television programs. The author of several books, including "A Perfect Mess, "Lisa holds a master of theological studies degree from Covenant Theological Seminary. She lives near Nashville, Tennessee.
Praise For Untamed: How the Wild Side of Jesus Frees Us to Live and Love with Abandon…
Praise for  Untamed

"This book is an invitation you'll want to accept. Lisa Harper invites you to meet the Jesus she knows—and just as those who encountered Jesus centuries ago, you'll never be the same." —Max Lucado, New York Times best-selling author

"What an outrageous, uproarious, unexpected approach to Jesus. It made me laugh out loud and want to fling myself more wholeheartedly into my faith. Lisa's stories smack with humanity, and her insights burst open with divinity. What a wild combination! What an untamed adventure!"  —Patsy Clairmont, author of Kaleidoscope

"One of the things I love about Lisa Harper is her uncanny ability to teach us something and we don't even realize we are learning. As she takes the stories of her everyday life and weaves them into stories found throughout the Bible, I find myself drawn in. First, because she is real and honest about her own life and struggles. Second, because she reminds us that those great patrons of our faith found in the pages of God's Word had issues too. Lots of them. Most important, she offers hope—hope from her own journey and hope from God's promises." —Sandi Patty, Grammy award–winning vocalist

"Lisa Harper is a wonderful storyteller, a brilliant scholar, and a dear friend. In this new book she challenges us with a picture of Christ that shows He is both fierce and fearless in His love. If you long for freedom and safety in Christ's arms, read on."—Sheila Walsh, author of Beautiful Things Happen When a Woman Trusts God

"Here's what I like about this book: two stories intertwine—the author's story of her relationship with the Savior and how He brought her to freedom in Himself and the Savior's story of His incomparable attributes as He manifests them repeatedly in Lisa's life. By inference, we who know Christ personally have that same opportunity and privilege of seeing these attributes at work in our own lives. Lisa reminds us to stop, take notice, and give thanks for the fact that the Son has set us free so we are free indeed. Now, all we have to do is believe it…and enjoy it."  —Luci Swindoll, Women of Faith speaker and author

"Lisa Harper knocks me out! Untamed invites me to experience the wild side of Jesus without losing the gentle side of Jesus. The book's wonderfully balanced perspective motivates me to pursue Him with new vigor." —Marilyn Meberg, Women of Faith speaker and author of Tell Me Everything

"Rarely does a book merit the descriptions 'transformative' and 'mind-altering,' but Lisa Harper earned both with Untamed. I was at once unsettled by her challenges to my mental images of Jesus and reminded that, while He walked this earth, He was both completely of this world and wholly otherworldly. Lisa Harper's writing invites you to view Jesus in a dangerously daring and honest way by placing spiritual 3-D glasses on your mind and heart."
—Anita Renfroe, comedian and author

 
Praise for A Perfect Mess
 
"Lisa Harper knows life. And she knows God's Word. I love how she intertwines the two, bringing hope to the hopeless and help to everyone who's ever felt like a perfect mess. With fresh insight and poignant stories, Lisa reveals a God who brings order out of chaos with just a word…even the chaos of our lives." —Joanna Weaver, author of Having a Mary Heart in a Martha World
Advertisement