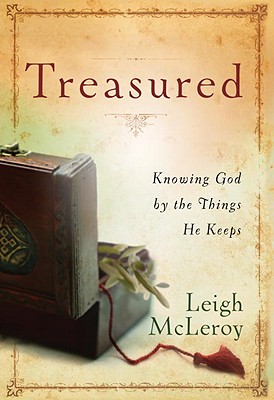 Treasured: Knowing God by the Things He Keeps (Hardcover)
Knowing God by the Things He Keeps
Waterbrook Press, 9781400074815, 208pp.
Publication Date: September 15, 2009
Description
Cigar boxes. Refrigerator doors. Scrapbooks and sock drawers and top shelves. These are the places we store our treasures the keepsakes that tell the story of whom and what we ve loved, how we ve lived, and what matters most to us.
God is a collector, too, whose treasures are tucked securely into the pages of his book: a golden bell here, an olive leaf there, a scarlet thread, a blood-stained cloth, a few grains of barley. Each of these saved artifacts reveals a facet of his heart and tells the story of a Father whose most precious possession is us.
In "Treasured, "Leigh McLeroy considers tangible reminders of God's active presenceand guides us in discovering evidence in our own lives of his attentive love.
About the Author
Leigh McLeroy is the author of "The Beautiful Ache "and "The Sacred Ordinary." An avid collector and recorder of everyday moments, words, and wonders, Leigh s keen eye for God s presence in ordinary life infuses her writing and living with a deep, insistent joy. A frequent conference and event speaker, the author makes her home in Houston, Texas, and posts often at www.leighmcleroy.com."
Praise For Treasured: Knowing God by the Things He Keeps…
Praise for
Treasured

"In Treasured, LeighMcLeroy invites the reader to join her quest to know God's heart for His child. Well written, winsome, and fearlessly honest, this is a reassuring read for the soul who hungers for
God's love."
—CAROLYN CUSTIS JAMES, author of The Gospel of Ruth:
Loving God Enough to Break the Rules

"What a refreshing and surprising book! Until I read Treasured, I never considered how a few easily overlooked things in Scripture could have such power to help us know God more truly and intimately.
With delightful prose and biblically shaped wisdom, Leigh McLeroy leads us into a deeper encounter with our living, loving God."
—DR.MARK D. ROBERTS, senior director
and scholar-in-residence for Laity Lodge

"I enjoyed watching [Leigh McLeroy] deftly polish the treasures God might keep in His memory box. She helped me notice God's engagement with us. If God feels distant to you, Treasured will imaginatively and biblically illustrate His tenderness."
—JONALYN GRACE FINCHER, national speaker with
Soulation (www.soulation.org) and author of Ruby
Slippers: How the Soul of a Woman Brings Her Home

"LeighMcLeroy has interwoven her story withGod's story—a rich tale of treasures and being treasured. She has done what I love in good writing:mixed sweetmemories, profound observations, sharp
insights, and exquisite words into a delicious narrative."
—JUDY DOUGLASS, director of Women's Resources,
Campus Crusade for Christ, and cofounder
of SynergyWomen's Network
Advertisement