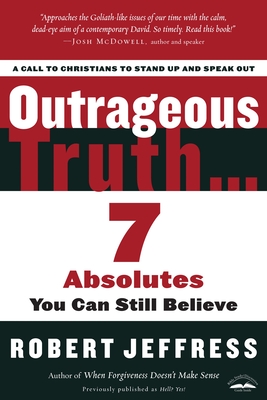 Outrageous Truth...: 7 Absolutes You Can Still Believe (Paperback)
7 Absolutes You Can Still Believe
Waterbrook Press, 9781400074945, 238pp.
Publication Date: March 18, 2008
Description
SEVEN OUTRAGEOUS TRUTHS YOU CAN "STILL" BELIEVE . . . AND WHY
. Every other religion is wrong.
. God sends good people to Hell.
. Homosexuality is a perversion.
. Evolution is a myth.
. God is ultimately responsible for suffering in the world.
. Husbands are to lead their families.
. America is a Christian nation.
In" Hell? Yes " Dr. Robert Jeffress issues a bold wakeup call to all believers from college students to grandparents to stop apologizing for and start proclaiming the tough but essential truths that Christians have historically embraced. And he provides the finest biblical, scientific, and historical evidence needed to defend these core beliefs in a culture turned hostile to God's truth.
Dr. Jeffress believes the secular spirit of political correctness is holding the church hostage. And the tragic result is that the revolutionary, life-changing, positive message of the Christian faith is being watered down.
If you are weary of a Christianity that waffles and wavers about controversial issues if you are ready to stand up and compassionately yet forcefully and intelligently say, This is what I believe and here's why then this book is for you

"From the Hardcover edition.
About the Author
Dr. Robert Jeffress is pastor of the 9500-member First Baptist Church of Wichita Falls, Texas. He is the Bible teacher on the internationally broadcast television program "Pathway to Victory, " seen on more than 900 cable systems and television stations. Dr. Jeffress is the author of twelve previous books including "When Forgiveness Doesn t Make Sense, The Solomon Secrets "(2002 Gold Medallion Finalist)," " and" I Want More!

" "From the Hardcover edition.""
Praise For Outrageous Truth...: 7 Absolutes You Can Still Believe…
"Robert Jeffress does a superb job of exposing politically incorrect lies that many Americans have embraced and integrated into their lives. He affirms and challenges all of us to use the plumb line of Scripture as our guide to the critical issues impacting our faith and our families. I have the privilege of seeing hundreds of manuscripts and new books each year, Hell? Yes! is one text that all Christians should read."
--Dr. Richard Land, President,The Southern Baptist Convention's Ethics & Religious Liberty Commission

"Hell? Yes!, is refreshing, affirming, and convicting….a must read for people of every persuasion, but especially for Christians who want to be found faithful in this generation."
--Rick Scarborough, President, Vision America

"In Hell? Yes! Robert Jeffress approaches the Goliath-like issues of our time with the calm, dead-eye aim of a contemporary David. If you want an encounter with the truth, read this book! It is so timely for this generation."
--Josh D. McDowell, Author/Speaker

"Dr. Robert Jeffress's Hell? Yes! is a most provocative work dealing with seven of the most "politically incorrect beliefs of our time." Whether a person agrees with every statement or not, the book contains many profound truths that should be read by every Christian today."
--D. James Kennedy, Ph.D., Senior Minister, Coral Ridge Presbyterian Church, Ft Lauderdale

"Robert Jeffress's powerful and insightful books stretch the mind, stir the soul, and inspire the heart. He really sticks his neck out for what he believes and encourages us to do the same. This is not a book for the weak-willed or faint of heart. It is a clarion call to stand up for the truth and do something about it."
--Dr. Ed Hindson, Dean of the Institute of Biblical Studies, Liberty University

"Robert Jeffress is a true hero.  So many today are afraid to speak the truth on the key controversial issues of our day….won't take the "risk" of going after these deceptions head-on…. The truth will set you free."
--Mr. Kelly Shackelford, Esq., Chief Counsel, Liberty Legal Institute

"In Hell? Yes!, Dr. Robert Jeffress has once again proven his mettle in taking on the difficult subjects and not just those to whom anyone could speak. This book will answer the questions of the mind while it comforts the soul."
--Paige Patterson, President, Southwestern Baptist Theological Seminary
 
"Never one to shy away from controversial truth, Robert Jeffress packs his new book chock full of it.  Hell? Yes! is an unflinching apologetic for the unchanging truths of Scripture in an era of relativism.  This is straight talk from a straight-shooter.  Should you read it?  Heck, yeah!"
--Randy Singer, author of Dying Declaration. 

"Any time someone is bold enough to tell the outrageous truth, I am ready to listen. Dr. Jeffress holds nothing back in an all-out assault on the lies of Satan, the gates of hell and the kingdom of darkness. You can plunge into this volume with absolute confidence in the author's fearless fidelity. Join him as he defends seven controversial but essential truths for our times."
--Jerry Falwell, Chancellor, Liberty University

"Robert Jeffress…is passionate about equipping his readers with the simple, timeless principles necessary to formulate an articulate response to those who consider Christian thought to be antique. His straightforward, passionate response to the tough issues is the kind of reading that motivates men and women to be intellectually bodacious for truth.
--Dr. John Yeats, Editor of the Oklahoma Baptist Messenger

"Hell?YES! is a book that tackles the tough issues of the day.  If you want to dialogue with the culture in a persuasive manner, this is a must-read."
--Bob Reccord, President, North American Mission Board

"We all encounter people every day who believe some outrageous things, simply because they have never heard the truth. This book goes a long way in helping them see truth in a very practical, profound, and life-changing way. I have no doubt that many will come to a place of hope and will find peace for their souls as they read Hell? Yes!"
--Dennis Jernigan Doxology Recording Artist/Song Writer/Author
Advertisement