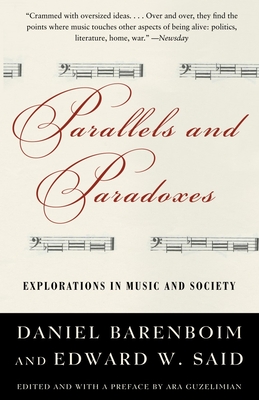 Parallels and Paradoxes: Explorations in Music and Society (Paperback)
Explorations in Music and Society
Vintage, 9781400075157, 208pp.
Publication Date: March 9, 2004
Description
These free-wheeling, often exhilarating dialogues--which grew out of the acclaimed Carnegie Hall Talks--are an exchange between two of the most prominent figures in contemporary culture: Daniel Barenboim, internationally renowned conductor and pianist, and Edward W. Said, eminent literary critic and impassioned commentator on the Middle East. Barenboim is an Argentinian-Israeli and Said a Palestinian-American; they are also close friends.
As they range across music, literature, and society, they open up many fields of inquiry: the importance of a sense of place; music as a defiance of silence; the legacies of artists from Mozart and Beethoven to Dickens and Adorno; Wagner's anti-Semitism; and the need for "artistic solutions" to the predicament of the Middle East--something they both witnessed when they brought young Arab and Israeli musicians together. Erudite, intimate, thoughtful and spontaneous, Parallels and Paradoxes is a virtuosic collaboration.
About the Author
Daniel Barenboim is Music Director of the Chicago Symphony Orchestra and General Music Director of the Deutsche Staatsoper Berlin. He gave his first public performance as pianist at the age of seven. He celebrated the fiftieth anniversary of that milestone in the year 2000 with a series of concerts throughout the world, culminating in a complete cycle of Beethoven piano concertos and symphonies at Carnegie Hall in New York City. He has been associated with the Bayreuth Festival since 1981. Edward W. Said was born in 1935 in Jerusalem, raised in Jerusalem and Cairo, and educated in the United States, where he attended Princeton (B.A. 1957) and Harvard (M.A. 1960; Ph.D. 1964). In 1963, he began teaching at Columbia University, where he was University Professor of English and Comparative Literature. He is the author of twenty-two books which have been translated into 35 languages, including Orientalism (1978); The Question of Palestine (1979); Covering Islam (1980); Culture and Imperialism (1993); Peace and Its Discontents (1996); and Out of Place: A Memoir (1999). Besides his academic work, he wrote a twice-monthly column for Al-Hayat and Al-Ahram; was a regular contributor to newspapers in Europe, Asia, and the Middle East; and was the music critic for The Nation. He died in 2003 in New York City.
Praise For Parallels and Paradoxes: Explorations in Music and Society…
"Crammed with oversized ideas. . . . Over and over, they find the points where music touches other aspects of being alive: politics, literature, home, war." --Newsday

"Fascinating. . . . These conversations, filled with a passionate commitment to the life of the mind and the complexities of the arts, have an intoxicating richness."–San Jose Mercury News

"[A] genuine give-and-take between keen minds and open hearts. . . . The fluidity of their relationship, like musicians in an orchestra, is a compelling model for a world often splintered by dogma, ideology and hermetically sealed minds." –Los Angeles Times
Advertisement