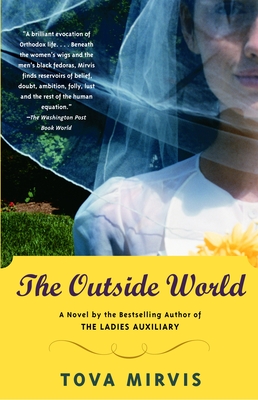 The Outside World (Vintage Contemporaries)
Paperback

* Individual store prices may vary.
Description
Tzippy Goldman was born for marriage. She and her mother had always assumed she'd graduate high school, be set up with the right boy, and have a beautiful wedding with white lace and pareve vanilla cream frosting. But at twenty-two, Tzippy's fast approaching spinsterhood. She dreams of escape; instead, she leaves for a year in Jerusalem.There she meets–re-meets–Baruch, the son of her mother's college roommate. When Tzippy last saw him, his name was Bryan and he wore a Yankees-logo yarmulke. Now he has adopted the black hat of the ultra-orthodox, the tradition in which Tzippy was raised. Twelve weeks later, they're engaged...and discovering that desire and tradition, devotion and individuality aren't the easiest balance. Hilarious, compassionate, and tremendously insightful, The Outside World illuminates an insular community, marvelously depicting that complicated blend of faith, love, and family otherwise known as life in a modern world.
Praise For The Outside World (Vintage Contemporaries)…
"Brilliant. . . . Mirvis finds reservoirs of belief, doubt, ambition, folly, lust and the rest of the human equation." —The Washington Post Book World"Melancholy and subtly humorous. . . . Under Mirvis' knowing and sympathetic eye, this insular sect reveals itself to be not such a small world after all." —Entertainment Weekly"Expertly crafted. . . . Mirvis explores the bubbling tensions between the different worlds her characters straddle: modernity and tradition, the spiritual and the physical, fantasy and reality, religion and secularism, individual freedom and social mores." -The Chicago Tribune"Mirvis has a pastry chef's control of her material, a sureness about not overhandling the dough. She leavens utterly serious explorations of faith with chuckle-out-loud humor, yet doesn't slip into irreverence, let alone disrespect. . . . You don't have to be Jewish to love her." —Seattle Times"Mirvis tells the story...with gentle humor and loving attention to Jewish life. She has a talent for seeing everybody's side and making incompatible attitudes seem equally reasonable." -Newsday"Compelling and heartfelt…will satisfy readers curious for a true-to-life peek into the semisecret society of Orthodox Judaism." —San Francisco Chronicle"Her chatty style and her eye for cultural contradictions are always engaging." —The New Yorker"It is a sin against human intelligence to use the tired phrase 'My Big Fat Fill-in-the-Blank Wedding' anymore, but it's tempting to haul it out one more time for this warm novel about two Orthodox Jewish families who wrestle with faith, community and each other…Engaging." —The Miami Herald"Makes gefilte fish of any stereotypes readers may have about Orthodox Jews….Joyously sweet-natured…and also pointedly insightful about just how complicated it is to lead a religious life." —Kirkus Reviews"Rife with laugh out loud lines... charming and funny. A rich, fascinating glimpse into contemporary Orthodoxy." -The Forward"The last generation…has seen a wholly unexpected revival within American Judaism…The novels of Allegra Goodman, Aryeh Lev Stollman and Dara Horn, among others, have explored this landscape. But none has done so with greater perception and empathy than Tova Mirvis in her breakthrough book, The Outside World." —Samuel Freedman, The Washington Post Book World"You don't have to be Jewish to appreciate a Tova Mirvis book…. She recreates a world of rule breakers, believers, doubters, and deceivers….A sometimes hilarious tale of isolation, faith, and destiny." —The Jerusalem Post"Witty and wise, Mirvis's novel explores the expectations of sacred scripture and the yearning for freedom within the parameters of belief." -Booklist (starred review)"In The Outside World, Tova Mirvis creates a Milky Way of believers searching for God and a life of meaning. ...Mirvis is a wonderful storyteller and The Outside World is a charming novel with affecting characters." -The Courier-Post (NJ)"At times giddily humorous, at times stirring and sorrowful, Mirvis's insightful novel is packed with convincing detail…The universal themes of growing up and choosing a fitting life to lead will resonate with readers of all faiths." —Publishers Weekly"A moving and gently humorous story about the varieties of insularity, faith, acceptance and reconciliation." -The Memphis Commercial Appeal"With both humor and poignancy…a touching rendering for those who want to explore their own or another culture more deeply." —Library Journal"Mirvis writes with gentle humor…She also captures the challenge of leading a religious life: the obligations, the meaning of faith, the balance between community and self, the occasional doubts." -The Jewish Week"The Outside World starts off as a romantic comedy but grows into something more complicated, more poignant and more interesting…Mirvis juggles the many points of view on Orthodox life without singling out one as superior." —The Columbus Dispatch"Hilariously brilliant... personal and profound... Mirvis has tackled insider worlds before in her previous bestseller, The Ladies Auxiliary, and here she shines as well, creating a whole warm, indelible world and bringing it all to life with insider details." - JBooks.com
Vintage, 9781400075287, 304pp.
Publication Date: May 10, 2005
About the Author
Tova Mirvis grew up in Memphis, Tennessee. She received an MFA in creative writing from Columbia University. She lives outside of Boston with her husband and two children. She can be found online at www.tovamirvis.com.
How does Bryan/Baruch's return from Israel change the life of the Miller family? What reactions does he provoke in his father and his sister? When one family member becomes a strict interpreter of the religion that the entire family practices, is he a tyrant or a reformer?
Who is the ideal or intended audience of this novel? Does it seem that Mirvis wants to create a view of this closed community for the outside world or show the Orthodox community a reflection of itself? How do the ideas she explores in the novel about belonging and not belonging, feeling trapped or stifled by one's family, and the yearning for authen­tic spirituality move beyond the particular community that she describes?
When we meet Tzippy, she is simultaneously dreaming of rebellion against her mother and raging against her unmarried fate. As the novel ends, she is married and pregnant. She hasn't stepped outside the role for which her family prepared her, but she has changed. How is she dif­ferent? Does the novel suggest that she will live life on her own terms, within the parameters of Orthodoxy, and that she and Baruch will forge a better partnership than her own parents did?
How does the novel show the distance between the women's and men's spheres of responsibility in the Orthodox community? Why are the ways of the household, cooking, and child-rearing so crucial to passing on the Orthodox way of life? What aspects of Orthodox life, as described in the novel, might present the most difficult challenges to an educated woman?
Why is Naomi driven to take such an active role in seeking meaning and anwers in her life? What does she expect to find in books, meditation, and seminars on Jewish spirituality What is admirable about her as a character?
Does the ending of the novel suggest that Tzippy will take an active role in healing her own family's troubles—her mother's despondency, her father's dangerously unrealistic dreams, her unguided little sisters? Or will she return to Memphis and take up her own family life, keep­ing a distance from her difficult parents?
or
Not Currently Available for Direct Purchase