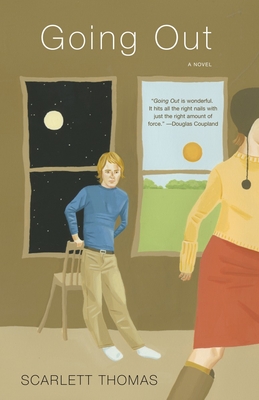 Going Out (Paperback)
Anchor Books, 9781400075317, 358pp.
Publication Date: June 8, 2004
Description
Luke is allergic to everything. He spends his days in a sterile safe-haven designed to keep out all light and dirt, while everything he knows about the world comes from books, movies, the internet and whatever his best-friend Julie tells him. He would do anything to go outside.

Julie, brilliant and kind, could be out changing the world. Unfortunately, she's too afraid of airplane crashes, highway accidents, and potentially life-threatening bacteria to leave her hometown, her pointless waitress job, or Luke.

Charlotte's boyfriend dropped dead from a brain hemorrhage. She disappeared for awhile, but now she's decided that she misses her friends.

David has just been diagnosed with testicular cancer. Consequently, he's no longer wants to spend his days making pizza to pay for school. His priorities in life are changing; he just doesn't know how, yet.

Leanne has just discovered that she may or may not have magic powers.

When this motley bunch befriends a lottery winner with a generous heart, they all embark on a hysterical and heartwarming journey in search of the healer who just might be able to cure Luke, and perhaps give them the answers they didn't know they were looking for.
About the Author
Scarlett Thomas is the author of Bring Young Things. She was also a contributor to the controversial anthology All Hail the New Puritans. The "Independent" named her as one of the 20 Best British Young Writers in 2001 and in 2002 she won the Best New Writer award at the Elle Style Awards. She grew up in Essex and now lives in Devon with her partner and their animals.

Visit Scarlett's website at www.bookgirl.org
Praise For Going Out…
"Going Out is wonderful. It hits all the right nails with just the right amount of force."—Douglas Coupland

"Fierce and honest, Going Out is a hilarious testament to love, friendship, and the pleasures of hitting the road."--Lauren Grodstein, author of The Best of Animals and Reproduction is the Flaw of Love

"Points the way to a new future for English fiction. Fans of Coupland and Murakami: here is your new favourite author." —Matt Thorne

"A real offbeat gem. . . . It makes for a novel of subtlety and poise from an author of considerable promise—one that talks quietly but says a great deal." —Arena

"Surreal and inventive. A warm and comical study of life outside the London orbital, Going Out does for provincial Britain what Frank Capra did for small-town America." —The Independent on Sunday

"Writing for and about people who cannot stand words such as Zeitgeist, Scarlett Thomas captures perfectly the Estuarine suburbs where a lack of blonde highlights makes you a weirdo and where eccentrics are nevertheless stashed behind every Homebase-bought door. Never mind what the neighbors might think–Going Out is worth staying in for." —The Times (London)

"Thomas builds an absorbing, sympathetic story." –Esquire (UK)

"Original, funny and full of insight. A brilliant and assured novel with themes that resonate long after the book has been put down." —Chrissie Glazebrook, author of The Madolescents and Blue Spark Sisters

"A modern take on The Wizard of Oz that will be thoroughly enjoyed by all fans of Douglas Coupland." —Daily Mail

"A wonderful story with a dark sense of humour." —Punch

"Thomas has deftly tapped in to the rich vein of interest in different realities in this insightful and entertaining novel which is ultimately about friendship and trying to make sense of our confusing world." —Big Issue

"This depressingly sharp portrait of contemporary Britain, full of floods, retail parks and lookalike chain hotels is wonderfully observed" —Wigan Evening Post

"Original and well written." —Jockey Slut

"In telling a story with wit and true understanding of her characters, Thomas has established herself as Britain's answer to Douglas Coupland." —Waterstone's Quarterly

"An unusually sharp writer." —Irish Tattler

"Full of love, honesty, humour and sadness." —Rebbecca Ray, author of Pure
Advertisement