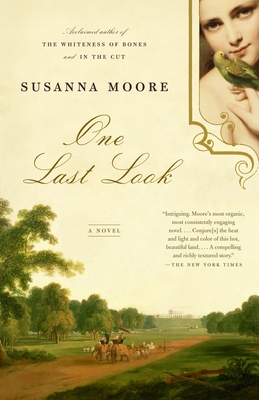 One Last Look (Vintage Contemporaries)
Paperback

* Individual store prices may vary.
Description
After several wretched months at sea, Eleanor Oliphant arrives in Calcutta with her brother Henry and sister Harriet. It is 1836, and her beloved Henry has just been appointed England's new Governor-General for India. Eleanor is to be his official hostess.

Despite the imported English gowns and formal soirées, India makes a mockery of Eleanor's sensibilities. Burning heat, starving people, insects as big as eggs—it is all an unreal dream, rife with tumultuous life. Harriet gives herself over to the adventure. Henry busies himself with official duties. Eleanor, though groping for bearings, slowly finds her isolation punctuated by moments of elation: her first monsoon, graceful women in vibrant sarees, Benares rising out of the mist. She discovers she likes curries and her native servants; and often dislikes her compatriots. Over the course of six years and a trek from Calcutta to Kabul and back, India manages to unsettle all of her "old, old ideas."
Praise For One Last Look (Vintage Contemporaries)…
"Intriguing. . . . Moore . . . conjure[s] the heat and light and color of this hot, beautiful land, its smells and sensual allure. A compelling and richly textured story."--The New York Times

"Moore is a wonderful writer with a sensuous style. . . . [One Last Look] takes on the quality of a feverish dream." --The Baltimore Sun

"How marvelous is a book that educates but does not preach. . . . [A] cautionary tale for smart women . . . and dumb men . . . but the beauty of the prose and the complexity of the narrative here far outweigh any edifying messages." --The Washington Post

"A beauitiful and powerful novel that records one woman's experience while illuminating a world of imperial folly and colonial rapacity and stupidity." --The Boston Globe

"Vertinginous. . . .The sense of passing through a distant, phantasmagorical place with a curious and perceptive guide, is undeniable." --The Seattle Times

"It is the secret world of women that Moore excels at painting, a world of unspoken truths and oblique connections." —Time Out New York

"[A] stranger, extoic, ungraspable place. . . . Moore is an extraordinarily gifted conjurer of weather, smells and sickness; riches, bliasters and bugs, her words steam directly off the page." --Chicago Tribune

"The descriptive prose leaves one feeling the hot, dusty days and torrential monsoons....Moore's image of saffron-tinged India will have readers pulling out their Baedeker's and booking passage on the next ship sailing for foreign climes." —Library Journal

"[C]aptivating...fascinating...As Eleanor writes in her diary, 'The writing of women is always read in the hope of discovering women's secrets'; Eleanor and her creator reveal just enough glimpses to keep readers transfixed." —Publishers Weekly

"[R]ich, lush...and wonderfully satisfying." —Kirkus Reviews

"[E]leanor is mesmerizing...." —Booklist

"[E]vocative..." —Harper's Bazaar

"An enormous accomplishment–vivid and precise, evocative and alluring, reflective of impressive scholarship. . . . Moore is an extraordinarily gifted conjurer of weather, smells and sickness; riches, blisters and bugs. Her words stream directly off the page."–The Chicago Tribune

"Splendid. . . . A rueful farewell to an age of conquest and colonization that–despite its period trappings–looks peculiarly like our own. A deeply moving story of empowerment and loss."–O, The Oprah Magazine

"Lyrical. . . . [Filled with] lushly described landscape and coyly revealed Victorian sexual eccentricities."–Entertainment Weekly

"What Moore has done is to squeeze out of her peppery observations a nascent feminism and a covert sexuality. She heats Eden up." --The New York Times Book Review

"Chilling. . . . [Moore] gives Eleanor a rich interior life and a mordant humor." --Vogue

"[Moore] excels at evoking time and place–the dresses and the narrative voice just so, the moans of the mango bird in the tree exquisitely described."–The New Yorker

"Breathtaking. . . . An engaging, luscious read. The characters are richly drawn . . . [and] rise effortlessly from the page." —The Oregonian

"The accomplishment of One Last Look is a gradual unfolding of sensual detail that is truly transporting." —Los Angeles Times Book Review

"Sensual steamy prose . . . masterfully evok[es] the likely sounds, smells and sights of early-19th-century life in colonial India." —Houston Chronicle

"It is the secret world of women that Moore excels at painting, a world of unspoken truths and oblique connections. . . . It is a measure of Moore's skill that they never are [discovered]." —Time Out New York
Vintage, 9781400075416, 304pp.
Publication Date: October 12, 2004
About the Author
Susanna Moore is the author of the novels In the Cut, Sleeping Beauties, The Whiteness of Bones, and My Old Sweetheart, and a book of nonfiction, I Myself Have Seen It. She lives in New York City.
or
Not Currently Available for Direct Purchase