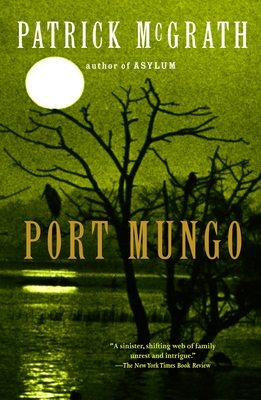 Port Mungo (Paperback)
Vintage Contemporaries, 9781400075485, 242pp.
Publication Date: June 14, 2005
* Individual store prices may vary.
or
Not Currently Available for Direct Purchase
Description
In a seedy river town on the Gulf of Honduras, Jack Rathbone believed he had found a place that would give him and his lover, the accomplished artist Vera Savage, the solitude they would need to create a body of work that would shake the art world to its core. But in a place where time lies thicker than the mangrove swamps that surround it, Jack and Vera discover an emotional frontier more fearsome, untamed, and dangerous than any wilderness.Told through the voice of Jack's adoring sister, Gin, Port Mungo is the riveting story of this ill-fated couple, one that begins as a bohemian flight-of-fancy before unraveling into a dark, debauched and sinister tale. With Port Mungo, the incomparable Patrick McGrath, author of the acclaimed novels Spider and Asylum, delivers a spellbinding narrative to explore the obsessive pursuit of art and love.
About the Author
Patrick McGrath lives with his wife, Maria Aitken, in New York and London.
Praise For Port Mungo…
" A sinister, shifting web of family unrest and intrigue [and a] meditation on the shadowy wellsprings of art and love." --The New York Times Book Review"Taut with suspense and psychologically rich....A compelling read." —The Seattle Times"Steamy, sultry. . . . Richly imagined. . . . A vivid, imaginative exploration of a heart of darkness in which Patrick McGrath pins down love and the sources of art and pain." --Milwaukee Journal Sentinel"Superb....There is no end of mysteries....In his shimmering way, McGrath pulls back the curtain on a terrible one and says, 'Look!' When he brings you to that place so adroitly, who can say no?" —Time"Patrick McGrath can write a love story like no other man alive--dark, a little twisted, very passionate, and so loaded with exact and unexpected sensuous detail that, although you may never wish to actually live in this sleazy little city of Port Mungo, you could happily spend a whole vacation within its pages." --Peter Carey, author of My Life as a Fake
"Engrossing . . . Nuanced . . . Port Mungo offers a portrait of the artist hero that shifts like a hologram [and displays] a restless, mischief-seeking intelligence." --Los Angeles Times Book Review
"Virtuosic. . . . A compelling piece of family Gothic." --The New Yorker
"Powerful. . . . Haunting. . . . Utterly gripping. . . . McGrath deftly crafts [Port Mungo] into a sophisticated psychological exploration of the darker sides of memory, secrecy, desire and guilt. . . . Brace yourself for an enthralling read." --Rocky Mountain News"Luridly fascinating and claustrophobic, a Grand Guignol pageant of cosmic passion, obsessive reflectivity and reprisal. McGrath's control over vocabulary and tone falter not a whit, and his exploration of the twinned impulses of creativity and despair, genius and moral bankruptcy is riveting." --Memphis Commercial Appeal"Wickedly satisfying and entertaining." --San Francisco Chronicle"Patrick McGrath is a master. . . . He creates fiction that is both taut with suspense and psychologically rich. . . . . Port Mungo is a compelling read." --Seattle Times-Post Intelligencer"Astoundingly good . . . The outstanding feature of McGrath's storytelling is his ability to write with tranquil, evocative beauty about the vilest of subjects. Port Mungo is haunting not because of any trickery of reversed expectation or suspended belief, but because we see so completely how damaging the most basic human emotions can be." --O Magazine
"A brilliantly creepy novel about art and madness that will force you to neglect children, housework and everything else until you've read its last sentence." --The Guardian (London)"Mythic in scope. . . . [The story] slowly and relentlessly reveals hidden layers of horror. And the revelations, once brought to light, seem not simply logical but inevitable." --The Boston Globe"Beautiful. . . . Jack and Gin, different as their respective spirits, are fine creations. Mr. McGrath has made one speak through the other, which is alchemy." --New York Daily News"Thrilling. . . . His finest work. . . . A passionate story with characters threatening to break apart at any moment . . . [with] an ending that is close to perfect. . . . McGrath's touch has never been surer." --Newark Star-Ledger"There are hints of Joseph Conrad in Gin's account of her brother's slow, sun-drenched descent into a state of primal impulses, [sustained by] the sheer force of McGrath's elliptical prose, through his superbly atmospheric evocations of place and mood, and through his proven ability to surprise and horrify readers."--Financial Times"The kind of book that plants a seed in your mind that will germinate days or weeks later . . . A mesmerizing tropical tale with unforgettable characters, and an intriguing new direction for this supremely talented novelist." --Salon"[Gin's] distinctive voice is a work of art in itself." --Detroit Free Press
"A story of delicacy and not a little humor. The result is that literary rarity: a page-turner of real intelligence, [with] the sort of setting that even Graham Greene might have found too seedy for fiction [and] a finale that is as poignant as it is heart-stopping. A master story-teller has done it again." --The Sunday Telegraph (London)
"This fine novel [is like] a work of papier-mach?, a delicate, translucent piece, made of layers of tissue paper . . . a beautiful obsessive object. . . . McGrath's storytelling and satiny writing draw us hungrily to the next page." --Lincoln Star Journal"Satisfyingly dark. . . . [McGrath] knows how to keep his readers turning pages." --The Virginian-Pilot"A clever tale [that] offers not only insight into art for art's sake but the penalties that philosophy incurs. . . . McGrath is an excellent writer who keeps the novel moving at just the right tempo for explication, introspection and a shimmering suspense." --Huntsville Times
Advertisement