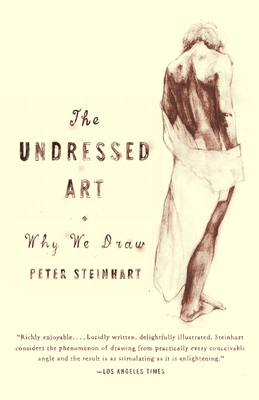 Undressed Art (Paperback)
Why We Draw
Vintage, 9781400076055, 272pp.
Publication Date: September 13, 2005
Other Editions of This Title:
Hardcover (6/1/2004)
* Individual store prices may vary.
Description
To draw is to understand what we see. In The Undressed Art, writer-naturalist Peter Steinhart investigates the rituals, struggles, and joys of drawing. Reflecting on what is known about the brain's role in the drawing process, Steinhart explores the visual learning curve: how children begin to draw, how most of them stop, and what brings adults back to this deeply human art form later in life.  He considers why the face and figure are such commanding subjects and describes the delicate collaboration of the artist and model. Here is a powerful reminder that no revolution in art or technology can undermine our vital need to draw.
About the Author
Peter Steinhart is a naturalist and a writer. For twelve years he was an editor and columnist at Audubon, and his work has appeared in Harper's, the New York Times, the Los Angeles Times, Mother Jones and Sierra. He has twice been a finalist for a National Magazine Award, and his essays have been widely anthologized. He has published four books, the most recent of which is The Company of Wolves. He lives and draws in Palo Alto, California.
Praise For Undressed Art: Why We Draw…
"Richly enjoyable. . . . Lucidly written, delightfully illustrated. Steinhart considers the phenomenon of drawing from practically every conceivable angle and the result is as stimulating as it is enlightening."–Los Angeles Times

"Steinhart is one of those lucky writers who can't help being entertaining, even when he's making a serious inquiry. He reminds us that there is something 'innate and human' about the impulse to draw what we see. I wasn't long into the book before I felt I was in the presence of a friend." —Edward Sorel, The New York Times Book Review

"This rare, transcendent book . . . deserves to be part of the rarefied canon of nonfiction that ventures–gracefully, delightfully–far beyond its expected scope." –The Plain Dealer

"Fascinating. . . . The overall effect of this engaged and engaging book is to make its lucky readers feel that only by picking up a pencil and drawing can we tap into 'a repository of wisdom and energy, purpose and comfort' that is larger than all of us."–The Washington Post