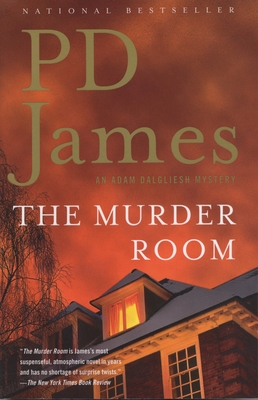 The Murder Room (Paperback)
Vintage, 9781400076093, 432pp.
Publication Date: November 9, 2004
Description
National Bestseller

Murders present meet murders past in P.D. James's latest harrowing, thought-provoking thriller. Commander Adam Dalgliesh is already acquainted with the Dupayne--a museum dedicated to the interwar years, with a room celebrating the most notorious murders of that time--when he is called to investigate the killing of one of the family trustees. He soon discovers that the victim was seeking to close the museum against the wishes of the fellow trustees and the Dupayne's devoted staff. Everyone, it seems, has something to gain from the crime. When it becomes clear that the murderer has been inspired by the real-life crimes from the murder room--and is preparing to kill again--Dalgliesh knows that to solve this case he has to get into the mind of a ruthless killer.
About the Author
P. D. James was the author of twenty books, many of which feature her detective hero Adam Dalgliesh and have been televised or filmed. She was the recipient of many honors, including the Mystery Writers of America Grand Master Award and the National Arts Club Medal of Honor for Literature, and in 1991 was created Baroness James of Holland Park. She died in 2014.
Praise For The Murder Room…
"The Murder Room is James's most suspenseful, atmospheric novel in years and has no shortage of surprise twists." —The New York Times Book Review

"Another elegant tale of murder, mystery, human misery and the wonder of loveÉ. James explores the lowest of depravity . . . with the most elegant prose." —USA Today

"Riveting . . . exquisite, absorbing. . . . The Murder Room possesses everything we desire, no, long for, from James." —The Miami Herald

"Elegantly constructed, beautifully written . . . [The Murder Room] is cause for rejoicing. . . . [It] is that much-sought-after but rare combination of reading that both transports the reader to another world and engages the imagination." —St. Louis Post-Dispatch

"Difficult--and delightful--as it is to believe, P. D. James keeps getting better. . . . The Murder Room might be the best mystery novel of 2003. . . . This is a book to savor . . . with writing so felicitous the reader doesn't want it to end." —Indianapolis Star

"Riveting. . . . The Murder Room possesses everything we desire from James. . . . [Her] lovely, clear prose travels at a stately pace, never cluttered by random violence or unnecessary characters, taking us where we need to be with assurance, intelligence and grace. No word or action is wasted; everyone and everything matters." —The Chicago Tribune

"Ms. James skill is impressively displayed." —The New York Times

"P.D. James is surely one of the best living writers of English. [The Murder Room]'s typical James–wonderful English settings, fine writing, psychological depth." —Rocky Mountain News

"Any ranking of today's best crime writers would surely put Britain's P.D. James at or near the top. This subtly told, character-driven novel, which emphasizes people over plot, provides, as usual, a richly-rewarding reading experience." —The San Diego Union-Tribune

"Immensely satisfying, with James introducing her large cast and its secrets with consummate skill." —The Washington Post

"Carefully crafted . . . [with] richly portrayed characters. . . . P. D. James can still spin an intricate web of psychological suspense that demands the reader's attention and involvement. . . . James tells this tale in lucid language, with a wry eye on people and their faults." —San Antonio Express-News

"Elegant . . . smooth storytelling. . . . The culprit remains convincingly elusive until the end." —Houston Chronicle

"A perfectly cozy read for a cold, foggy night when you feel like curling up with a cup of tea." —Entertainment Weekly

"Sophisticated literary entertainment. . . . Masterful detailing of people and place. . . . Acute psychological portraits. . . . [A] carefully crafted tale." —The Orlando Sentinel

"Literate prose, sprinkled with enough deliciously British details to satisfy even the most diehard Anglophile. . . . [James is] an enormously appealing novelist." —The Boston Globe

"Expertly plotted and elegantly written, the novel will stand with the best of her always-fine work. And as usual with a James novel, the characters are drawn with care and sympathy." —The Richmond Times-Dispatch

"James whips up a thought-provoking, finely crafted literary murder mystery. . . . The Murder Room is a riveting and well-constructed read." —San Jose Mercury News

"Elegant language and deft, intricate characterizations." —Pittsburg Tribune-Review

"James writes of the whydunit rather than the whodunit and her grasp and appreciation for the boundless perplexities of human behavior deeply enriches her books." —Philadelphia Inquirer

"The eminence grise of British detective fiction, James delivers another ruminative puzzler, generous in character, graceful in prose." —The Village Voice

"James' strength as a writer lies in her ability to craft characters with depth. She doesn't just supply names and ages but gives readers a sense of her characters' desires and motives (and not just murderous ones)." —Fort Worth Star-Telegram
Advertisement