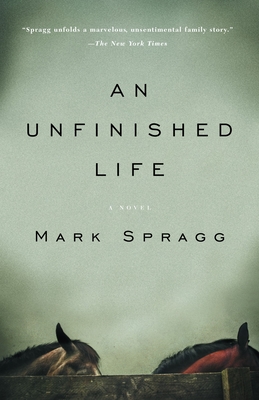 An Unfinished Life (Paperback)
Vintage Books USA, 9781400076147, 257pp.
Publication Date: August 9, 2005
Description
In an extraordinary tale of love and forgiveness, Mark Spragg brings us this novel of a complex, prodigal homecoming.
Jean Gilkyson has a history of choosing the wrong men. After yet another night of argument turned to violence with her boyfriend, Roy, Jean knows it's time to leave if not for herself, then for her ten-year-old daughter, Griff. But the only place they can afford to go is Ishawooa, Wyoming, where Jean's family is dead and her deceased husband's father Einar wishes Jean was too.
Of course, Griff knows none of this only that here in Wyoming, with a grandfather she has never known and his crippled friend Mitch, she may finaly be able to find a home.
About the Author
Mark Spragg is the author ofWhere Rivers Change Direction, a memoir that won the Mountains & Plains Independent Booksellers award, and the novelsThe Fruit of StoneandAn Unfinished Life, which was chosen by theRocky Mountain Newsas the Best Book of 2004. All three were top-ten Book Sense selections and have been translated into fifteen languages. He lives with his wife, Virginia, in Wyoming. Mark Spragg is represented by Random House Speakers Bureau (www.rhspeakers.com)"
Praise For An Unfinished Life…
Reviews of Mark Spragg's An Unfinished Life"Ever since I became the books editor at The Kansas City Star in March 2000, folks have been asking me to recommend a reading experience as clean and sharp as Kent Haruf's Plainsong. . . . Finally, I have an answer. His name is Mark Spragg, his new novel is An Unfinished Life." –John Mark Eberhart, The Kansas City Star"Spragg writes in the man's man literary school of Hemingway and Tom McGuane, where valor, brevity and minor epiphanies still count for something, yet An Unfinished Life's strength lies in its characters. It's best one is the irrepressible little girl, Griff, barely beating out the two old coots, bitter Einar and handicapped Mitch, who talk with winning honesty while struggling through their ablutions and medical ministrations. . . . An Unfinished Life makes you yearn for more of these characters and their prescient talk." –The Oregonian
"Wyoming, its winds and distances, never quits. What a pleasure it is to watch a few of its hard-forged citizens stay with the task of forgiving, cherishing and caring for one another. Mark Spragg has got the territory dead right in this moving testimony to seeing things through." –William Kittredge"Spragg, with consummate skill, uses people and places we don't know to teach us something about ourselves. He explores human bonds, the difficulty of core change and ultimately the need for forgiveness if a person is to be emotionally whole. . . . An Unfinished Life is a deft contemplation of completion, of change and of coming home." –The Denver Post"Intensely human, gently probing the longing for family and the inescapable grip of the past. Swiftly shifting perspectives lend the novel a pleasing dynamism." –The Christian Science Monitor"Rich with ancillary characters worked into his elaborate plots. . . . When all the scattered elements of the story coalesce in strange and wondrous ways, so logical yet so unexpected, we are tempted to use a western idiom and state that Mark Spragg has put his brand on realistic Western novels in our time." –St. Louis Post-Dispatch
"I can't get more than a few pages into a novel unless the prose is good. In Mark Spragg's An Unfinished Life the writing is of considerable grace and beauty, plus there's a compelling tale of the New West which at times is an uncomfortable page turner where you are standing on the sidelines rooting for your heartbreaking favorites." –Jim Harrison"Spragg has the remarkable ability to establish voices that feel indelibly genuine and true, yet belong to characters as different from each other as a sensitive and adventurous pre-pubescent girl, two aging ranchers ravaged by different kinds of pain, a confused and self-protective young mother and a man with a hair-trigger anger and a dangerously twisted concept of love, entitlement and family." –Santa Fe New Mexican"The tension lies in the interior life Spragg creates for his characters. They are believably raw and wounded. And, above all, redeemable." –New York Daily News"Mark Spragg invents characters that are as richly drawn and lovingly rendered as the landscape in which he sets them down. An Unfinished Life is honest, engaged, deeply satisfying, and full of an uncanny grace that resides both in the beauty of the language and in these valuable lives." –Pam Houston"An Unfinished Life has dysfunction and menace and clipped, big-sky dialogue that's as spare as Cormac McCarthy's work but with a warmer patina. The carefully placed story hides surprising flashes of humor inside telling detail." –USA Today"Packed with descriptive detail that pays tribute to Wyoming's harsh splendor, An Unfinished Life shows the power of place to save us." –The Boston Phoenix
"Mark Spragg's An Unfinished Life is a tremendously accomplished, elegantly written and paced tale of love and loss, the bonds of grief and blood, and the complex turnings of the human heart. This is a heartbreaking yet uplifting novel that is most deeply satisfying. These characters, these people, will remain with me a long, long time." –Jeffrey Lent"One of those once-in-a-blue-moon type novels that takes convention and stands it on its head. . . . Filled with often poetic meditations about the love we hold for those who have died--what sort of role their memories play in our lives--and the importance of laying the past to rest while moving into the future." –St. Petersburg Times "Masterly . . . Highly recommended."--Bette-Lee Fox, Library Journal, starred review
Advertisement