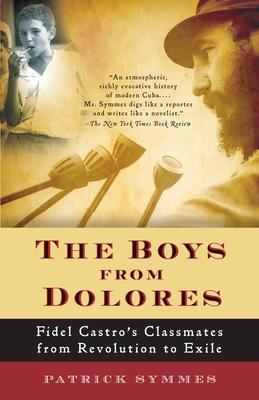 The Boys from Dolores: Fidel Castro's Schoolmates from Revolution to Exile (Paperback)
Fidel Castro's Schoolmates from Revolution to Exile
Vintage Books USA, 9781400076444, 352pp.
Publication Date: July 1, 2008
Description
From the author of "Chasing Che," here is the remarkable tale of a group of boys at the heart of Cuba's political and social history. Chosen in the 1940s from among the most affluent and ambitious families in eastern Cuba, they were groomed at the elite Colegio de Dolores for achievement and leadership. Instead, they were swept into war, revolution, and exile by two of their own number, Fidel and Raul Castro. Trained by Jesuits for dialectical dexterity and the pursuit of absolutes, Fidel Castro swiftly destroyed the old Cuba they had come from, down to the hallways of Dolores itself. At once sweeping and intimate, this remarkable history by Patrick Symmes is a tour de force investigation of the world that gave birth to Fidel Castro and the world his Cuban Revolution leaves behind.
About the Author
Patrick Symmes is the author of Chasing Che and writes for Harper's, Outside, New York, and Conde Nast Traveler. He lives in New York City. From the Hardcover edition.
Praise For The Boys from Dolores: Fidel Castro's Schoolmates from Revolution to Exile…
"An atmospheric, richly evocative history of modern Cuba. . . . Mr. Symmes digs like a reporter and writes like a novelist."—The New York Times Book Review"Symmes is . . . a superb journalist. His interviews with the Dolorinos form a priceless archive of the Cuban diaspora and argue for the importance of the storyteller's art." —The Washington Post"Vividly original. " —The Boston Globe"What [Symmes] has is heart, and his observations are on the money. A travel writer, Symmes delivers a muscular prose and a keen sense of detail." —The Miami Herald
Advertisement