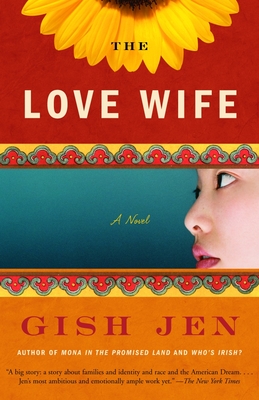 The Love Wife (Vintage Contemporaries)
Paperback

* Individual store prices may vary.
Other Editions of This Title:
Digital Audiobook (3/5/2008)
Compact Disc (9/14/2004)
Description
From the massively talented Gish Jen comes a barbed, moving, and stylistically dazzling new novel about the elusive nature of kinship. The Wongs describe themselves as a "half half" family, but the actual fractions are more complicated, given Carnegie's Chinese heritage, his wife Blondie's WASP background, and the various ethnic permutations of their adopted and biological children. Into this new American family comes a volatile new member.Her name is Lanlan. She is Carnegie's Mainland Chinese relative, a tough, surprisingly lovely survivor of the Cultural Revolution, who comes courtesy of Carnegie's mother's will. Is Lanlan a very good nanny, a heartless climber, or a posthumous gift from a formidable mother who never stopped wanting her son to marry a nice Chinese girl? Rich in insight, buoyed by humor, The Love Wife is a hugely satisfying work.
Praise For The Love Wife (Vintage Contemporaries)…
"A big story: a story about families and identity and race and the American Dream. . . . Jen's most ambitious and emotionally ample work yet." –The New York Times"Vibrant, vital. . . . Wise and compassionate, The Love Wife unflinchingly probes the ties that bind–and separate–people, races and nations." –People"A feast of gab, of proclamation and rebuttal, some of the quirkiest, funniest, most intelligent fictional talk in years." –Newsday"A lush, funny, yet deeply moving novel of family and identity, a wondrous swoosh of a story." –The Philadelphia Inquirer
Vintage, 9781400076512, 400pp.
Publication Date: October 11, 2005
About the Author
Gish Jen is the author of two previous novels and a book of stories. Her honors include the Lannan Award for Fiction and the Strauss Living Award from the American Academy of Arts and Letters. She lives with her husband and two children in Cambridge, Massachusetts.

Gish Jen's Who's Irish? and Mona in the Promised Land are available in Vintage paperback.
At the beginning of the novel, Blondie says, "At least I had my family. Every happy family has its innocence. I suppose, looking back, this was ours." Is her belief in the sanctity of the family shared by the others? In what ways does her upbringing and her position within the Bailey fam­ily influence her point of view?
Several decades separate the arrivals of Mama Wong and Lan in America. What insights do their backgrounds provide into the status of women in Chinese society both before and after the Communist takeover? How do their expectations and their experiences as immi­grants differ?
What does Wendy's perspective add to our understanding of the family dynamics? What effect does the fact that she is adopted from China and her origins are clear have on the way she is treated by others and on her sense of self?
Does Lan's presence in the household alter Blondie and Carnegie's marriage in a fundamental way, or does it simply throw into relief differences that existed all along? Is the unraveling of the Wongs' mar­riage inevitable or does it confirm Blondie's suspicion that Mama Wong "would send us, from her grave, the wife [Carnegie] should have married"?
What personal ambitions did Lan bring to the United States? Is her drive and desire to make the most of herself admirable, or is it opportunistic and self-serving? How complicit is she in alienating Blondie from the family? What messages does she convey in the lessons she gives the girls in Chinese language and culture? What do her involvement with Shang and her marriage to Jeb Su reveal about Lan's priorities?
How do the juxtaposition of viewpoints and the mixture of tones affect the way the story unfolds and your reactions to the individual charac­ters? Does a particular character stand out as the emotional center of the novel? How might a reader's own experience, gender, or background influence their sympathies for the various characters?
or
Not Currently Available for Direct Purchase