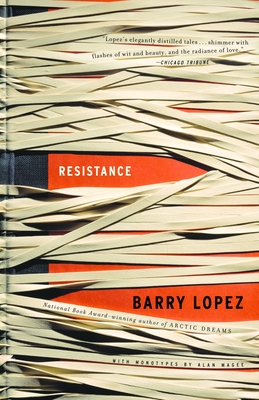 Resistance (Paperback)
Vintage, 9781400076659, 176pp.
Publication Date: June 14, 2005
* Individual store prices may vary.
Description
From the National Book Award-winning author of Arctic Dreams, a highly charged, stunningly original work of fiction–a passionate response to the changes shaping our country today. In nine fictional testimonies, men and women who have resisted the mainstream and who are now suddenly "parties of interest" to the government tell their stories.A young woman in Buenos Aires watches bitterly as her family dissolves in betrayal and illness, but chooses to seek a new understanding of compassion rather than revenge. A carpenter traveling in India changes his life when he explodes in an act of violence out of proportion to its cause. The beginning of the end of a man's lifelong search for coherence is sparked by a Montana grizzly. A man blinded in the war in Vietnam wrestles with the implications of his actions as a soldier–and with innocence, both lost and regained.Punctuated with haunting images by acclaimed artist Alan Magee, Resistance is powerful fiction with enormous significance for our times.
About the Author
Barry Lopez is the author of eight previous works of fiction and six works of nonfiction. His stories and essays appear regularly in Harper's, The Paris Review, Orion, and the Georgia Review. In addition to the National Book Award, he is the recipient of an Award in Literature from the American Academy of Arts and Letters, as well as fellowships from the Guggenheim, Lannan, and National Science foundations. He lives in western Oregon.
Praise For Resistance…
"Lopez's elegantly distilled tales are striking in their psychological intensity and moral questioning, disarming in their flights of imagination. . . . They shimmer with flashes of wit and beauty, and the radiance of love." –Chicago Tribune "With somber grace, Lopez parses the facile bumper-sticker slogan 'the personal is political,' and discovers in it the potential of a host of private radicalizing experiences. . . . . . . .these small narratives are intimate and mysterious." –The New York Times Book Review"Lopez has ventured out into territory quite risky and raised important questions. . . that few other fiction writers have made stick." –San Francisco Chronicle "A poetic testament to the power of the imagination to prevail over the coercion of repressive authority. . . . Remarkable, beautifully conceived and deeply moving." –Seattle Times"Diamond-sharp . . . sumptuously descriptive . . . Lopez gives us a glimpse of how the sparks fly when individual will digs in against culture's monolith." –Milwaukee Journal Sentinel"Powerfully insightful . . . If you're looking for a refreshing switch from silliness, you need look no further than Lopez." –Seattle Post-Intelligencer"9/11 was the day that changed the world forever [and] in his latest collection of short fiction, Barry Lopez addresses the premonitory tremors and staggering aftershocks of that utterly changed world. . . . Eloquent defenses of the natural world, of indigenous peoples, of moderation, of life lived outside the mainstream . . . Lopez's writing is luminous, almost shamanic, with metaphors and poetic rhythms pulsing from every page." –L.A. Weekly"A cunning work of fiction likely to provoke anyone with hope of the future to reassess their current strategies for happiness. . . . Through these mesmerizing stories, Lopez challenges us all to pay attention to how well our lives express our deepest values." –Rocky Mountain News"A manifesto for the 21st century . . . Crammed with action, heartbreak, exotic locales and dangerous ideas . . . potent medicine for readers–especially American readers–exhausted by contemporary events and close to surrender." –Santa Cruz Sentinel "Barry Lopez is a writer of alchemical powers who transforms tyranny with a brilliance of language into brave acts of conscience and consequence." –Terry Tempest Williams"Barry Lopez is a rarity–a writer of unembarrassed seriousness. Resistance, his sequence of depositions from nine troubled travellers, is a work of luminous gravity. It sets the oldest wisdoms of myth and landscape against the newest conventions of the West in narratives which are daring, sensuous, beautiful and important." –Jim Crace"A dynamic and remarkable meditation on engagement. . . . Written against the paranoia that accompanies terrorism and its mirror image, the Patriot Act, Resistance is subtle and persuasive protest literature. . . . Resistance makes explicit the connection between art and politics, suggesting it's high time they work together again." –St. Petersburg Times