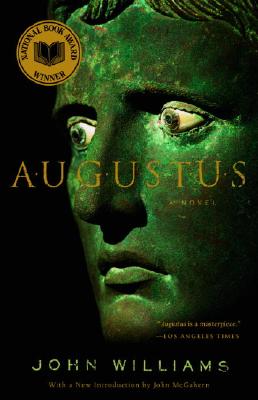 Augustus (Paperback)
Vintage, 9781400076734, 336pp.
Publication Date: November 9, 2004
* Individual store prices may vary.
or
Not Currently Available for Direct Purchase
Description
A brilliant and beautifully written novel in the tradition of Robert Graves' I, Claudius," "Augustus is a sweeping narrative that brings vividly to life a compelling cast of historical figures through their letters, dispatches, and memoirs.
A mere eighteen years of age when his uncle, Julius Caesar, is murdered, Octavius Caesar prematurely inherits rule of the Roman Republic. Surrounded by men who are jockeying for power-Cicero, Brutus, Cassius, and Mark Antony-young Octavius must work against the powerful Roman political machinations to claim his destiny as first Roman emperor. Sprung from meticulous research and the pen of a true poet, "Augustus" tells the story of one man's dream to liberate a corrupt Rome from the fancy of the capriciously crooked and the wildly wealthy.
About the Author
John Williams was born on August 29, 1922 in Clarksville, Texas. He served in the United States Army Air Force from 1942 to 1945 in China, Burma, and India. The Swallow Press published his first novel, Nothing But the Night, in 1948, as well as his first book of poems, The Broken Landscape, in 1949. Macmillan published Williams' second novel, Butcher's Crossing, in 1960.
Praise For Augustus…
"Augustus is a masterpiece." –Los Angeles Times

"One is drawn deeply into a world whose complexity, luxury, political cynicism, public gullibility, and violence seem very much like our own." –The New Yorker

"Williams has immersed himself in ancient history, its figures, its conflicts, its complicated intrigues and its often primitive turmoil. In his vivid panorama, The Golden Age sparkles with an eloquence, at times, approaching the poetic." –The Plain Dealer

"Out of the events surrounding one of the pivotal moments in Western history . . . John Williams has fashioned an always engaging, psychologically convincing work of fiction." –The New York Times

"Augustus is a vividly imagined re-creation of classical Rome, but its intuitive grasp of the experience of immense power makes it an unusual, and superior, novel." –The Boston Globe

"Novel or history, this is an excellent book. . . . a superior work of the imagination." –Playboy

"It would be easy to over-praise this novel; but there does not seem any adequate reason why this temptation should be resisted, especially as Mr. Williams in his turn resists the obvious one of allowing irony too prominent a part in the proceedings." –The Economist

"A pleasure to read. . . . A most polished performance." –Boston Herald Traveler

"Strong and striking. . . . Intelligent and intuitive, this excellent historical novel makes the world of Ancient Rome a place in which we feel instantly at home." –Publishers Weekly

"A novel of extraordinary range, yet of extraordinary minuteness, that manages never to sacrifice one quality for the other." –The Financial Times
Advertisement