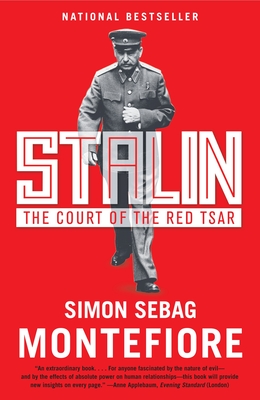 Stalin (Paperback)
The Court of the Red Tsar
Vintage, 9781400076789, 848pp.
Publication Date: September 13, 2005
* Individual store prices may vary.
Description
This widely acclaimed biography of Stalin and his entourage during the terrifying decades of his supreme power transforms our understanding of Stalin as Soviet dictator, Marxist leader, and Russian tsar.
Based on groundbreaking research, Simon Sebag Montefiore reveals the fear and betrayal, privilege and debauchery, family life and murderous cruelty of this secret world. Written with bracing narrative verve, this feat of scholarly research has become a classic of modern history writing. Showing how Stalin's triumphs and crimes were the product of his fanatical Marxism and his gifted but flawed character, this is an intimate portrait of a man as complicated and human as he was brutal and chilling.


About the Author
SIMON SEBAG MONTEFIORE is a historian of Russia and the Middle East. Catherine the Great and Potemkin was short-listed for the Samuel Johnson Prize. Stalin: The Court of the Red Tsar won the History Book of the Year Prize at the British Book Awards. Young Stalin won the Los Angeles Times Book Prize for Biography, the Costa Biography Award, and le Grande Prix de la biographie politique. Jerusalem: The Biography was a worldwide best seller. Montefiore's books are published in more than forty languages. He is the author of the novels Sashenka and One Night in Winter, which won the Paddy Power Political Fiction Book of the Year Award in 2014. A Fellow of the Royal Society of Literature, Montefiore graduated from Cambridge University, where he received his PhD. He lives in London.

www.simonsebagmontefiore.com
Praise For Stalin: The Court of the Red Tsar…
"An extraordinary book. . . . For anyone fascinated by the nature of evil—and by the effects of absolute power on human relationships—this book will provide new insights on every page." —Anne Applebaum, Evening Standard (London)
"The first intimate portrait of a man who had more lives on his conscience than Hitler. . . . Disturbing and perplexing." —Richard Pipes, The New York Times Book Review
"Superb. . . . No Western writer has got as close. . . . A dark and excellent book." —The New York Review of Books

"Terrific. . . . A deeply researched and wonderfully readable accomplishment—scholarship as a kind of savage gossip." —Time
"Unprecedented in its intimacy and horrifying in its implications, not merely because it shows that the engineers of one of history's greatest holocausts were depraved . . . but also because they emerge in these pages as surprisingly normal." —The Washington Post Book World
"A marvelously well-researched book. . . . Montefiore has written a supremely important book about Joseph Stalin, a biography that other scholars will find hard to equal. This is sure to be one of the outstanding books of the year." —St. Louis Post-Dispatch

"Ultra reader-friendly, lively, gossipy and packaged with revelations about the intimacies and intrigues of Stalin the man and his courtiers. Brilliant." —Evening Standard Book Page

"A book that had to be written. . . . Montefiore's biography is far different from anything in this genre. A superb piece of research and frighteningly lucid." —The Washington Times

"Gripping and timely. . . . Montefiore has illuminated wider aspects of the history of the USSR. This is one of the few recent books on Stalinism that will be read in years to come." —Robert Service, The Guardian (London)

"Montefiore combines his research among the primary sources and the fruits of his interviews into a focused, gripping story about a man, who, along with Mao, Hitler and Genghis Khan, has to be in the running for history's greatest mass murderer." —Pittsburgh Post-Gazette

"[A] masterful and terrifying account of Stalin as seen within his close entourage. . . . Seldom has the picture been put in finer focus than by Montefiore." —Alistair Horne, The Times (London)

"Horrific, revelatory and sobering. . . . A triumph of research." —John le Carré, The Observer

"I loved the totalitarian high baroque sleaze of Simon Sebag Montefiore's Stalin. . . . One of the 2004 Guardian Books of the Year." —Simon Schama, The Guardian (London)

"A grim masterpiece shot through with lashes of black humor. . . . The personal details are riveting." —Antonia Fraser, Mail on Sunday

"A well-researched and insightful book. . . . The narrative adroitly catches the atmosphere of the time." —Los Angeles Times Book Review

"I did not think I could learn anything new about Stalin, but I was wrong. A stunning performance." —Henry Kissinger

"Montefiore's deft combination of biography and history brings Stalin alive, so that he becomes as complex and contradictory as any of the great characters in fiction." —The New York Sun

"If you plan (wisely) to read only one book about Joseph Vissarionovich Stalin, let it be Stalin: The Court of the Red Tsar. Simon Sebag Montefiore, writing with the skill of a novelist . . . has based his highly readable biographical thriller solidly and factually not only on all of the preceding scholarly studies of the Soviet dictator but also upon newly available archival materials." —The Seattle Times

"A large and ambitious overview—and under-view—of the Soviet leader's life and epoch, drawn from an impressively wide array of Russian sources." —The Atlantic Monthly

"Spectacular. . . . An impressive and compelling work, using important new documents." —The Spectator

"Sebag Montefiore has done a valuable service in drawing our attention to a hitherto little-studied aspect of Stalinism. As his Stalin demonstrates, the personal relationships of those who ran the Kremlin provided an essential dynamic for the development of the Stalinist system. Isolated from the masses, these members of the privileged elite depended on one another for emotional sustenance to an extraordinary degree." —The Times Literary Supplement (London)