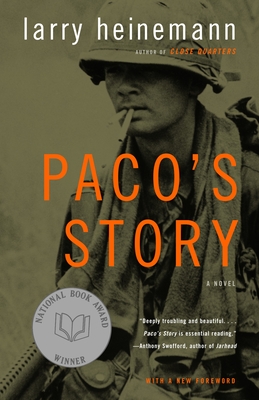 Paco's Story (Paperback)
A Novel (Vintage Contemporaries)
Vintage, 9781400076833, 224pp.
Publication Date: April 12, 2005
Other Editions of This Title:
MP3 CD (8/1/2006)
Compact Disc (8/1/2006)
Compact Disc (8/1/2006)
* Individual store prices may vary.
Description
Paco Sullivan is the only man in Alpha Company to survive a cataclysmic Viet Cong attack on Fire Base Harriette in Vietnam. Everyone else is annihilated. When a medic finally rescues Paco almost two days later, he is waiting to die, flies and maggots covering his burnt, shattered body. He winds up back in the US with his legs full of pins, daily rations of Librium and Valium, and no sense of what to do next. One evening, on the tail of a rainstorm, he limps off the bus and into the small town of Boone, determined to find a real job and a real bed–but no matter how hard he works, nothing muffles the anguish in his mind and body. Brilliantly and vividly written, Paco's Story–winner of a National Book Award–plunges you into the violence and casual cruelty of the Vietnam War, and the ghostly aftermath that often dealt the harshest blows.
About the Author
Larry Heinemann was born and raised in Chicago.  He served a tour of duty with the 25th Division in Vietnam.  In the past he has received fellowships from the National Endowment for the Arts, the Guggenheim Foundation, and the William Fulbright Scholarship Program.  He is the author of three novels: Close Quarters, Paco's Story, and Cooler by the Lake, as well as a memoir, Black Virgin Mountain. His writing has received several honors, including the National Book Award and the Carl Sandburg Award.  He currently lives in Chicago with his wife. 
Praise For Paco's Story: A Novel (Vintage Contemporaries)…
"Resonates with a devastating and bitter irony. . . . Heinemann writes about the workingman's Vietnam, exceptional for its bleak, shared, unexceptional reality. This is the war, no question, and there is no escape." —The Philadelphia Inquirer

"Larry Heinemann is . . . the grunt's novelist of the Vietnam War. His is the storytelling of a life and death between the laager and the treeline, a life of dirt, fear, dope, alcohol, brutality, curses, and evil." --The Washington Post Book World

"Paco's Story deserves a place among the best Vietnam war novels." —Providence Sunday Journal

"Larry Heinemann tells this story as if talking aloud, at times a hip, cynical patter that contains the bitterness Paco never speaks. . . . A fiction that rings truer than factual accounts." --The Boston Globe

"Even if Platoon were a great movie instead of just a good one, I don't think it would approach the lingering emotional effects of Paco's Story. I shook Platoon after one day; I still haven't shaken the novel." -Chicago Sun-Times

"Do not read Paco's Story unless you are prepared to find yourself bitterly wanting to cry. The tears, if they come, will be for the ghosts of Vietnam. Paco's Story is brave and terrible." —The Atlanta Journal-Constitution

"This is strong, heart-wrenching stuff by one of America's most important living authors." -Robert Mason, author of Chickenhawk

"Paco's Story, brief and with a remarkable intensity, presses the social claims of those who died literally, and those who survived but whose history, for all the place it has today, might as well be dead." -Los Angeles Times

"A novel of such terrible power, it puts Heinemann in the company of the finest American writers...You have never read anything like Paco's Story." -Gloria Emerson

"Paco's Story is eerie, powerful, and convincing." -Tracy Kidder

"Powerfully evocative....The language is visceral and compelling, the scenes vivid and highly detailed, while the rolling narrative resembles an emotional minefield." —The Boston Herald

"A harsh, bitter novel that tears its way into the mind and refuses to leave." -The Chattanooga Times

"A tale for the workingman, filled with bitter ironies, gritty dialogue and an introspective sense of what is happening to one man in one private hell." —Richmond-Times Dispatch