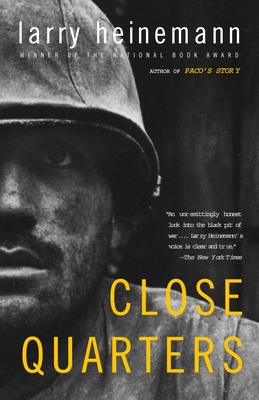 Close Quarters (Paperback)
Vintage, 9781400076840, 368pp.
Publication Date: August 9, 2005
Description
From the moment his first novel was published, Larry Heinemann joined the ranks of the great chroniclers of the Vietnam conflict--Philip Caputo, Tim O'Brien, and Gustav Hasford.In the stripped-down, unsullied patois of an ordinary soldier, draftee Philip Dosier tells the story of his war. Straight from high school, too young to vote or buy himself a drink, he enters a world of mud and heat, blood and body counts, ambushes and firefights. It is here that he embarks on the brutal downward path to wisdom that awaits every soldier. In the tradition of Naked and the Dead and The Thin Red Line, Close Quarters is the harrowing story of how a decent kid from Chicago endures an extraordinary trial-- and returns profoundly altered to a world on the threshold of change.
About the Author
Larry Heinemann's novel Paco's Story won the National Book Award in 1987. He lives in Chicago, Illinois.
Praise For Close Quarters…
"An unremittingly honest look into the black pit of war....Larry Heinemann's voice is clear and true." -The New York Time

"The best work of fiction to come out of the Vietnam War." -The Houston Chronicle

"Close Quarters can stand with the finest Vietnam writing, fact or fiction." --Chicago Tribune

"The most ambitious and substantial novel about the war in Vietnam . . . . the first one that people can read 75 years from now and gain an insight into how the war was truly fought . . . following the talk of the soldiers, you feel more like an eavesdropper than a reader." —Kansas City Star
Advertisement