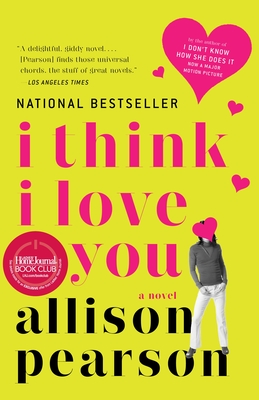 I Think I Love You
A Novel
Paperback

* Individual store prices may vary.
Other Editions of This Title:
Digital Audiobook (2/7/2011)
Hardcover (2/8/2011)
Compact Disc (2/8/2011)
Hardcover, Large Print (3/1/2011)
Paperback (1/1/2011)
Paperback (1/1/2011)
Description
Petra and Sharon, two thirteen-year-old girls, are both desperately in love with a world-famous pop star. Together they pore over his photos, read his fan club letters, and even enter a contest whose winners will meet him in person.
 
Twenty years later, Petra is pushing forty, on the brink of divorce, and fighting with her own thirteen-year-old daughter when she is given the opportunity of a lifetime: the chance to meet the teen idol she loved so long ago. A moving tale of friendship and celebrity, I Think I Love You perfectly captures the intensity of first love—a love that never entirely goes away.
Praise For I Think I Love You: A Novel…
"A delightful, giddy novel. . . . [Pearson] finds those universal chords, the stuff of great novels." —Los Angeles Times 
 
"What I Don't Know How She Does It did for working mothers, I Think I Love You does for every woman who's gone through life with an idealized notion of love. . . . An entertaining, thoughtful story that women of any age can relate to." —The Oregonian 
 
"It was impossible not to be captivated by this romantic comedy." —Chicago Tribune
 
"Pearson writes with such humor and affection for her characters. . . . Combines effervescence with earnestness, a finely tuned sense of absurdity with nostalgia, satiric wit with genuine warmth." —The New York Times 
 
"Anyone who ever swooned over the pages of Teen Beat will delight in the premise of I Think I Love You. . . . Offers comedic relief of the highest order." —The Minneapolis Star-Tribune
 
"[A] funny, tender novel about first love—and whether we ever really grow out of it." —O, The Oprah Magazine
 
"Pearson renders teenagedom with authenticity and poignancy. . . . Lovely."—The Washington Post
 
"An absolute hoot. . . . Another gem." —Newsweek
 
"I Think I Love You will have special resonance for baby boomers who experienced the early 1970s as young teens. . . . But Pearson's empathetic portrait of Petra transcends the era, as does Petra's tender recollection of her first, unobtainable love." —The Wall Street Journal
 
"Pearson grabs 1970s nostalgia by its weepy, pop-culture heartstrings in I Think I Love You, an homage to teen crushes. . . . Sweetly told." —USA Today
 
"[Petra] is the beating heart of the story, quick with nostalgic references and the bewitching, heartbroken thrills that come close to the urgency of first love." —The Daily Beast
 
"Capture[s] the heady intensity of a teenage crush. . . . If you were a David Cassidy fan yourself, you may find that the book is enough to fuel a trip down memory lane." —The Boston Globe
 
"Pitch-perfect. . . . Insightful, funny. . . . A tasty and surprising stew. . . . Hits the right notes." —The Plain Dealer
 
"If you've ever been a teenage girl, you know exactly how the desperation feels and maybe understand why it was so hard for me at the age of 48 to restrain myself when Cassidy walked by. If you don't understand the phenomenon, read Pearson's book for some entertaining insight." —Catherine Mallette, The Dallas Fort Worth Star-Telegram 
 
"Petra has a piercing wit and a boundless charm, but it's Pearson's insights into friendship, celebrity worship from the inside out, and the knocks you take in life that create a winning novel of hope, lost and found." —Publisher's Weekly
 
"Read this if you remember plastering your walls with your idol's posters, singing along with the radio or screaming at a concert. . . . Whimsically sweet." —Newark Star-Ledger
 
"Flawless and funny. . . . Manages to inhabit the tricky territory of the adolescent mind so convincingly that you can almost hear your own teenage self speaking." —The Daily Telegraph (London)
 
"Too young to have saved your Friday nights for The Partridge Family? You'll still enjoy this insightful story about how our youthful passions shape who we become." —People
 
"[A] deceptively sparkly book. . . . Does for the pop crush what Nick Hornby has done for football and vinyl, but Pearson, the voice of a generation of frazzled women who think perfection is within their grasp, has added something extra to the mix." —The Sunday Times (London)
 
"Charming." —The New York Post
 
"Reading this book made me remember what it was like to be in love. . . . This book is about big things—friendship, motherhood, love, loss—seen through the prism of smoke from a joss stick, set to jingly jangly music that still makes the hair on the back of the neck stand up." —Liz Jones, Evening Standard (London)
 
"Pearson knows how to capture emotion, from adolescent infatuation to grownup devastation." —The Miami Herald
 
"I Think I Love You . . . delves deeply into celebrity obsession, adolescence and motherhood. . . . Anyone who has ever loved a celebrity they've never met will appreciate this book." —Bookreporter.com
Anchor, 9781400076918, 416pp.
Publication Date: September 6, 2011
About the Author
Allison Pearson, an award-winning journalist and author, is a staff writer for the London Daily Telegraph. Her first novel, I Don't Know How She Does It, became an international bestseller and was translated into thirty-two languages. It is now a major motion picture, adapted by Aline Brosh McKenna and starring Sarah Jessica Parker. Her most recent novel, I Think I Love You, is set to become a stage musical. Allison has given inspirational speeches around the world on women's issues and she can be contacted via her website www.allisonpearson.co.uk.  She is a patron of Camfed, a charity that supports the education of more than a million African girls (www.camfed.org). Pearson lives in Cambridge with her husband and their two children. 
What do you think this novel is about–love, illusion, friendship?
Zelda says to Bill, "Fantasy is an important part of growing up." How does this prove true for Petra? And for Bill?
Why does the author include articles from The Essential David Cassidy Magazine? What point is Pearson making?
"Honestly, it's amazing the things you can know about someone you don't know." Bill knows facts about David Cassidy because it's his job. Why do the girls study David so closely?
The girls lie to each other out of adolescent fear. Why does Bill lie to Ruth?
"You chose the kind of friends you wanted because you hoped you could be like them and not like you." How does it compare to Carrie's thoughts on friendship.
What does Petra learn about her friends at White City? What does she learn from her mother's response?
Discuss the pair of epigraphs on the opening page of Part Two. What impression do you get from their juxtaposition?
Petra thinks about hiraeth, the yearning for home. How does this relate to what ultimately happens with Sharon? With Bill?
What has Petra learned about motherhood from her own mother? In what ways is she like Greta?
How does Sharon help Petra get over Marcus?
"Never underestimate the wish not to know," Bill says to Petra. What does he mean? How does this apply to both Bill and Petra?
What is the significance of Petra's work with Ashley, the Girl That Nobody Loves? How does music heal Petra?
What did Bill get out of "being" David Cassidy? How did it benefit him, and how did it harm him?
Sharon likens her faith in The Essential David Cassidy Magazine to belief in the Bible. What does she mean? Were the girls choosing to believe?
Why does Petra take Bill's revelation about his work as a betrayal? Why doesn't Sharon?
Petra realizes her feelings about Greta have changed. What brings about this shift?
Why doesn't Pearson take us inside the women's meeting with David?
How does Pearson's afterword affect your feelings toward the novel as a whole?
or
Not Currently Available for Direct Purchase