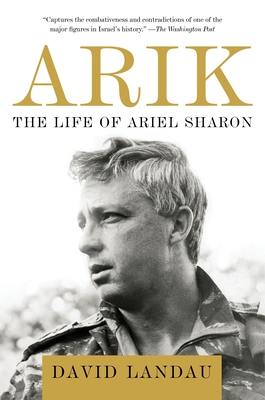 Arik
The Life of Ariel Sharon
Paperback

* Individual store prices may vary.
Other Editions of This Title:
Digital Audiobook (1/31/2014)
MP3 CD (2/1/2014)
Compact Disc (2/1/2014)
MP3 CD (6/21/2016)
Compact Disc (6/21/2016)
Description
A commander in the Israeli Army from its inception in 1948, and a politician whose tenure bridged numerous governments, as both a general and a politician Ariel Sharon championed the construction of Israeli settlements in the West Bank and Gaza. But in his later years, as prime minister, he took a dramatic turn, and became the driving force behind Israel's unilateral disengagement. In this first truly comprehensive biography, David Landau, the former editor-in-chief of Haaretz, paints a vivid picture of the most dramatic and imposing Israeli political and military leader of the last forty years—and takes a penetrating look at how Sharon transformed his country like no one else.
Praise For Arik: The Life of Ariel Sharon…
"Comprehensive and readable. . . . [Arik] chronicles Sharon's epic military and political battles, serving as a kind of national history." —The New York Times Book Review

"[An] expertly written biography . . . that unpicks many of the controversies around Sharon's record, and promises to become the definitive account of his career. . . . This is no panegyric. . . . [Landau] is an elegant writer and a superb journalist, making this book an engrossing read." —Financial Times

"Landau captures the combativeness and contradictions of one of the major figures in Israel's history. Sharon played a role in nearly every stage of the nation's development since its independence." —The Washington Post

"Landau does an excellent job in presenting a fair portrait of a man who strove to do what he thought was best for his people, to the alternating consternation of both the Left and the Right." —The Daily Beast

"A big biography worthy of its subject, an outsized figure in the history of Israel. Sharon led a long, controversial public life. . . . Landau's book covers all of it and then some." —The Oregonian

"Landau is an elegant writer. . . . The heart of this exceptional biography is the transformation of Sharon from a loose cannon—as menacing to his allies as to his enemies—into a respected statesman, the hope of a nation." —Haaretz

"Nuanced, insightful. . . . It will be regarded, in the years to come, as the definitive work on the eleventh prime minister's life." —The Times of Israel

"Important and extremely readable. . . . Those wanting to draw their own conclusions [about Sharon] will find a great deal to work with in David Landau's Arik. . . . Sharon's radical change from virulent hawk to moderate peace seeker is one of the more interesting political changes in recent times. Landau skillfully and engagingly chronicles the how and why of that change and other fascinating details of a life well lived." —Washington Independent Review of Books

"[Landau] is perfectly placed to write the biography of one of Israel's seminal, and at times most controversial, leaders. . . . What the reader comes away from Arik with is that Sharon was not easily pigeonholed into one political camp. . . . [He] took the ideas of others and made them into reality." —The Jerusalem Post

"[Landau] has done a superb job here in attempting to chisel away the myths that surround Sharon and to isolate his essence without theatrics or ideological fanfare. . . . A complex and compelling portrait of Sharon that forces the reader to reevaluate his or her preconceived notions." —Jewish Journal

"Landau's background as a journalist gives the biography a raw immediacy. . . . [Arik] paints a comprehensive picture of Ariel Sharon, a man easy to hate, but harder to understand. Mr. Landau does what good biographers should do, explain the life of his subject, but questioning his subject's motivations every step of the way." —New York Journal of Books

Compelling. . . . Landau's is the most objective and nuanced book assessing the life [of Ariel Sharon]." —The Jewish Week

"With great research and noticeable interest, Landau depicts Ariel Sharon as a man who is more complex than any one of his multitude of titles and the subsequent criticism he endured as a public servant." —Publishers Weekly

"Splendid reporting, comprehensive research and probing analysis inform this unblinking view of a complicated man and a sanguinary geography. . . . A thorough, extremely candid description and assessment." —Kirkus (starred)

"[A] colorful, insightful, and deftly written biography. . . . Landau brings considerable analytic gifts to bear in explaining the contradictions and vicissitudes of the complex man who evolved from brilliantly unorthodox but unruly solider, radiating controversy, recalcitrance and naked aggression, to become Israel's sober and grandfatherly 11th prime minister." —The Jerusalem Report


Vintage, 9781400076987, 688pp.
Publication Date: November 11, 2014
About the Author
David Landau, OBE, immigrated to Israel from the United Kingdom as a young man. His career in journalism began in 1970 at The Jerusalem Post, and he joined Haaretz in 1993 as news editor. He founded Haaretz's English edition and was its editor from 1997 to 2004, and was editor in chief of Haaretz's Hebrew edition until 2008. He is the longtime Israel correspondent for The Economist. Landau collaborated with Israel's president Shimon Peres on Peres's memoir, Battling for Peace, and he published, with President Peres, Ben-Gurion: A Political Life. He is also the author of Piety and Power, an account of the increasingly significant role the ultra-orthodox (haredi) play in Israel, the United States, and Europe. Landau graduated with a degree in law from University College London and studied in leading yeshivas in Israel. He is married with children and grandchildren and lives in Jerusalem.
or
Not Currently Available for Direct Purchase