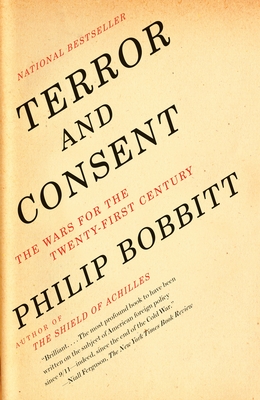 Terror and Consent: The Wars for the Twenty-First Century (Paperback)
The Wars for the Twenty-First Century
Anchor Books, 9781400077014, 676pp.
Publication Date: May 5, 2009
Description
Philip Bobbitt follows his magisterial Shield of Achilles with an equally provocative analysis of the West's struggle against terror. Boldly stating that the primary driver of terrorism is not Islam but the emergence of market states (like the U.S. and the E.U.), Bobbitt warns of an era where weapons of mass destruction will be commodified and the wealthiest societies even more vulnerable to destabilizing, demoralizing terror. Unflinching in his analysis, Bobbitt addresses the deepest themes of history, law and strategy.
About the Author
Philip Bobbitt is the Herbert Wechsler Professor of Federal Jurisprudence and the Director of the Center for National Security at Columbia University. He is also Senior Fellow at the Robert Strauss Center for International Security and Law at the University of Texas. He has served as Associate Counsel to the President, Legal Counsel to the Senate Select Committee on the Iran-Contra Affair, the Counselor on International Law for the Department of State, and Director for Intelligence Programs, Senior Director for Critical Infrastructure, and Senior Director for Strategic Planning at the National Security Council. Formerly Senior Research Fellow at Nuffield College, Oxford, where he was a member of the Modern History faculty, he was subsequently Senior Fellow in War Studies at Kings College, London. He is a member of the American Academy of Arts and Sciences. He lives in New York, London, and Austin.
Praise For Terror and Consent: The Wars for the Twenty-First Century…
"Brilliant . . . Terror and Consent is simply the most profound book to have been written on the subject of American foreign policy since the attacks of 9/11—indeed, since the end of the cold war."—Niall Ferguson, The New York Times Book Review"Powerful. . . . Brilliant. . . . Bobbitt shifts the paradigm for understanding terrorism."—Edward Rothstein, The New York Times"Magisterial . . . historically informed, meticulously argued and impassioned . . . . 'Important' barely begins to characterize this book."—Newsday "One of the most important books you are likely to read. . . . Courageous. . . . ritten with remarkable literary grace. . . . Bobbitt's work is in a class rather apart."—Rowan Williams, Archbishop of Canterbury, Daily Telegraph "Lapidary in its beauty. . . . The Cold War had a dazzling pantheon of theorists but the War on Terror has conspicuously failed to generate such scholarship - until now … Nothing less than a philosophical route-map for the war on terror and the geopolitical crisis of the early 21st century."—Matthew d'Ancona, Spectator "Philip Bobbitt is perhaps the most outstanding political philosopher of our time."—Henry Kissinger"Philip Bobbitt has long been one of the most thoughtful and wise commentators on the state of the modern world and the challenge that it faces. But in this book, he sets out with clarity and courage the first really comprehensive analysis of the struggle against terror and what we can do to win it. Above all, he understands that this war is new in every aspect of its nature — how it has come about, the profound threat that it poses, how it has to be fought and the revolution in traditional thinking necessary to achieve victory. It may be written by an academic but it is actually required reading for political leaders."—Tony Blair"In this thrilling book, Philip Bobbitt bravely confronts the myths that confound our understanding of terrorism and provides a new way of understanding this phenomenon. He does us the favor of not only describing the traps we've fallen into, but also the ways of escape." —Lawrence Wright, author of The Looming Tower: Al-Qaeda and the Road to 9/11 "[A] remarkable effort to make sense of our post-9/11 world. Better than anyone I have read, Bobbitt has thought through both the nature of the danger and how we should defend ourselves from it."—Mark Bowden, The Philadelphia Inquirer"Nothing less than a philosophical route-map for the war on terror and the geopolitical crisis of the early 21st century."—Matthew d'Ancona, The Spectator (UK)"Courageous . . . One of the most important works you are likely to read this year."—Rowan Williams, Telegraph (UK)"Brilliant, provocative and critically important . . . Terror and Consent should be mandatory reading for all residents of the United States."—Ian Graham, New York Sun"In this original, provocative, and deeply researched book, a superb scholar addresses some of the most basic and vital issues of our time.  Philip Bobbitt's Terror and Consent deserves to be widely read, debated and absorbed."  —Michael Beschloss, author of Presidential Courage"Philip Bobbitt has taken our understanding of terrorism—and of how to defeat it—to a deeper level.  This brave book confronts us with the knowledge that the worst is yet to come, and it points the way for America and its allies to counter the new breed of shadowy, ultra-violent adversaries.  More importantly, Terror and Consent wisely shows how governments can do this without sacrificing their legitimacy as guarantors of human rights. This is truly the book for our times."—Steven Simon, Senior Fellow, Council on Foreign Relations and co-author of Age of Sacred Terror  "Terror and Consent is the most profound analysis of the wars against terror.  Bobbitt puts the threat in its proper historical and theoretical context, explains its relationship to globalization, international law and the domestic constitutional structure and offers tough-minded but humane prescriptions.  No one understands the challenge of the terror threat in all its dimensions as well as Philip Bobbitt." —Jack Goldsmith, Shattuck Professor of Law, Harvard Law School and author of The Terror Presidency  "Magisterial . . . 'important' barely begins to characterize this book."—Craig Seligman, Bloomberg News"Bobbitt may well be a prophet . . . Terror and Consent is the product not only of immense erudition but also of broad practical experience."—Ben Martin, The Advocate (Baton Rouge)"[A] complex and provocative analysis of the West's ongoing struggle against terrorism. Terror and Consent merits wide circulation and serious consideration."—Publishers Weekly"A distinguished scholar proposes an entirely new way of understanding and combating modern terrorism. Bobbitt keeps his feet on the ground, boldly offering detailed real-world proposals to combat the problems he outlines."—Kirkus"Bobbitt aims for the big picture and succeeds . . . Not just another book about terrorism, this is a complete theory of constitutional evolution and a sophisticated set of far-reaching policy prescriptions."—Booklist
Advertisement