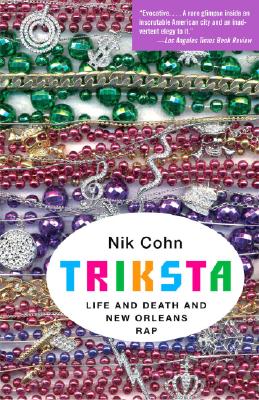 Triksta: Life and Death and New Orleans Rap (Paperback)
Life and Death and New Orleans Rap
Vintage Books USA, 9781400077069, 243pp.
Publication Date: April 10, 2007
Description
Acclaimed music writer Nik Cohn's love of hip-hop goes back to its beginnings, and his love of New Orleans even further, to when he passed through the Big Easy on tour with The Who and discovered a place with a magic that never failed to seize him. On the surface he's the least likely candidate for a rap impresario. But with his signature charm and passion, he plunges headfirst into the wards, clubs, and projects of New Orleans, opening up a world closed to most outsiders: a journey into the heart of the hip-hop dream, and into larger question of racial identity in America. Written before Hurricane Katrina struck (and published here with an afterword that chronicles how Katrina altered the lives of those he met) Triksta now stands as an elegy to a city, its music, and its people.
About the Author
Nik Cohn is the author of six previous books, as well as two collaborations with the artist Guy Peelaert. He was born in London, raised in Northern Ireland, and now lives on Shelter Island, New York.
Praise For Triksta: Life and Death and New Orleans Rap…
"Evocative. . . . A rare glimpse inside an inscrutable American city and an inadvertent elegy to it."
—Los Angeles Times Book Review

"Poignant. . . . An intimate portrait of the New Orleans rap scene, [where] the folks he meets are unforgettable: gifted, dysfunctional, undefeated."
—Newsweek

"Triksta captures the game's street-level desperation [and] tells their stories in an energetic, empathetic shorthand [that is] infused with love and respect."
—The New York Times Book Review

"Cohn's journey through the world of teenage rappers, rickety studios, and crumbling housing projects is a human and fascinating view of a culture that isn't widely known . . . A heavyhearted memorial."
—Entertainment Weekly
Advertisement